Is Marco Rubio Subtweeting Donald Trump With Bible Verses?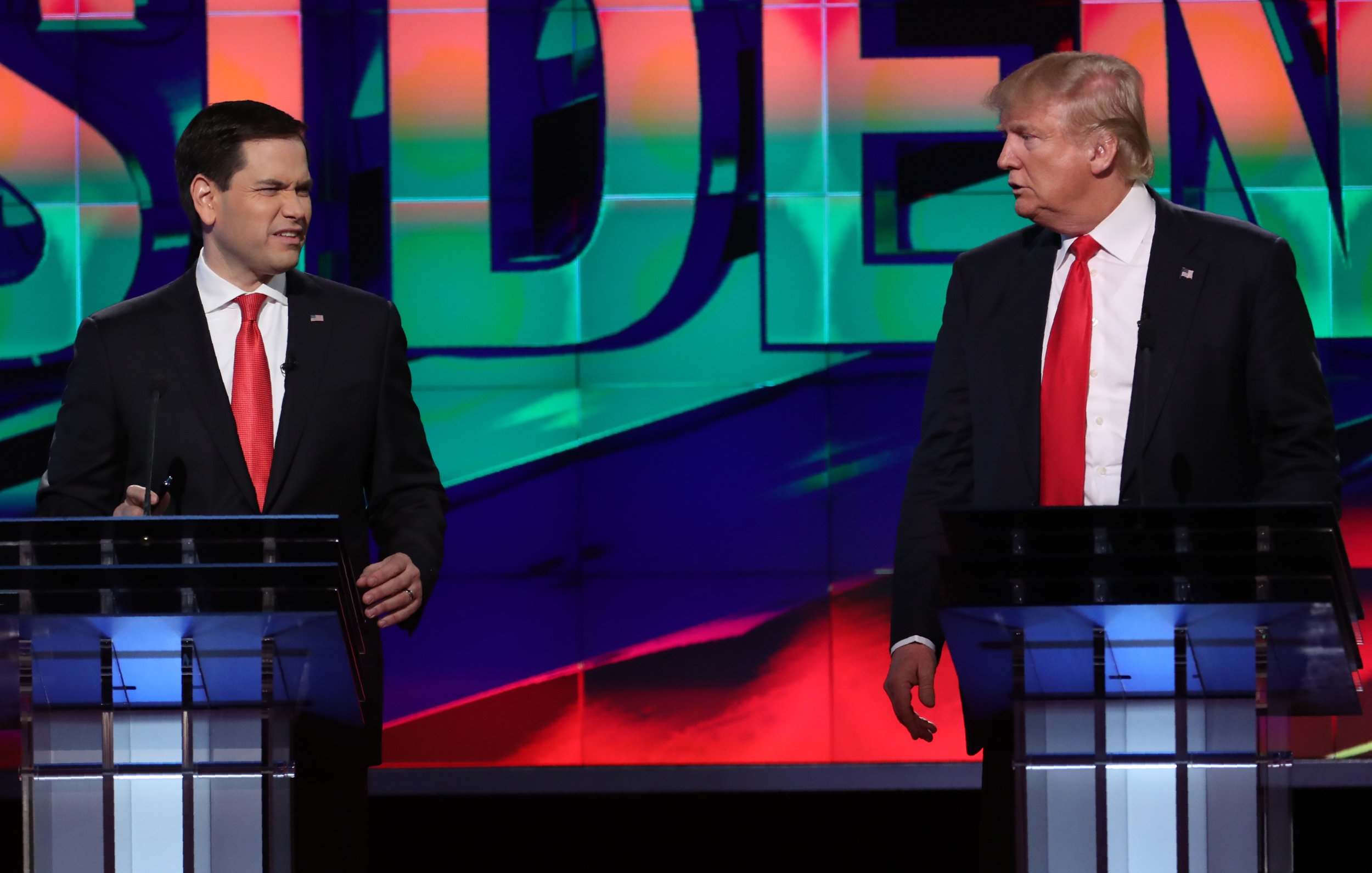 Senator Marco Rubio has long been an active Twitter user, posting topical messages about everything from sanctions in Venezuela to the kid who got a year of free chicken nuggets from Wendy's. But recently, the Florida Republican appears to have stepped up his subtweet game—and President Donald Trump might be the target.
Over the past three months, Rubio has tweeted dozens of Bible quotes. As their frequency has increased—in June, the senator shared a proverb almost every morning—so, too, has the number of internet users asking whether he's using the Bible as political commentary.
Related: Trump-Russia probe isn't a witch hunt, says Marco Rubio
In some cases, the timing of his posts raised suspicion.
On May 25, for example, Rubio tweeted, "Like a city whose walls are broken down is a man who lacks self-control." As journalists like Jake Tapper quickly noted, the message came the morning after then-Montana candidate Greg Gianforte body-slammed a reporter who asked him about health care.
On June 14, the day after Trump tweeted "The Fake News Media has never been so wrong or so dirty. Purposely incorrect stories and phony sources to meet their agenda of hate. Sad!" and railed against former Attorney General Loretta Lynch, Rubio wrote, "A wise man fears the LORD & shuns evil, but a fool [is] hotheaded & reckless."
And on June 26, one day after Trump called out his once-rival Hillary Clinton for "collud[ing] with the Democratic Party in order to beat Crazy Bernie Sanders" in the 2016 primary, Rubio tweeted that "as dogs return to their vomit, so fools repeat their folly."
The senator has also tweeted more general verses that could apply to Trump, who has developed a reputation for starting feuds with his own early-morning Twitter rants.
Some people have grown frustrated with his religious posts, especially given the senator's relationship with Trump. Rubio is on the Senate Intelligence Committee investigating Russia's alleged interference in the election and whether members of Trump's campaign had contact with the Kremlin, though he had dinner with the president just before fired FBI Director James Comey testified about it. Rubio also recently worked with the White House on the country's new Cuba policy.
"Every single one of Lil' Marco's daily aphorisms is targeted at Trump, yet he won't DO anything about him," one person wrote back to the senator on June 19. "You forgot to tag @realDonaldTrump," replied another on June 14.
On the other side of the spectrum, many of Rubio's followers have praised the politician for sharing the Christian passages. Back in May, after few people characterized the senator's Bible tweets as "unsettling," The Palm Beach Post pointed out that the quotes Rubio had posted that day coincided with the online reading on the website for the United States Conference of Catholic Bishops. Shortly afterward, Rubio acknowledged the attention, simply sharing a link to the Post story and writing "Really?"
"Not everything has to have a deeper meaning—especially if it's a quote from the same Gospel reading Catholics around the globe are hearing this morning," Townhall's Christine Rousselle wrote at the time. "Everybody needs to relax just a little bit."
Rubio's spokesman did not return Newsweek's emailed request for comment on Wednesday.