Marco Rubio Tweets 'Den of Thieves' Bible Verse as GOP, Trump Lawyers Seek to Block Biden Win
Republican Senator Marco Rubio has tweeted a Bible verse referencing a "den of thieves" a day after the GOP held a press conference packed with contentious claims including that Donald Trump had "won [the election] by a landslide."
At the press conference on Thursday, Sidney Powell, a lawyer on Trump's election legal team, made several baseless claims including allegations of corruption at the "highest level of our government."
Her comments were criticized as having gone one step further than previous election rigging claims from White House officials, raising eyebrows even among right-leaning figures. Newspaper pundits accused her of going "buckwild" with even more outlandish claims than Trump attorney Rudy Giuliani had managed at previous press events.
Florida Senator Rubio, like many senior Republican figures, has remained loyal to Trump in the aftermath of the presidential election, insisting that the incumbent was "within his legal rights" to contest the result in the courts.
The morning after Powell's remarks, Rubio quoted a verse from the Book of Jeremiah: "Has this house which bears my name become in your eyes a den of thieves?"
The Republican senator tweets verses from the Bible daily, but his latest post was interpreted by some as having an ulterior meaning.
"Finally calling at your @SenateGOP brothers," wrote one person on Twitter. "Be brave, do it with your own words and say it loudly."
"If you're talking about Trump and Co. trying to steal this election, then I'd have to say yes," said another.
The backlash to Powell's comments began to build on Thursday night when Fox News host Tucker Carlson called on her to provide the evidence for claims she made about election rigging.
At that event, Powell called alleged election fraud "stunning, heartbreaking, infuriating, and one of the most unpatriotic acts I can even imagine for people in this country to have participated in."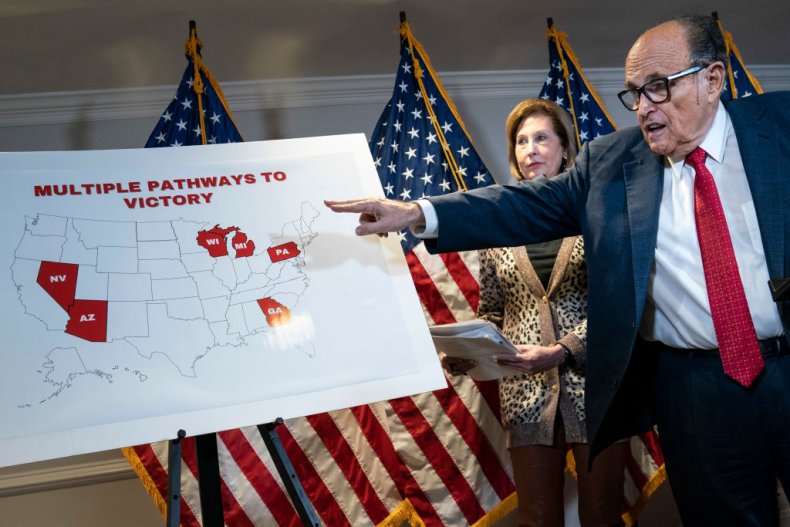 Powell, who joined Trump's legal team in the weeks after the election, continued: "I want the American public to know right now that we will not be intimidated. American patriots are fed up with the corruption from the local level to the highest level of our government and ... we are going to clean this mess up now.
"President Trump won by a landslide. We are going to prove it. And we are going to reclaim the United States of America for the people who vote for freedom."
Carlson said Powell had been invited on his show, but that she rebuffed the offer and failed to provide any evidence for vote-rigging claims.
"Whether or not you think this election is already over, until we know the answers to those questions conclusively and we can agree on them, this country will not be united," he wrote.
Frank Luntz, the pollster and pundit, responding to Powell's comments, wrote: "This isn't sane stuff, GOP."
Rubio's office has been approached for comment on the tweet. At the time of publication. the account has not tweeted since the "den of thieves" post.
Rubio is up for re-election in 2022 and is considered a frontrunner for the Republican presidential ticket in 2024.