Marco Rubio Warns Saturday Could Decide Venezuela President Maduro's Fate, May Show 'Emperor Has No Clothes'
Florida Senator Marco Rubio has warned that Venezuelan President Nicolás Maduro's days may be numbered as a deadline looms for him to accept humanitarian aid into the crisis-stricken country.
Rubio, who has espoused hawkish views against socialist-led Latin American states such as Venezuela, has been an eager supporter of President Donald Trump's efforts to oust Maduro in favor of National Assembly leader Juan Guaidó, who declared himself acting leader last month. The U.S. has been joined in endorsing Guaidó by regional allies, which have sent aid to Venezuela, only to be stopped at the border by security forces as Maduro accused his foreign detractors of a plot to depose him.
Last week, Guaidó warned that Maduro had until February 23 to allow aid into the country, which has suffered historic hyperinflation leading to major supply shortages and mass emigration. Rubio told Axios on Wednesday that he met with Venezuela's opposition, who "are well aware of the risks they run to their personal safety by undertaking this.... But if you put yourself in their position, they really have no alternative."
Should the Venezuelan armed forces continue to block the aid from entering, Rubio said that "the world will see what you're dealing with here." If the aid arrives, however, the Republican said, "it'll expose that the emperor here has no clothes," and "you could see a cascade effect."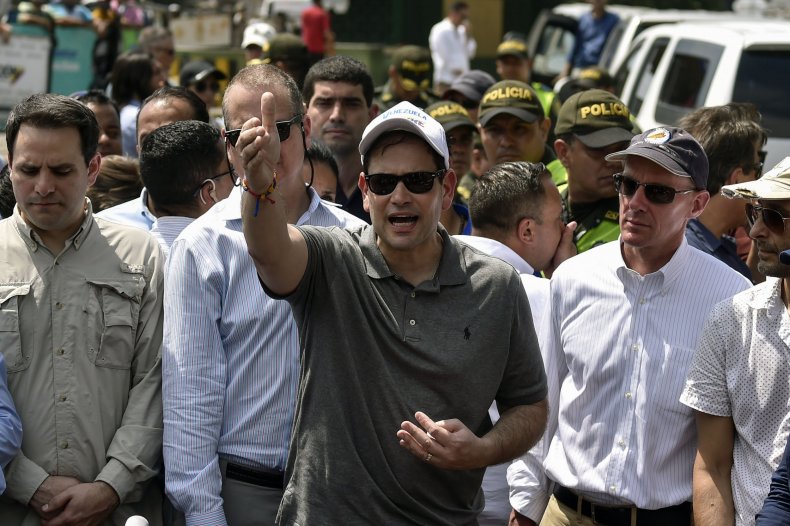 Venezuela's ruling United Socialist Party has long accused the U.S. of attempting to intervene in the country's affairs, as Washington has done for decades against left-wing movements throughout Latin America. Maduro's predecessor, the late Hugo Chávez, was the victim of an attempted 2002 coup reportedly linked to the CIA. The current Venezuelan president has blamed the U.S. for at least two further attempts preceding the recent unrest that has gripped the nation.
The Venezuelan government has mapped out the latest plot allegedly involving Guaidó, other opposition figures, neighboring rival Colombia, the U.S. and others. Caracas authorities have claimed that the conspiracy sought to spark a military coup against Maduro, but was thwarted. Guaidó has publicly called on Venezuelan troops to defect and U.S. officials have reportedly maintained contact, but the military has so far remained loyal to the president.
In a series of tweets, Guaidó warned soldiers Wednesday that they "have three days to follow" his orders and "put yourself on the right side of the constitution." He called on supporters to surround bases and "demand the entry of humanitarian aid."
Maduro has responded by further closing off the country. He announced at a Thursday press conference that he would shut down his country's border with Brazil, whose newly elected far-right leader, the U.S.-backed Jair Bolsonaro, has strongly criticized Maduro's government, even contemplating bringing in U.S. military bases due to a growing Russian military relationship with Venezuela.
Rubio responded by tweeting: "Think about the extraordinary efforts this regime is talking to keep food & medicine from reaching the people of #Venezuela. It isn't going to work. But its just stunning and really reveals who they are."
In a follow-up tweet, Rubio shared reports of Venezuela's national guard confronting the caravan by "forcing drivers out at gunpoint & slashing tires.... But eventually troops stood down & caravan continued."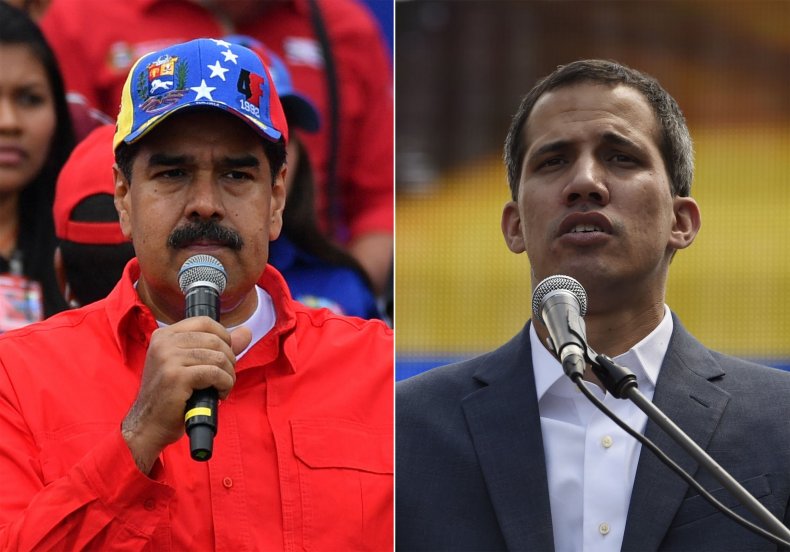 The Venezuelan president warned he may seal the border with Colombia as well, where Trump has suggested he was considering sending U.S. troops. Asked last week if he would deploy U.S. forces there, Trump simply told reporters, "You'll see."
The White House has secured support for Guaidó among most Latin American states, with the exception of Venezuela's socialist allies Bolivia, Cuba, Nicaragua and El Salvador—which recently elected a president critical of Maduro. The opposition was also backed by international partners like a majority of European Union members, Albania, Australia, Georgia, Israel and Morocco. The Maduro government was still recognized by Belarus, Cambodia, China, Equatorial Guinea, Iran, North Korea, the Palestinian National Authority, Russia, Turkey, South Africa, Suriname and Syria.
Mexico and Uruguay, which also still recognized Maduro, have called for mediation, as have India, Indonesia, the United Nations and others.