4 Things You Didn't Know About Mardi Gras' New Orleans Traditions
It's that time of year again: Mardi Gras. Taking place February 25, the annual tradition—which has roots dating back to medieval Europe—is scheduled to take over New Orleans with a range of festivities, including parades, concerts and costume parties.
Kristian Sonnier, the Vice President of Communications for NewOrleans.com, recently described the event to Fox News, saying, "The streets are full of life—sounds of music coming from every direction, the smell of fresh Cajun food on the grill, flowing drinks, and crowds decked out in colorful and festive costumes."
Here are four things you might not have known about Mardi Gras.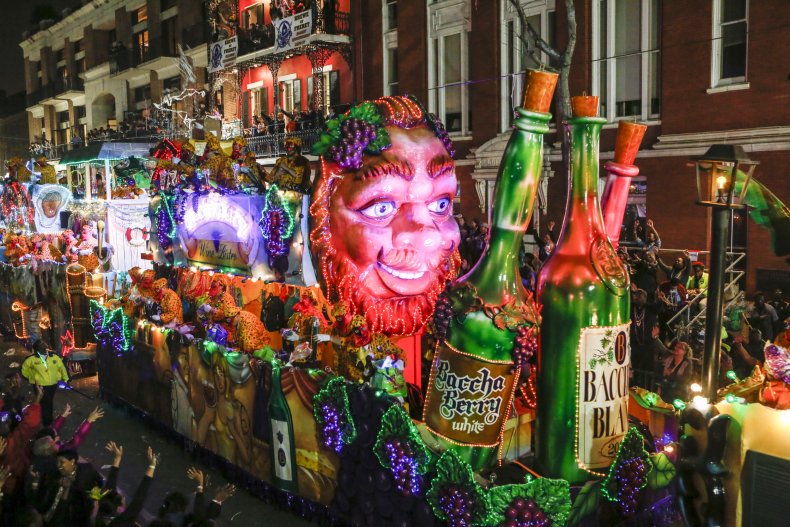 King Cakes
A treat that combines coffee cake and cinnamon roll, the King Cake typically comes stuffed with fruit fillings and cream cheeses, and often features purple, yellow and green icing—a nod to the colors of Mardi Gras. Traditionally, each King Cake contains a small plastic baby, which is a reference to the Bible story in which the three kings traveled to Bethlehem and offered gifts to the newborn baby Jesus.
The Origins of "Fat Tuesday"
Mardi Gras is also known as "Fat Tuesday," thanks to its connection to the Christian holy day of Ash Wednesday, which kicks off the 40-day fasting period of Lent, in which Christians give up something eating something, such as meat. In advance of the fast, Christians would end up indulging as much as they could before Lent started.
Beads
Mardi Gras is associated with beads, of course, and every year, crowds line up on Bourbon Street in order to try and get themselves some beaded necklaces. What you might not have known, though, is that the purple, green and gold beads represent justice, faith and power, respectively. And in keeping with the celebratory and generous spirit of Mardi Gras, a person is allowed to pick up as many beads as their neck can hold.
The Travel Deals
Every year, there are special travel deals for attendees who wish to participate in the New Orleans festivities. This time around, travelers had many options, including the four-star Magnolia hotel and the Marriott hotel near the French Quarter. It's probably too late to book a trip for this year's festivities, but if you'd like to see New Orleans' Cafe Du Monde in 2021, be sure to keep an eye out for travel bargains next year.