For the first time in decades, New Orleans will have no grand celebration today to mark Mardi Gras. The Carnival parade was canceled by city officials due to the ongoing pandemic, while bars and restaurants are shuttered and barricades are set up on Bourbon Street to discourage mass gatherings.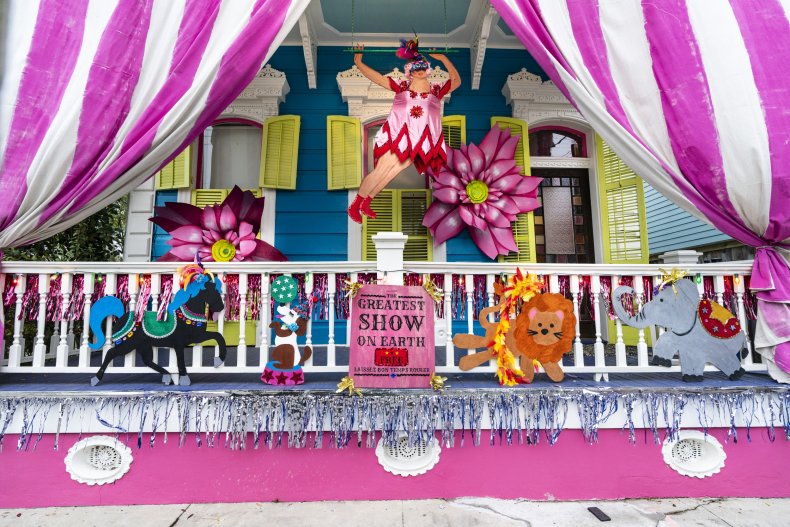 Since its inception in 1857 by the Mistick Krewe of Comus, New Orleans Mardi Gras has either been canceled or massively scaled back 14 other times, according to the Historic New Orleans Collection museum. (Krewes are social groups that organize parades or balls for Carnival.)
The first disruption of the annual parades came during the Civil War, during which time New Orleans was the largest city in the South and thus a major site of conflict between the Union and Confederacy. Parades and large celebrations were halted from 1862 shortly before the North captured the city and lasted through 1865.
Mardi Gras celebrations resumed in 1866 but didn't last long. In 1875, the parade was canceled again due to civil unrest following the Battle of Liberty Place. This "battle" occurred when the Crescent City White League—a militia made up mostly of Confederate veterans—tried to take control of the Louisiana state government by force in September 1874.
New Orleans being a major port city also meant it has been susceptible to various disease outbreaks over the years. After a yellow fever epidemic killed more than 4,000 people in the city in 1878, two of the three krewes that made up the parade at the time did not participate in 1879, though one Krewe did.
Fat Tuesday and Mardi Gras events returned the following year and maintained a steady presence until 1918 when New Orleans was hit with Spanish flu just as the country entered into World War I. In the aftermath of the war and with the flu epidemic still raging, festivities were called off again in 1919.
Wars were also the deciding factors for the next cancellations. From 1942 through 1945, World War II halted the events, while the Korean War in 1951 caused most of the growing number of krewes to scale back or not participate at all.
In 1979, the New Orleans police department went on strike, and 16 krewes elected to not partake at all in the Carnival, while more than a dozen other krewes moved their celebrations to neighboring cities. Many people braced for the Mardi Gras parade to be called off in 2006 following the brutal damage and deaths brought on by Hurricane Katrina in 2005. Yet the people of the New Orleans carried on with the festivities in 2006 in a showcase of their strength and resiliency.
The current pandemic proved to be too much of a risk, though, according to city officials, who saw the potential of it becoming a super-spreader event after last year's festivities reportedly caused 50,000 coronavirus cases. (Louisiana has had more than 9,300 COVID-related deaths.) Even still, Mayor LaToya Cantrell noted Mardi Gras is considered a holiday event and trying to outright cancel it would be akin to calling off Christmas. Instead, the city is encouraging locals to celebrate from home in small, safe groups.
While there have been reports of illegal underground parties in the city, many people are choosing to remain responsible. One way is by creating "Yardi Gras" or "house floats." Just as the names infer, people are decorating the exteriors of their homes to resemble the colorful and imaginative floats that are as synonymous with Mardi Gras as the marching jazz bands and general merriment. Many shared photos of these creations on Twitter.
Popular residents of the city, such as Harry Shearer (The Simpsons, This Is Spinal Tap), also shared "Yardi Gras" pics.
Pee-wee Herman (Paul Reubens) took note of one "house float" designed to resemble his famous Playhouse.
Shay O'Connor of local NBC news affiliate WDSU posted a video of a scenic drive through Crescent City.