Who is Maria Bakalova? Borat's Daughter in Rudy Giuliani Hotel Scene
Introducing Maria Bakalova—the breakout star of Sacha Baron Cohen's long-awaited Borat sequel.
Borat Subsequent Moviefilm is released worldwide Friday (October 23) but already everyone is talking about its new co-lead.
Bakalova stars as the eponymous Borat's teenage daughter, Tutar Sagdiyev, and has today been making headlines as her character was involved in a controversial scene with Donald Trump's lawyer, Rudy Giuliani.
Not much is known about Bakalova, who is from Burgas in Bulgaria, just yet as Borat 2 is her first major role.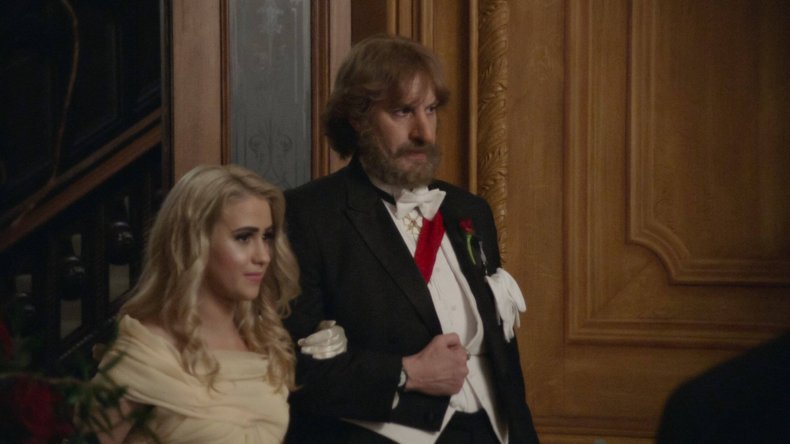 Per her IMDb profile, Bakalova was born on June 4, 1996 in Burgas and has been acting since the age of six. She studied at the National School of Arts in Burgas, majoring in acting for drama theater, she then went on to study at the National Academy for Theatre and Film Arts in Bulgaria's capital Sofia.
Borat is her biggest role to date but her other movie acting credits include films Last Call, The Father and Transgression.
She also starred in an episode of the Italian crime series, Gomorrah.
In the Borat sequel, which is enthusiastically titled Borat Subsequent Moviefilm: Delivery of Prodigious Bribe to American Regime for Make Benefit Once Glorious Nation of Kazakhstan, Bakalova's character travels to America with her father Borat to help him on his quest to bring a gift to vice president Mike Pence.
Naturally, things get confused along the way but Tutar ends up interviewing the former New York City mayor Giuliani while pretending to be a young, nervous journalist.
Images of the scene circulating ahead of the premiere appear to show the Trump ally seducing Bakalova.
The 76-year-old is seen putting his hands into his pants in a bedroom with the actress who is playing a teenager. The two go into the bedroom after the actress is left alone with Giuliani under the pretense that she is conducting an interview.
The set up is interrupted by Borat who bursts in and shouts: "She's 15. She's too old for you!"
However, Giuliani maintains that he was simply tucking in his shirt when found in the compromising moment.
"I was tucking in my shirt after taking off the recording equipment," he tweeted.
During his daily show on WABC-AM, Giuliani said images from the clip that began circling online before the film's Friday release on Amazon Prime Video were not as they seemed.
He explained to listeners that he was in the process of removing the electronic equipment used during the interview, which required him to re-tuck his shirt.
"I had my jacket on—I was fully clothed at all times—and I had to take off the electronic equipment," Giuliani said. "And when the electronic equipment came off, some of it was in the back and my shirt got a little out, came a little out, although my clothes were entirely on. And I leaned back and I tucked my shirt in.
"At that point, they have this picture that they take, which looks doctored, but in any event, I'm tucking my shirt in; I assure you that's all I was doing," he said.
Borat Subsequent Moviefilm is released on Friday, October 23 on Amazon Prime Video.