Maria Butina Says Zelensky a Nazi, Ukrainian Military Attacking Citizens
Convicted Russian agent Maria Butina told the BBC Thursday that she believes Volodymyr Zelensky is "absolutely" a Nazi, even though the Ukrainian president is Jewish.
Butina also said Russia is not shelling Ukraine but the latter nation's own military is firing on cities and civilians within its borders, The Daily Beast reported. "Russia is not bombing citizens," Butina told the BBC's Nick Robinson. "Russian military troops actually are having humanitarian corridors."
Russian President Vladimir Putin has refused to refer to his assault on Ukraine as a "war" or "invasion." Meanwhile, his country has been cracking down on media outlets in their coverage of the conflict, as well as individuals who spread "fake" information about Russia's armed forces, the BBC reported. Those who put out such information could be jailed for up to 15 years, under a new law, which also makes public calls for sanctions against Russia a criminal offense.
In her conversation with Robinson, Butina insisted that Ukraine, not Russia, is the aggressor in the nearly two-week-long war.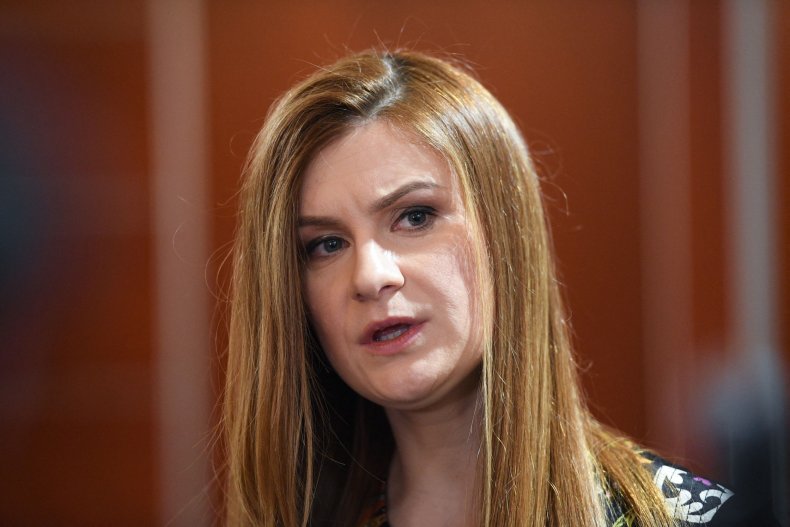 Butina pleaded guilty years ago to conspiring to act as an unregistered foreign agent within the U.S. and was sentenced to 18 months in prison before her release early in October 2019. She was accused of trying to infiltrate several conservative groups, such as the National Rifle Association, and trying to establish ties between the Trump administration and Moscow, NPR reported.
Now back in Russia, she has affirmed her loyalty to Russian President Vladimir Putin and serves in the nation's Duma, the lower house of parliament.
During her conversation with Robinson, she said that she and "the majority of Russians" trust Putin and believe that everything is going "as planned."
Asked why Putin won't call Russia's military invasion a war, Butina said it was "because of the purposes" behind Russia's actions. She said that Russia has been warning the world "that the Nazi mood and the Nazi actions in Ukraine" have been on the rise for "actually many years."
She said that Zelensky's actions lead her to view him as a Nazi. When Robinson pointed out that Zelensky is Jewish, she said that she believes "Nazism is not about just one nation."
"It's about killing, murdering, torturing, alienation—based on their race, their gender, their nationality, country of origin," Butina said.
When an increasingly incredulous Robinson asked if Putin, under her definition, qualifies as a Nazi "because he is currently bombing civilians in cities all over Ukraine," Butina replied that Russia is not bombing Ukrainian citizens.
Butina has remained a staunch supporter of Russia on social media since the invasion began. A February 28 Facebook post showed her and several other individuals wearing black shirts emblazoned with a white "Z," a symbol that has come to represent pro-invasion sentiment.
Update 03/09/22, 12:15 p.m. ET: This story was updated with additional information and background.