Maria Shriver Supports Chris Pratt Amid Criticism Over Instagram Post
Maria Shriver has spoken out in defense of her son-in-law, Chris Pratt, as he continues to face backlash over an Instagram post.
The Guardians of the Galaxy star took to his account to wish his wife, Katherine Schwarzenegger, an early happy birthday as he gushed about her giving him "an amazing life" and "a gorgeous healthy daughter."
Criticism soon poured in from a number of internet users, who claimed the actor's comment about 15-month-old daughter Lyla Maria was insensitive, given that Jack, the 9-year-old son he shares with ex-wife Anna Faris, was born with severe health issues.
And while Shriver had initially shared positive comments on Pratt's post, she returned over the weekend and urged him to "rise above the noise."
She wrote: "i want to remind you today what a good man you are what a great father you are to jack and lyla what a great husband you are to katherine what a great son in law you are to me and what a great sense of humor you have !!
"i love you chris keep being your wonderful self rise above the noise your kids love your family loves you your wife loves you what a beautiful life i'm proud of you xo."
In his post, Pratt shared a photo of himself sitting on a couch beside his wife, who was seen gazing adoringly at her husband of two years.
Captioning the post, he wrote: "Guys. For real. Look how she's looking at me! I mean. Find you somebody that looks at you like that!! You know!? We met in church. She's given me an amazing life, a gorgeous healthy daughter, she chews so loudly that sometimes i put in my ear buds to drown it out, but that's love!
"She helps me with everything. In return, periodically, I open a jar of pickles. That's the trade. Her heart is pure and it belongs to me.
"My greatest treasure right next to my Ken Griffey Jr Upper Deck Rookie card. Which if you know, you know is saying a lot. It's her birthday in about 6 weeks. So if I don't get her anything, I'll tell her to look back on this post. Love you honey."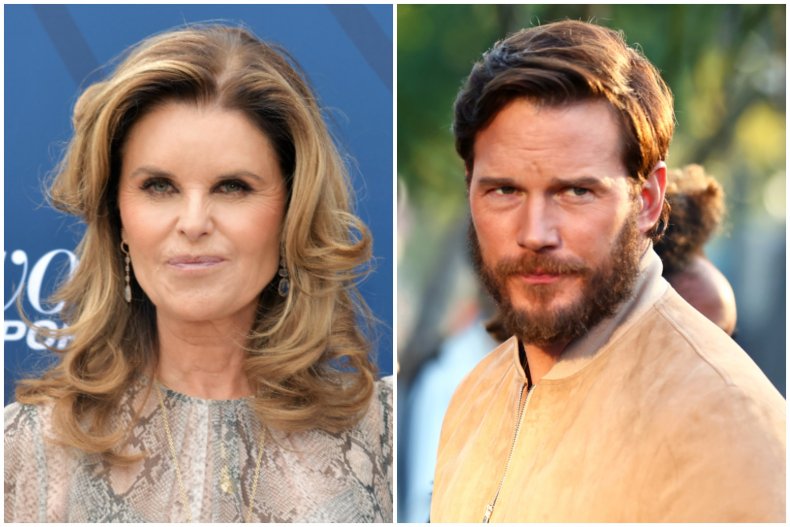 "I can't agree more!" Shriver commented at the time of the post, also adding: "this is so sweet now show us how you look at her !!"
For her part, Schwarzenegger replied to the post: "Oh wow. It's only when I'm eating CEREAL but i love you," while her brother, Patrick Schwarzenegger, commented with laughing and love heart eye emojis.
A number of celebrities also reacted positively to the post, including Terry Crews, Billy Bush, Bear Grylls and Tulsi Gabbard.
Pratt and Faris' son, Jack, was born nine weeks premature in August 2012 and spent a month in intensive care.
Mom star Faris, whose split from Pratt was announced in 2017, recounted the "emotionally exhausting" weeks that followed Jack's birth in her memoir, Unqualified.
"The pediatric neurosurgeon sat Chris and me down to tell us that Jack had some severe brain bleeding and there was a chance that he could be developmentally disabled," she wrote. "I was in complete shock ... So Chris and I did what we could, which was hold hands and hope and face it together."
Parks and Recreation star Pratt previously told People that he saw his son as "so beautiful and perfect" after he was born.
"We were scared for a long time," he said. "We prayed a lot. It restored my faith in God, not that it needed to be restored, but it really redefined it.
"The baby was so beautiful to us, and I look back at the photos of him and it must have been jarring for other people to come in and see him, but to us he was so beautiful and perfect."