Marianne Williamson Apologizes For Calling Clinical Depression A 'Scam'
Democratic presidential candidate Marianne Williamson apologized on Thursday during an interview with CNN's Anderson Cooper for calling clinical depression a "scam" in past comments. She also defended other contentious statements about anti-depressants.
Williamson has attracted increased attention this summer due to her emotionally-oriented policy platform. During the CNN democratic debate Wednesday night, Williamson made an impact while laying out a plan for reparations and running on a platform of love. The candidate also drew attention when she referred to President Trump as a "dark psychic force."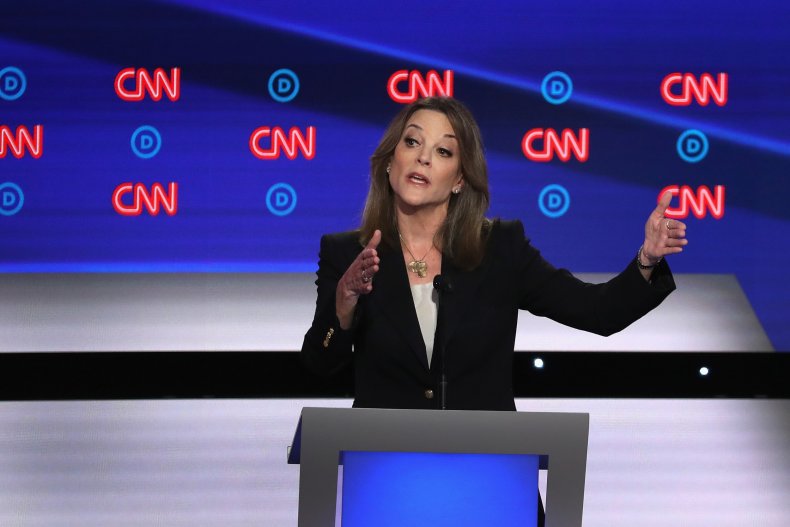 Cooper challenged the presidential candidate and spiritual guru about contributing to stigma surrounding depression, for using words like "numb" or "mask" when discussing anti-depressants in the past. Williamson responded saying, "I think that would be a not good message and I think I've never given that message. That's just never the way I've spoken and it is a complete mischaracterization of my commentary," she said, adding that her comments were referring to "a normal spectrum of human despair."
Williamson apologized in the interview for previously calling clinical depression "a scam" while speaking on a podcast last year, acknowledging that it was "a glib comment" that was "wrong of me to say."
"Clinically depressed people aren't depressed because the world is depressing," Cooper said to Williamson. "They have a chemical imbalance."
Williamson argued that there are times when sadness is part of life. Williamson also said that a "spiritual person" is just as qualified to speak about "sadness" as a medical professional.
"There is value sometimes in feeling the sadness, feeling that dark night of the soul," Williamson said in the combative interview. "We have lost our sense that there are times when sadness is part of life."
Williamson then went on to quote the poet Rainer Maria Rilke: "Let me not squander the hours of my pain."
"If you're on an antidepressant, you're not numbing your pain. You're actually trying to feel again," the CNN host responded.
"I didn't expect such an aggressive conversation with @AC360 but I figure it's good rehearsal for debating Donald Trump," Williamson tweeted Thursday.
On Friday, Williamson took to Twitter to further clarify her comments on mental health. She said, "So let's state it again. I'm pro medicine. I'm pro-science. I've never told anyone not to take medicine. I've never fat-shamed anyone. And today there's a new one: no I don't support Scientology. The machinery of mischaracterization is in high gear now. Gee, did I upset someone?"