Marie Kondo's Confession She Gave Up on Cleaning Sparks Racism Debate
Formerly a decluttering expert, Marie Kondo has admitted that she's "kind of given up" on tidying, which has prompted a surprisingly strong reaction online.
The former star of Tidying Up with Marie Kondo on Netflix has told the Washington Post that she's accepting mess in her own home now that she's given birth to her third child.
Kondo became a cultural icon when her Netflix show dropped in 2019, which seemingly inspired millions of viewers to tidy too, having asked themselves what "sparked joy" in their own lives.
Now that Kondo doesn't appear to have tidying as a priority, a debate surrounding racism is raging online.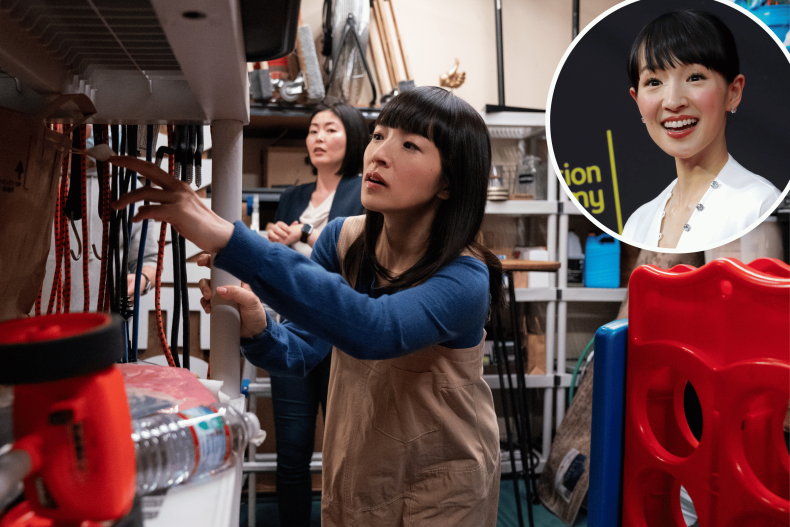 The argument stemmed when people seemingly started criticizing Kondo for giving up on her previously spouted tidying methods. Canadian filmmaker Sarah Polley had a joke lost in translation, which eventually went viral.
"She admits she has 'kind of given up' on tidying after three kids," the Oscar-nominated writer of Women Talking said.
"Where is the official apology to those of us who she influenced to make our clothes into little envelopes while we HAD three kids!" Polley's tweet has since been deleted, and she has confirmed that it was a joke, but it was picked up and read with sincerity by many online.
"Unhinged behavior," wrote author Cora Harrington on Sunday, which made the tweet go even more viral. "Nothing people hate more on this app than POC being like, 'Buy less... maybe?'" She added.
Twitter user @PaulSkallas, aka LindyMan, suggested Kondo's plan was to "cash in on the libs and exit."
"Lol ... after all that joy sparking she realized children and not decluttering spark joy," wrote @EditingWiz1 in response to the news regarding Kondo.
The debate raged on Reddit too as user @chr15c said: "Marie Kondo preached about her militant method of decluttering, only to realize what she was preaching is impossible with a family."
There seemed to be far more people online defending Kondo's decision, and asking openly why white people appeared to have a problem with her decision.
"Why do people hate Marie Kondo so much? Is it misogyny? Racism? Both?" Twitter user @ERnurse86 wrote. "I swear she doesn't bother anyone but folks are always on her ass about something and it's weird."
"I believe the levels of hate Marie Kondo gets from some quarters is because an [East] Asian woman. Racism permeates EVERYTHING," Twitter user @hyfreelance wrote.
Writer Shiv Ramdas also shared his confusion at the perceived backlash against Kondo. "Marie Kondo gotta be the most unlikely polarizing figure of my lifetime, all that lady said was get rid of [stuff] you're not happy with and I swear the media in this country has spent half a decade trying to find new gotchas to throw at her every week, it's beyond bizarre," he wrote.
Author Kosoko Jackson also used Polley's attempt at humor to drive home their point.
"I hate how white people will do gleefully go for a woman of color. She didn't make you do anything," he wrote and added, "Lemme stop before I get banned."
Kondo appears to have taken a step back from projects recently, as her latest English-language show was 2021's Sparking Joy with Marie Kondo on Netflix. However, she regularly posts on Instagram, and as recently as Friday wrote about tidying again.
"When tackling a new tidying project, I begin by envisioning my ideal lifestyle. How do you motivate yourself before practicing organization as self care?" she wrote to her 4.1 million followers.
She also posts occasional videos to her YouTube channel, the latest being published on December 11, 2022.