As nonessential businesses shutter in nearly every state plus the District of Columbia to slow the spread of the coronavirus, many liquor stores and cannabis dispensaries are making use of key exemptions to remain open and carry on with their operations.
According to the National Governors Association, 42 states have thus far enacted measures to close businesses deemed nonessential, a determination that has veered from technocratic to political in some cases, such as with the wrangling over firearms dealers.
Typically, these orders protect operations at restaurants that exclusively offer takeout or delivery options, in addition to carving out industry-specific exemptions for grocery stores, the news media and pharmacies, among others.
However, the inclusion of dispensaries and liquor stores has led many to question why apparently recreational services would be included among the most essential and infrastructural parts of civic life. But officials and advocates believe these stores are an essential component of the broader health care system.
In a March 21 executive order, New Jersey Governor Phil Murphy published a list of essential businesses that would be exempt from the state's mandatory closures, and liquor stores were included.
In explaining his administration's rationale, Murphy recounted at a recent press conference the story of a woman who "was on her knees profusely thanking me for keeping the liquor stores open as it relates to just the whole addiction front."
He added: "She said that...the alternative would have been crushing for a lot of people."
The Distilled Spirits Council of the United States, an alcoholic beverage industry trade group, said Pennsylvania is the only state so far to shut down all liquor stores. Thirty-two states have explicitly carved out protections for liquor stores in their emergency directives.
"Governors in these states recognize that there is a careful balance between protecting public health while also protecting state and local economies and continuing to serve consumers," the group told Newsweek in a statement.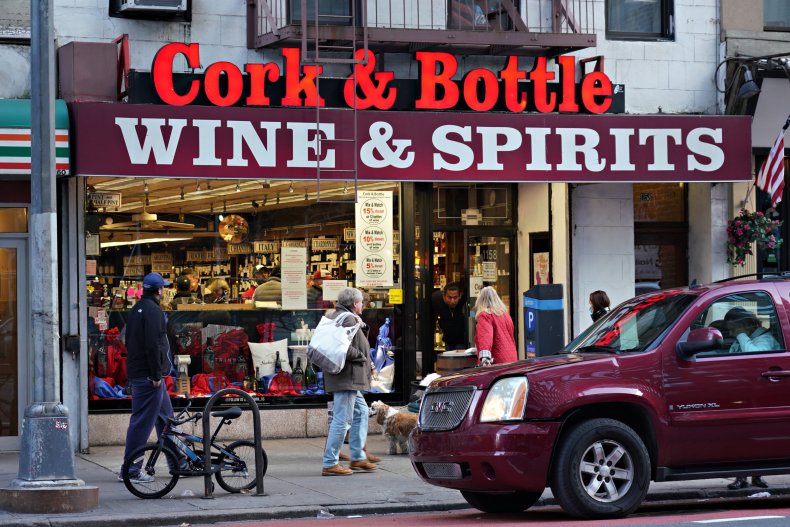 At a press conference in mid-March, Dr. Rachel Levine, Pennsylvania's top health official, said that addressing the needs of alcohol-dependent residents during the shutdown was a "very important question."
Levine added that Pennsylvania was working "to come up with a plan for patients who are addicted to alcohol who would suffer when the liquor stores are closed." Other establishments with licenses to sell alcohol, such as convenience stores otherwise able to remain open, could act as an alternative.
"Each year there are roughly 250,000 emergency department visits and 850 deaths related to alcohol withdrawal," George F. Koob, the director of the National Institute on Alcohol Abuse and Alcoholism, a division of the U.S. National Institutes of Health, noted in a statement to Newsweek. "Abruptly limiting access to alcohol could lead to an increase in withdrawal among people with severe alcohol use disorder and add to the burden on the healthcare system."
Koob added that countervailing factors, such as the tendency of people to turn to alcohol in order to "cope with duress," should be considered as well.
But as tax revenues drop precipitously in the states hit hardest by sputtering economic activity, keeping liquor stores open may offer a small cushion for financially precarious state governments.
"Maryland's craft beer, wine and spirits industries are three of our state's most important manufacturing sectors, responsible for sustaining tens of thousands of jobs and generating hundreds of millions of dollars in employee wages, economic investment and tax revenues, which we need for important priorities," that state's comptroller, Peter Franchot, said in a statement to The Baltimore Sun.
Maryland Governor Larry Hogan's March 23 executive order specifically exempted alcoholic beverage stores, distributors, distilleries and wineries.
Cannabis suppliers have also gotten exemptions in many states, though executive orders make clear that residents need access to the drug for therapeutic purposes. For example, Dr. Muntu Davis, Los Angeles County's health officer, proclaimed that "cannabis dispensaries with a medicinal cannabis license" would be considered essential by county emergency officials.
Maryland's executive order protects "medical cannabis growers, processors, and dispensaries," and New Jersey has allowed pharmacies that "dispense medicinal marijuana" to remain open.
The American Cannabis Nurses Association has said it is worried many "patients are quickly losing access to their medicine" in states without these explicit protections. The National Cannabis Industry Association, a trade group, told Newsweek that so far, "every state with a functional regulated cannabis system has allowed continued access in some form."
Some have gone as far as to deem the industry essential, entrenching these protections.
"The primary reason cannabis businesses should be declared as essential is that there are millions of registered medical cannabis patients and millions more individuals who consume cannabis for medical or therapeutic purposes around the country," the trade group said. "It is dangerous and unethical to interrupt their healthcare at a time when nearly all healthcare systems are already severely overburdened, or force them to turn to the illicit market to obtain their medicine."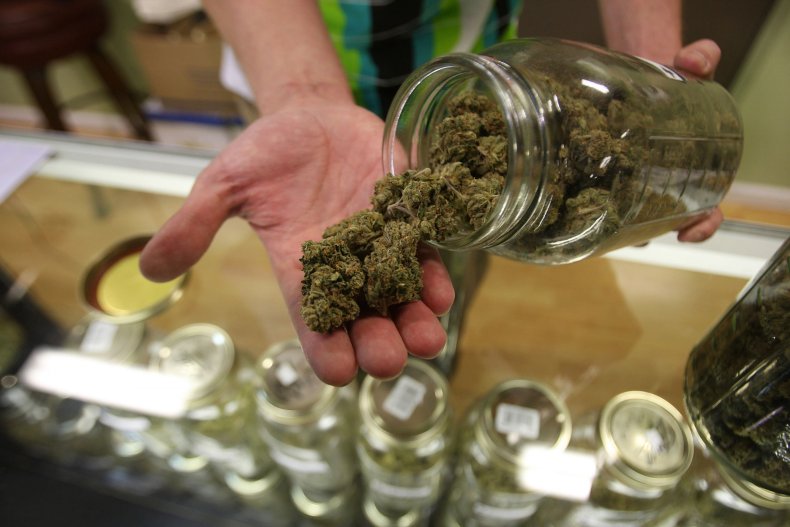 This article has been updated to include comments from George F. Koob, director of the National Institute on Alcohol Abuse and Alcoholism.
Uncommon Knowledge
Newsweek is committed to challenging conventional wisdom and finding connections in the search for common ground.
Newsweek is committed to challenging conventional wisdom and finding connections in the search for common ground.
About the writer
Asher Stockler is a reporter for Newsweek covering the National Rifle Association and gun policy.