Marijuana Legalization Isn't Delivering What Supporters Promised | Opinion
You may have heard about New York state's move to legalize marijuana. But lost behind the celebratory pro-pot headlines were the stories of Maryland, Hawaii, North Dakota and Wyoming. These states all saw marijuana legalization bills fail over the last week and joined New Hampshire in rejecting marijuana legalization this year, after more than a dozen states did so last year.
This is encouraging news.
Our country is struggling to navigate two major public health crises. First and foremost is the COVID-19 pandemic, which lawmakers are rightly focused on. But we are also in the midst of a devastating mental health and addiction crisis. The data coming out of states cannot be ignored. For example, West Virginia just reported that overdose deaths increased more than 40 percent in the last year. All told, some 1,147 West Virginians lost their lives to addiction between 2019 and 2020. Similar trends are being seen across the country, as overdose deaths have increased 25 percent nationwide.
Lawmakers should tread very lightly when it comes to normalizing and expanding access to marijuana, a substance proven to negatively impact mental health and increase chances of future substance use. New reports have shed even more light on the consequences of marijuana legalization.
A recent study conducted by researchers at the University of Queensland found that those who initiate regular marijuana use as teenagers were more than 20 times more likely to become illicit drug users and 3.7 times more likely to be high-risk alcohol drinkers. Colorado has seen consistent increases in opioid overdoses since legalizing marijuana. In fact, 2020 was the worst year on record for drug overdoses in the state.
Furthermore, a massive study out of California found that the state's youth may be more likely to use marijuana since legalization in 2016. The study looked at data from more than three million 7th, 9th and 11th graders and found significant increases in lifetime and past-month marijuana use among almost all demographics. This directly undercuts the idea that legalizing marijuana and deeming it safe won't lead to more youth using the drug.
Even more concerning is the use of new, more potent forms of marijuana. Recently released data from the Colorado Department of Public Health and Environment tell us that the use of marijuana vapes and other concentrates, commonly known as dabs, among young people in the state has skyrocketed in the last two years. These forms of marijuana can contain up to 99 percent pure THC, the psychoactive compound that makes a user feel "high."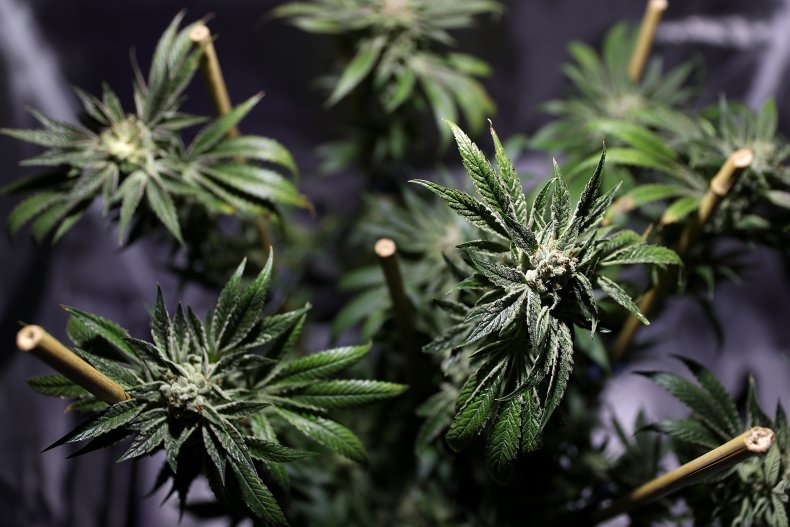 The rise in the use of high-potency marijuana also coincides with an increase in marijuana being detected in toxicology reports for teens who have died by suicide in Colorado. Advocates have long warned that youth marijuana use poses a significant risk of depression and suicidal thoughts.
The mental health of our youth is suffering during the pandemic. Emergency room visits for mental health-related issues have risen 24 percent, rates of intentional self-harm have dramatically spiked and depression and anxiety have increased among young people over the last year. Expanding access and promoting the use of a drug known to exacerbate mental health issues at this time would be like pouring gasoline on a fire.
Sadly, these data points aren't commonly known. And during the COVID-19 pandemic, lawmakers who support legalization have adopted new tactics to make it even harder for public health and safety advocates to share vital information in state legislatures. Of course, in-person legislative hearings are not currently an option, but legalization supporters in charge of hearings are now able to limit or even prevent public health advocates from presenting arguments via Zoom or other virtual platforms.
In these hearings, we've heard incessantly that legalization will eliminate the illicit marijuana market, yet time after time we have seen the illicit market thrive and even grow stronger in states with "legal" pot.
We have also heard how legalization and commercialization efforts promote social equity—creating new opportunities to boost communities that suffered the brunt of the War on Drugs. In reality, however, the pot industry is overwhelmingly controlled by affluent multi-state operators. Altria—owner of Phillip Morris and Marlboro—as well as alcohol conglomerates are some of the industry's biggest investors. Positioning legal pot as an opportunity to empower underserved communities is nothing but a slick talking point.
Legalization has also done little to reduce the racial disparities in marijuana arrests. According to the American Civil Liberties Union, a noted supporter of legalization, in states where marijuana has been "legalized," African Americans remain more likely to be arrested for a marijuana violation than whites, despite similar rates of use.
Five states this year have killed legalization efforts, but more bills are making their way through legislatures around the country. Lawmakers can try to hide from the facts, but the truth consistently comes out in data addressing marijuana's impact on communities, youth and more. As Americans navigate the many facets of marijuana legalization, they deserve accurate, credible information, not false claims that benefit no one but investors. We must demand transparency.
Kevin Sabet, Ph.D., serves as co-founder and president of Smart Approaches to Marijuana (SAM) and is a former senior drug policy advisor to the Obama Administration. His upcoming book "Smokescreen: What The Marijuana Industry Doesn't Want You To Know" will be distributed by Simon & Schuster and available April 20th. Former U.S. Rep. Patrick J. Kennedy is co-founder of SAM; founder of The Kennedy Forum; co-author of the New York Times Bestseller, "A Common Struggle: A Personal Journey Through the Past and Future of Mental Illness and Addiction;" and a former member of the President's Commission on Combating Drug Addiction and the Opioid Crisis.
The views expressed in this article are the writers' own.