Marilyn Manson Confirms Kanye West Collaboration—His Voice is on 'Donda'
Marilyn Manson is confirmed to be featured on Kanye West's upcoming album, Donda, a spokesperson has confirmed exclusively to Newsweek.
The musician made an appearance at Thursday night's Donda Listening Experience alongside the rapper in a stunt that has been heavily criticized by music fans.
"Marilyn Manson's voice is featured on DONDA, and he will continue to conceptually collaborate with Ye on the DONDA project," a spokesperson for Manson confirmed.
The highly anticipated album has not yet been released and Mason's input was not revealed until now.
Newsweek has contacted West's representatives for further comment on Manson's collaboration.
Taking place in Chicago's Soldier Field stadium, almost 40,000 people witnessed West share the stage with Manson as well as DaBaby.
The "Tainted Love" singer is facing multiple allegations of sexual, physical and emotional abuse from his former partners including Westworld actress Evan Rachel Wood and Esmé Bianco from Game of Thrones.
"I was brainwashed and manipulated into submission. I am done living in fear of retaliation, slander, or blackmail," Wood wrote in an Instagram post. "I stand with the many victims who will no longer be silent."
Bianco labeled the rock star—whose real name is Brian Warner — as a "monster who almost destroyed me and almost destroyed so many women."
She told The Cut: "I basically felt like a prisoner. I came and went at his pleasure. Who I spoke to was completely controlled by him. I called my family hiding in the closet."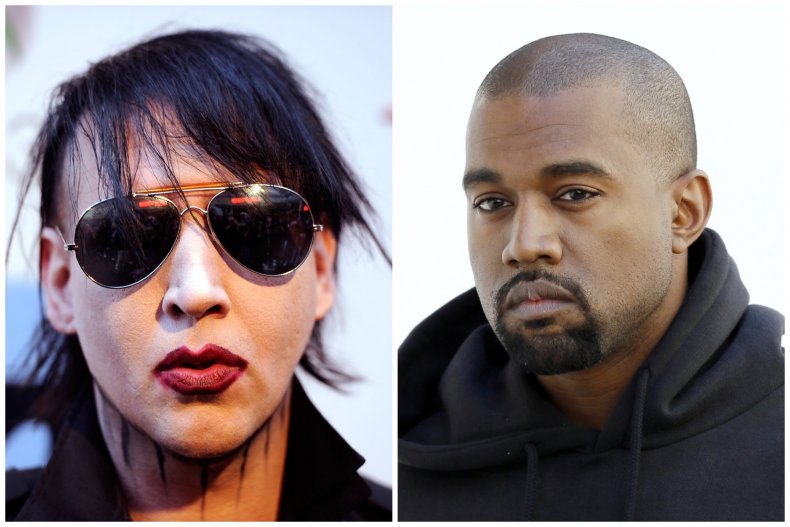 As of June this year, the musician is facing four sexual assault lawsuits. He has denied all the allegations against him.
Addressing the situation on Instagram earlier this year, Manson wrote: "Obviously, my art and my life have long been magnets for controversy, but these recent claims about me are horrible distortions of reality.
"My intimate relationships have always been entirely consensual with like-minded partners. Regardless of how—and why—others are now choosing to misrepresent the past, that is the truth."
Manson was joined by another masked figure at the Donda event who was revealed to be DaBaby. He was recently dropped from a number of festival lineups due to homophobic comments he made at Rolling Loud festival.
Despite the huge fanfare and three listening events, West's 10th studio album is still not available to buy, stream or download.
Last week, the "Jesus Is King" hitmaker's manager promised fans the album would drop Friday, August 27 but so far there is still no sign of it.