Marine Pilots Who Drew Penis-Shaped Cloud in Sky Allowed to Fly After Temporary Ban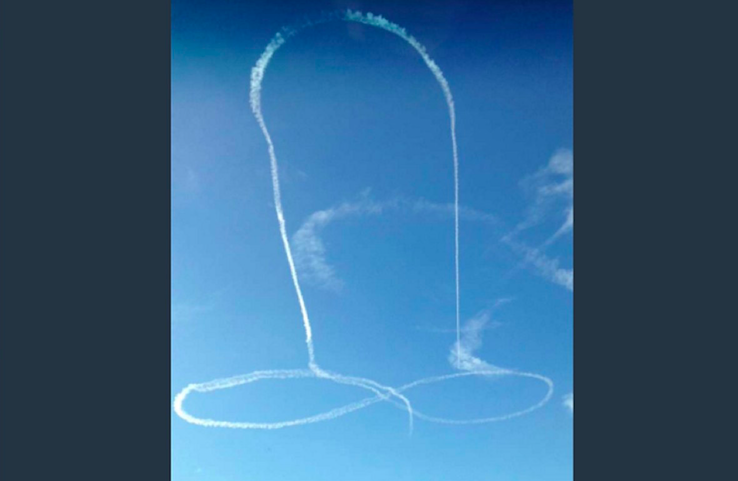 Two Marine Corps pilots, who drew a large penis-shaped cloud in the sky, will be allowed to retain their wings and continue flying after being temporarily banned.
Marine spokesperson Major Josef Patterson told The Marine Corps Times that the aviators have faced disciplinary action and will be allowed to continue to serve. However, he did not reveal details about their punishment.
"Two Marine Corps aviators were administratively disciplined following the completion of an investigation into the facts and circumstances surrounding an October 23 irregular flight pattern that resulted in an obscene image," he said.
In October, a huge penis-shaped cloud appeared in the Californian skies, which resulted in two Marine Corps pilots being grounded pending an investigation into the incident.
The Twitter account "Aircraft Spots" shared the flight pattern of the pilots made after it was picked up by radar.
At the time, Patterson revealed to The Marine Corps Times that the T-34C crew was "being investigated for flying a pattern resembling an obscene image."
'[They] are currently not flying pending the results of an ongoing investigation," he said. "Although not flying, for the time being, the two Marine Corps aviators are still providing vital squadron ground support functions."
After the investigation concluded, the pilots were permitted to continue serving with the 3rd Marine Aircraft Wing.
The incident was not the first time a marine drew a phallic shape in the sky. Last year, the U.S. Navy confirmed that one of their crews drew a genitalia in the sky in Okanogan County, in Washington state.
"US Navy aircrew, flying an F/A-18 Growler (Electronic Attack Aircraft) assigned to Electronic Attack Squadron 130 based at Naval Air Station Whidbey Island, Wash., flew an air pattern over Okanogan County, Washington, on Thursday, November 16, that left a condensed air trail resembling an obscene image to observers on the ground," Navy spokesperson Lt. Cmdr. Leslie Hubbell said in 2017.