'Super Mario Galaxy' and Other Classic Mario Games Coming to Nintendo Switch
After months of speculation and rumors, Nintendo finally announced on Thursday how it's celebrating 35 years of Mario. And, good news for longtime fans of the Bowser-thwarting plumber, they're doing it big.
In a special unannounced Nintendo Direct online presentation, Nintendo unveiled upcoming remasters of classic Mario games like Galaxy, Sunshine and Super Mario 64 in a special bundle, as well as a new way to play Mario Kart on your Switch and much more.
Games and products (including new sneakers and apparel) will be rolling out starting today until the spring of 2021.
Check out the Mario 35th anniversary presentation below.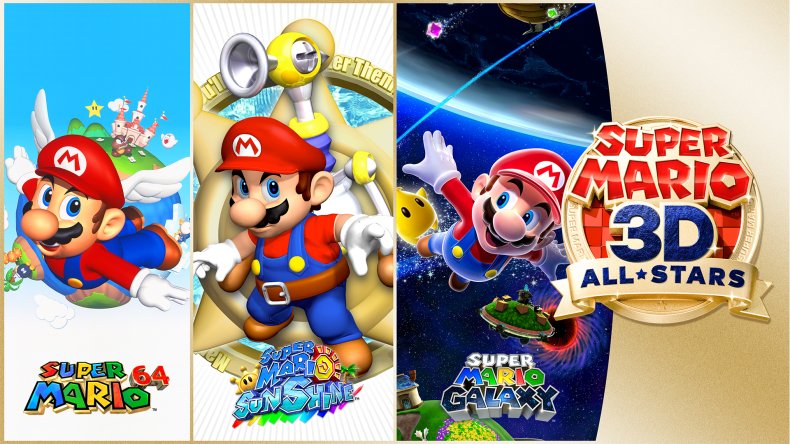 Super Mario 3D All-Stars
The biggest announcement from Thursday's Nintendo presentation was without a doubt the reveal of Super Mario 3D All-Stars. This Nintendo Switch title collects optimized versions of classic 3D Mario games—Super Mario 64, Super Mario Sunshine and Super Mario Galaxy—all in one package.
Aside from higher resolution and streamlined gameplay, Super Mario 3D All-Stars also includes an in-game music-player mode to play the tunes from all three titles, even when the screen is off. A limited production of Super Mario 3D All-Stars launches on September 18 and will be available until approximately March 31, 2021.
Mario Kart Live: Home Circuit
Mario Kart Live: Home Circuit lets fans use their Nintendo Switch or Switch Lite systems to race against opponents with a physical kart. The physical kart responds to boosts in-game and in the real world, stops when it's hit with an item and it can be affected in other, different ways, depending on the race.
Players can even create their own custom course layout in their home.
Mario Kart Live: Home Circuit, which is available in a Mario Set or Luigi Set, launches on October 16 for $99.99.
Game & Watch: Super Mario Bros.
The Game & Watch system, which was first released in 1980, could be coming to your home this fall. This new collectible device will come equipped with the original Super Mario Bros. game that was released for the NES, Super Mario Bros: The Lost Levels and a special version of Ball. The new Game & Watch system can also be used as a clock because, you know, the "& Watch" part.
Nintendo fans will be able to purchase the new Game & Watch on November 13 for $49.99.
Super Mario 3D World + Bowser's Fury
Similar to the bundle that includes Mario's trio of 3D adventures, this remaster will bring the enhanced Super Mario 3D World, which originally launched for the Wii U system, and features co-op gameplay both online and through local multiplayer.
More details about this game will be released in the future.
Super Mario 3D World + Bowser's Fury launches for Nintendo Switch on February 12, 2021. New amiibo figures Cat Mario and Cat Peach will also be released at the same time as the game.
Super Mario Bros. 35
Nintendo is getting into the world of Battle Royale with Super Mario Bros. 35, a new title that pits 35 players against each other in competitive online battle games.
Make your way through various Mario stages, defeating enemies to throw them into other players' courses and vice-versa. Players can activate special items to try and outrace their opponents.
Super Mario Bros. 35 launches on October 1 as a digital-only game exclusive to Nintendo Switch Online members. The game will be playable until March 31, 2021.
Super Mario All-Stars
This classic Super NES game is coming to Nintendo Switch Online later today and includes upgraded versions of Super Mario Bros., Super Mario Bros.: The Lost Levels, Super Mario Bros. 2 and Super Mario Bros. 3.
Which Mario game are you most excited for? Let us know in the comments section.