'Mario Tennis Aces' Characters, Stages and More Found in Datamine
The demo for Mario Tennis Aces is available to download now before the online tournament goes live on the weekend of June 1, which means dataminers have popped the hood to take a look at what the full game may have in store. Blazingflare tweeted some information found from datamining the Mario Tennis Aces demo and came up with a list of characters (both confirmed and unconfirmed), stages and bosses.
If you don't want to know any unconfirmed information about Mario Tennis Aces before its release, you'll want to turn back now.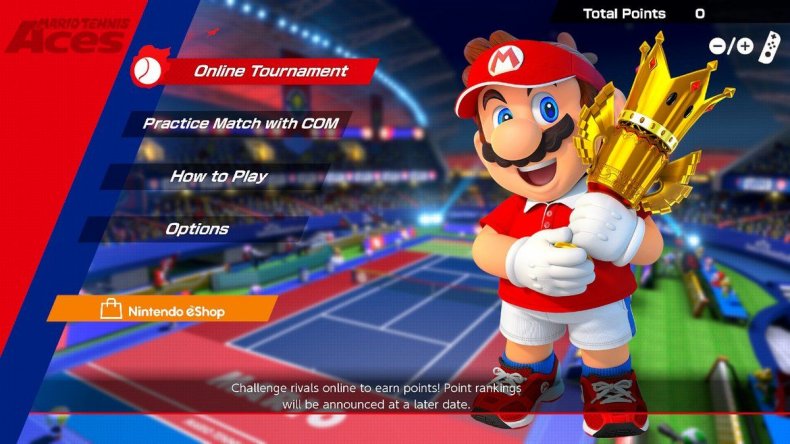 DEMO PLAYABLE CHARACTERS
The first bit of information revolves around the playable characters in the Mario Tennis Aces demo. Nintendo confirmed that Mario, Yoshi, Princess Peach and Bowser will be playable and that five other characters can be unlocked by playing in the online tournament.
According to Blazingflare those unlockables are Chain Chomp, Rosalina, Waluigi and two of these three characters: Toad, Spike, Dry Bones.
STAGES/COURTS
The various stages/courts in Mario Tennis Aces have three versions, which Blazingflare categorizes as main, gimmick and miniboss. Names of these stages/courts were not found in the data but are based on the following: stadium, haunted, battleship, bowser castle, snow mountain, sand and forest.
UNCONFIRMED ROSTER ADDITIONS
As for the rest of the Mario Tennis Aces roster, the data includes references to the following characters:
Diddy Kong, Koopa Troopa, Para Troopa, Shy Guy, Kameck, Birdo, Spike, Boom Boom, Dry Bones, and Miis. Blazingflare also points out another string of data for "Hone," which is Bone in Japanese.
BOSSES
In Mario Tennis Aces, Mario will have to face off against various bosses in his pursuit of rescuing Luigi. Petey Piranha was already a confirmed boss in the game but the datamining also came up with the following code names:
Gooper Blooper, boss_icegolem, boss_esterkoopa, boss_mirage, boss_statuekoopa, and inishienoudedameshi.
Mario Tennis Aces releases for Nintendo Switch June 22.
So what do you think of the data found in the Mario Tennis Aces demo? Which character are you looking to main? Let us know in the comments section below.