Russia Risking Mariupol Cholera Outbreak With Mass Graves, Water Shortage
Mass burials could spark a cholera outbreak in the captured Ukrainian city of Mariupol, authorities warned.
During a news conference on Monday, Ihor Kuzin, Ukraine's chief state sanitary doctor, warned of the spread of cholera, a potentially deadly bacterial disease, due to mass burials after the fighting and water shortages, according to The New Voice of Ukraine's NV.UA news website.
The warning came just weeks after Russia took control of the key port city. Ukrainian defenders fought for more than two months to hold Mariupol, but ultimately the Russian military took control of it in late May. Amid the conflict, local officials sounded the alarm about humanitarian crises in the city.
Kuzin said that following the fighting, some bodies have been buried in unauthorized areas, which can lead to water contamination—though the exact number of such cases has not been released publicly.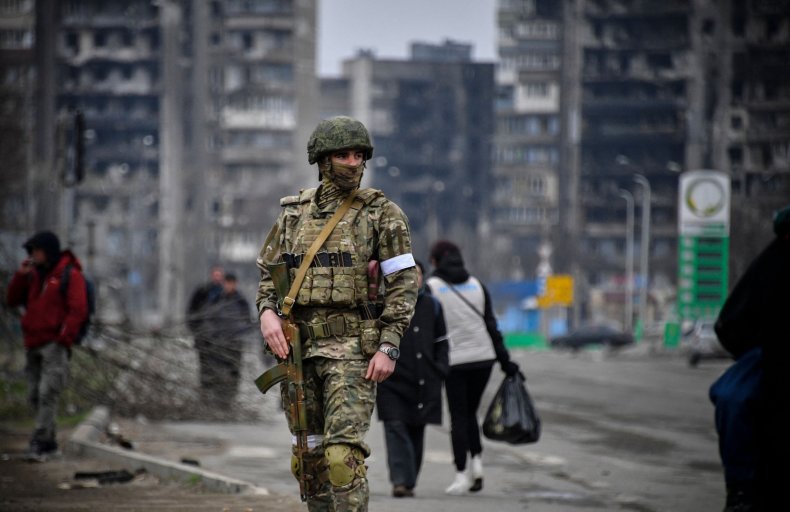 He advised residents to only use water from wells and aqueducts that have been subject to heat treatment to avoid spreading the deadly disease, according to the New Voice of Ukraine report.
"If you answer the question of whether there is a risk of cholera spreading, it really is there," he said.
He continued: "We know that cholera cases have been registered in this region and in Mariupol in the past, and we are focused on preventing this and preventing it as much as possible."
Petro Andryushchenko, an adviser to the city's mayor, also said on Monday the city was preparing for an outbreak, according to The Telegraph. He warned that an epidemic has "more or less begun already," although he was aware of only isolated cases.
The World Health Organization (WHO) has also raised concerns about the spread of infectious diseases in Mariupol, citing damage sustained by the city's water system during the fighting, including many pipelines that were destroyed.
"On the streets is just a swamp, and sewage is mixed with drinking water. This is a huge risk of spreading many infections including cholera," Dorit Nitzan, WHO's regional director for emergencies, said during a news conference in Kyiv last month, reported Radio Svoboda.
Mariupol Mayor Vadym Boychenko warned in May that up to 10,000 Mariupol residents could die from infectious diseases, including cholera, by the end of 2022, The New Voice of Ukraine added.
Much of the city suffered significant damage in the fighting, leaving its infrastructure in ghastly condition that could cost billions of dollars to repair and could complicate efforts to mitigate an outbreak. Ukrainian authorities estimate that about 100,000 residents still remain in the city—a sharp decline from before the invasion, when more than 400,000 people lived there, NPR reported.
Newsweek reached out to the Ukrainian Ministry of Health for comment.