After enduring major attacks from Russian forces, the Mariupol City Council estimates that reconstruction efforts in the city will cost billions of dollars.
The council announced the hefty estimate in a statement on Friday, according to the Kyiv Post, saying that preliminary estimates indicate that "at least $10 billion will be needed to restore the infrastructure of Mariupol, which suffered from the attacks of the Russian occupiers."
Russian military officials had said on Wednesday that they will halt fighting in Mariupol, one of Ukraine's most war-ravaged cities, to allow thousands of civilians to flee. Ukrainian officials, who reacted skeptically to the announcement, said they agreed to a humanitarian corridor to provide relief for residents who have remained in the city without food, water, heat or electricity.
Mariupol City Mayor Vadym Boychenko emphasized that the Russian forces that caused the destruction should also be held legally accountable for criminal acts committed during the invasion.
"Every crime, every murder and act of destruction committed by the aggressor must be recorded and passed on to the International Court [of Justice]," Boychenko was quoted in a Reuters report. The city council has said that a special committee will be tasked with recording such acts.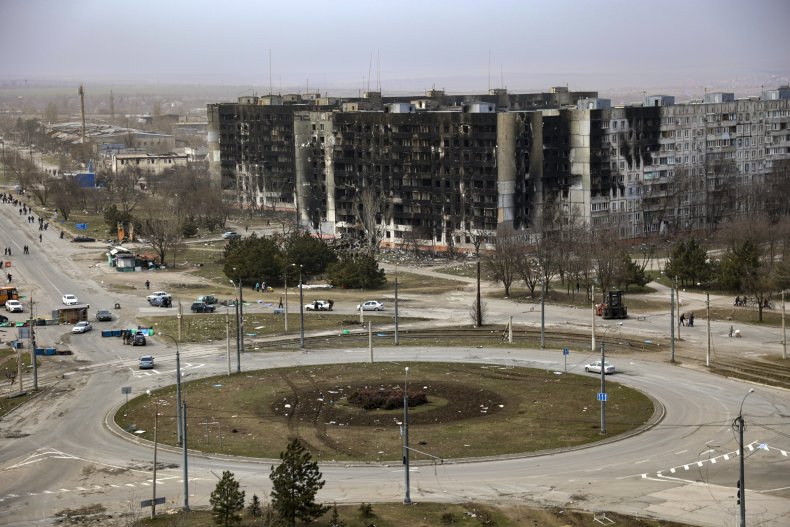 There is a chance that these and other alleged acts of aggression could be brought to international courts. The United States and Ukraine are working together to collect evidence in order to formally accuse Russia of war crimes against Ukrainian citizens. However, if such a case is formed, Russian President Vladimir Putin is unlikely to be brought to trial.
Meanwhile, around 2,000 citizens from Mariupol are on track to be evacuated to the city of Zaporizhzhia, CNN reported. The Mariupol City Council said that Zaporizhzhia is currently under Ukrainian control.
"Many private vehicles have joined the 42 buses escorted by Red Cross and SES (State Emergency Service) vehicles. Today we expect the arrival of a record number of Mariupol residents," the council said in a statement quoted by CNN.
While the fighting in Mariupol has died down, the conflict between Russian and Ukrainian forces around the capital of Kyiv appears to be moving into suburban areas. The U.K.'s Ministry of Defense recently told reporters that it has received intelligence that the two countries are expected to engage in "heavy fighting" in the capital's suburbs.
"Russian forces continue to hold positions to the east and west of Kyiv despite the withdrawal of a limited number of units," said the Ministry. "Heavy fighting will likely take place in the suburbs of the city in coming days."
Update at 4/1/22, 12:45 p.m. ET: This story has been updated with additional information.