Marjorie Taylor Greene Amendment Flops as Only 13 Republicans Back Her
An amendment proposed by Republican Representative Marjorie Taylor Greene failed on Thursday, as just 13 of her GOP colleagues joined her in voting in favor of it.
The amendment to the Strategic Production Response Act would have prevented the president from selling oil but was defeated by a vote of 418 to 14, with seven members not voting.
Footage of the moment the amendment failed was shared to Twitter on Thursday by user @Acyn and had been viewed more than 1.6 million times as of early Friday morning.
The Strategic Production Response Act was introduced by Republican Representative Cathy McMorris Rodgers and it "limits the drawdown of petroleum in the Strategic Petroleum Reserve until the Department of Energy develops a plan to increase the percentage of federal lands leased for oil and gas production," according to a summary of the bill provided on Congress' website.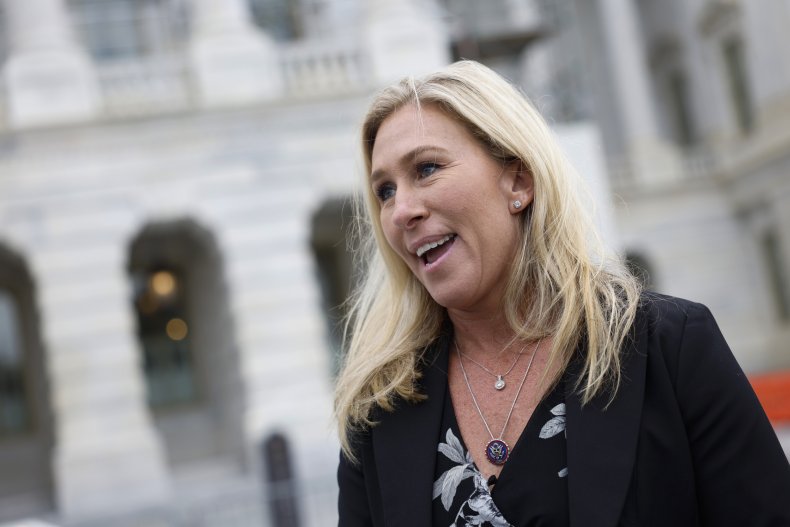 The House rejected a number of amendments to the bill, which is also known as H.R. 21, in a series of votes on Thursday.
Democratic Representative Alexandria Ocasio-Cortez shared the video of the moment the amendment failed to pass and tweeted: "Woof. Even my psilocybin amendment did better than this."
That amendment was rejected by the House in 2021 in a vote of 285 to 140 with most Democrats in the chamber at the time backing the proposal, which would have allowed "research on whether Schedule I drugs can treat disease," according to the congresswoman.
In her speech on the House floor arguing in favor of her amendment, Greene took aim at President Joe Biden's decision to release tens of millions of barrels of oil from the Strategic Petroleum Reserve (SPR) and pointed to the fact that the reserve is now at its lowest level since 1983.
Biden ordered emergency drawdowns from the reserve following Russia's invasion of Ukraine and House Republicans accuse him of leaving the U.S. vulnerable to a potential oil supply disruption.
The administration has already begun a plan to refill the SPR.
Greene said Biden's actions "prove an intentional plot to destroy America's oil industry and usher in the climate cult's green new deal."
Sharing footage of her speech to Twitter on Thursday, Greene wrote: "We need to chart a path back to energy independence and ensure President Biden is not able to sell our critical oil supplies to China and other enemy nations."
"My amendment would prevent President Biden from claiming an emergency to further reduce our strategic oil supplies," she added.
The Biden administration released more than 200 million barrels of oil from the reserve last year. When the president took office, the SPR held 638 million barrels but that number has now fallen to 372 million barrels.
H.R. 21 would prevent the secretary for energy from making drawdowns from the reserve without providing a plan to increase oil and gas leasing on federal lands unless there was major oil supply emergency.
Energy Secretary Jennifer Granholm said on Monday that Biden would veto H.R. 21 if it comes to his desk.
Newsweek has asked Marjorie Taylor Greene's office for comment.
Update 01/27/23 03.30a.m. E.T.: This article was updated to include more information.