Marjorie Taylor Greene Attacks GoFundMe Over Refunds on Trucker Donations
Congresswoman Marjorie Taylor Greene, a Georgia Republican, attacked GoFundMe Saturday morning over its decision to refund donations to the Canadian truckers who are protesting a COVID-19 vaccine mandate.
Truckers began the protest in downtown Ottawa last week and have faced scrutiny from the Canadian government, with Prime Minister Justin Trudeau saying they should go home.
Since the launch of the fundraiser in support of the protests' organizers, supporters donated C$10 million—about $7.9 million—to the now-defunct page on GoFundMe, which said Friday it would refund contributions to any donors. The company first halted the fundraiser on Wednesday.
Greene called for the company to be "arrested for theft" and told her followers that "no one should use their site" in a five-minute video posted to her account on the conservative social media site Gettr.
"These corporate communists—this big tech company, basically—that acts as like a bank, and their corporate communists are stealing money," she said. "I mean, this is literally theft by deception. It is completely wrong and they should be arrested. They seriously should be arrested."
She went on to criticize companies for deciding "they are the kingmakers" by choosing "what's information and what's misinformation" and "what you can donate your money to."
The company initially said it would refund donations to anybody who applied, and the remaining funds would be donated to charities chosen by the Freedom Convoy organizers. But after receiving "donor feedback," GoFundMe later said they would automatically refund contributions directly to donors.
Other conservative figures also attacked the company for the decision.
Clinical psychologist Jordan Peterson wrote, "This is far worse than mere theft. Government-sanctioned appropriation from citizens funding lawful opposition. This sets a very very dark precedent."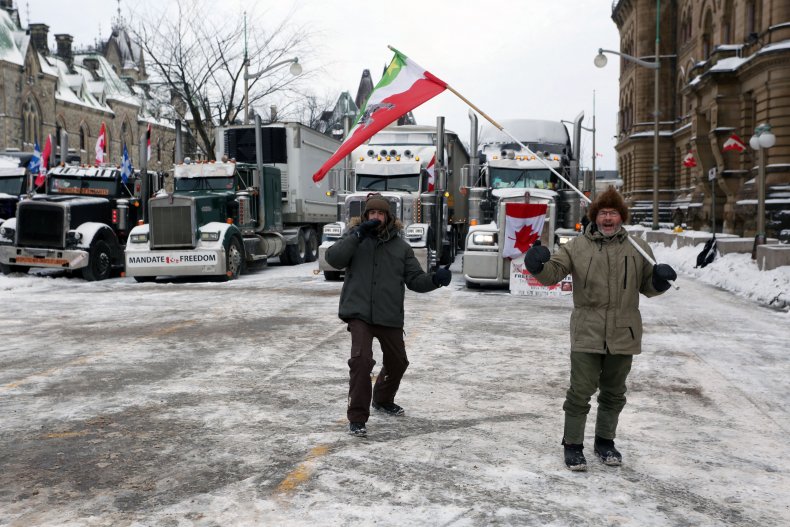 "All GOP Attorney Generals should be looking at this & helping to get people their $$$ back so it can be redirected to the truckers. Don't let @gofundme scam you...call your AGs & let them know. GFM seems to have no problem finding BLM riots...peaceful truckers should be fine too," wrote Donald Trump Jr.
Meanwhile, the Canadian House of Commons' committee on public safety voted Thursday to call GoFundMe to testify about the fundraiser and inquire about the measures the company has in place to ensure the funds are not being used to promote extremism, white supremacy, anti-Semitism and other forms of hate.
Ottawa residents have also voiced frustration for the disturbances they say the protesters have caused, including complaints of harassment and loud noises. Ottawa police deployed about 150 more officers to neighborhoods in the city's downtown areas, calling the protest a "volatile and very dangerous demonstration."
Newsweek reached out to GoFundMe and Greene's office for comment Saturday morning. This story will be updated with any response.