Marjorie Taylor Greene Attacks Joe Biden's July 4 Pledge, Border Policy
Rep. Marjorie Taylor Greene, a Georgia Republican, has laid into President Joe Biden's immigration policy, hours after she blasted Democrats in Congress for wanting the southern border "to be ripped right open."
Making her comments on Twitter, Rep. Greene also announced that she would be introducing a new act on Friday to impose tighter restrictions on the southern border with Mexico, to stem the flow migrants arriving in the U.S.
Biden had made a speech on Wednesday about offering Americans the COVID-19 vaccine and he set a goal of July 4, Independence Day, for the country to return to near normal.
Tweeting after his speech, the firebrand Republican said: "Hey @JoeBiden, all those illegals you are welcoming in our country are having big barbacoas right now at our border. They aren't waiting until July 4th like you want legal American taxpayers to do, if they get the vaccine. You also forgot to thank President Trump for the shot!"
Biden got his first shot of the vaccine on live television in Newark, Delaware on December 21. He received the second shot on January 11.
Greene then criticized the Democratic president for his policy toward the southern border with Mexico.
"Biden has our border wide open and we are literally being invaded and he has the audacity to say if we don't behave like good little boys and girls that he will reinstate covid restrictions. All to keep the crisis for the excuse to finish off the radical transformation," she said.
In Congress on Wednesday, Greene hit out at the Democratic Party, saying they were letting "criminals and animals" into the country, and branding the House of Representatives "the House of Hypocrites." Across the party line, she has been repeatedly accused for making racist remarks about immigrants.
On Friday, Rep. Greene is planning to introduce what she called the "Protect America First Act" to secure the southern border. It will consist of a four-year immigration moratorium for all immigrants during Biden's leadership.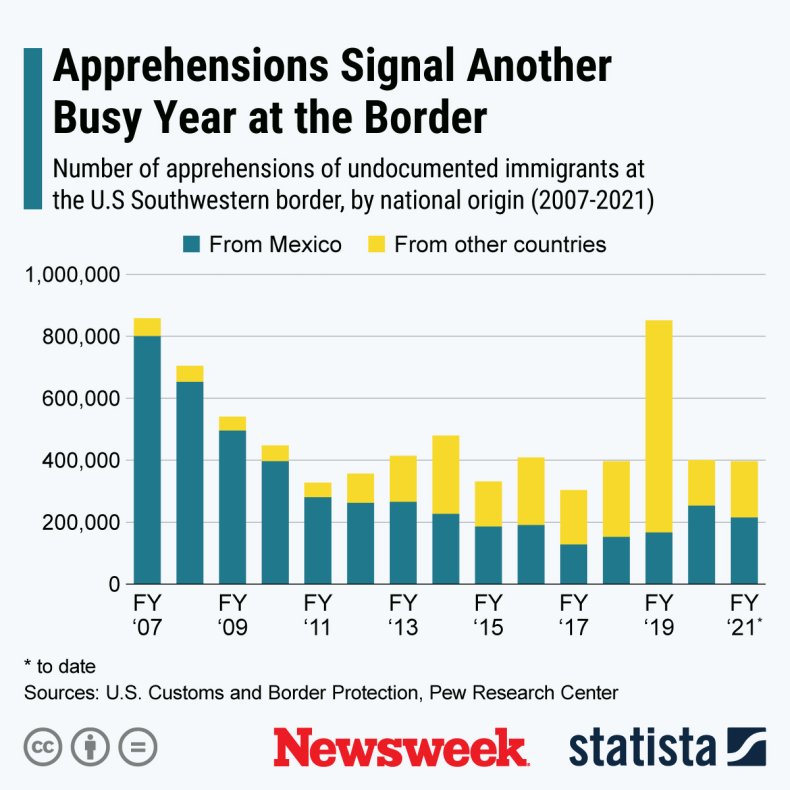 The act plans to fund and continue to build the wall on the southern border that Donald Trump pushed for. The motion will also look to defund sanctuary cities, such as El Paso, and expedites deportation of illegal immigrants.
The act will also allow and encourage local authorities to enforce immigration law, and propose foreign aid cuts to countries who allow their citizens to illegally enter the U.S. She also wants to repeal Biden's open border executive orders and reinstate Trump's zero tolerance immigration policy.
Since he was inaugurated on January 20, Biden has led an effort to undo former President Donald Trump's immigration policies and launch a welcoming approach to migrants. But the president has been criticized for not doing enough to reduce prosecutions and reform border procedures.
Republicans are also concerned that Biden's choice to terminate Trump's Migrant Protection Protocols will result in a massive influx of arrivals at the southwest border, which could bring more coronavirus cases to the U.S.
Biden allies on Capitol Hill introduced his immigration overhaul to the House on March 4. The proposals offer an eight-year path to citizenship for most of the 11 million undocumented immigrants in the country, look to eliminate restrictions on family-based immigration and plan to expand worker visas.
But the president faces an uphill battle even in the House, where the Democrats have a slim majority. On top of this, officials and migrant advocacy workers in El Paso on March 8 reported that hundreds of migrants were being flown to the Texas city in response to overcrowding measures caused in part by the coronavirus pandemic.
Nearly 180,000 people have arrived at the southern border or tried to cross illegally in 2021, according to the U.S. Customs and Border Protection agency. That's more than double as many as in the first two months of 2020. Furthermore, the data shows that migration numbers tend to increase as the weather gets warmer.
Earlier this week, several Republicans attacked Biden for his immigration policies.