Marjorie Taylor Greene Attacks Lindsey Graham After He Rips Trump's Jan. 6 Pardon Idea
Georgia Representative Marjorie Taylor Greene attacked fellow Republican Lindsey Graham on Sunday after he called Donald Trump's desire to pardon rioters who violently attacked the U.S. Capitol on January 6, 2021 "inappropriate."
In a statement released Sunday, Greene accused Graham of "pretending to be a friend" of Trump and slammed the South Carolina senator for condemning rioters involved in the deadly insurrection.
"While no one agrees with the violence and riot at the Capitol on J6, Lindsey Graham would rather see pretrial J6 defendants be abused and forgotten just like Nancy Pelosi wants them abused and forgotten," Greene said, according to the Hill Reporter.
"Instead of actually doing something about the great injustice happening to pretrial Americans awaiting their day in court, Lindsey Graham turns his head to their abuse, votes for Joe Biden's nominees, votes for Joe Biden's infrastructure bill, and then pretends to be a friend to President," Greene continued.
Greene's comments come after Graham said earlier on Sunday that pardoning individuals who were involved in storming the Capitol could make acts of violence "more likely." Trump floated the pardon idea at a rally this weekend in Texas, stating that rioters who have been prosecuted have been treated "very unfairly."
"If I run [in 2024], and if I win, we will treat those people from January 6th fairly," Trump told his supporters on Saturday. "We will treat them fairly, and if it requires pardons, we will give them pardons."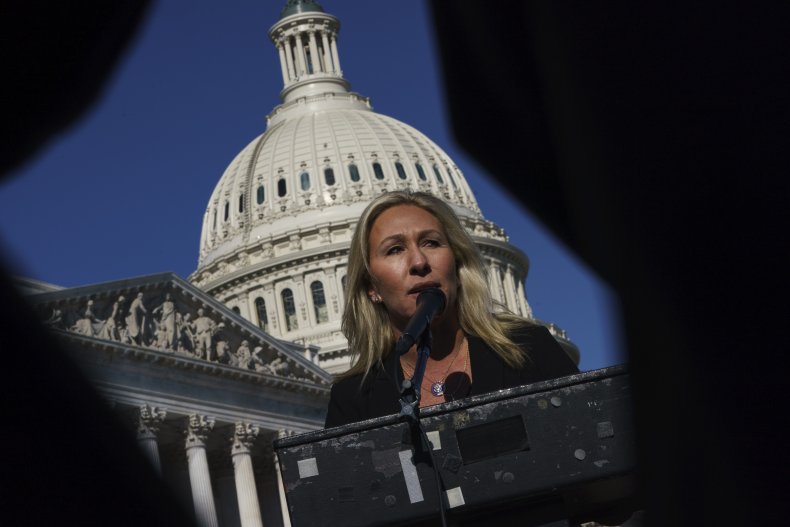 In response, Graham said Sunday on Face the Nation that he believes Trump's statement is sending the wrong signal.
"I don't want to send any signal that it was OK to defile the Capitol. There are other groups with causes that may want to go down to the violent path that these people get pardoned," Graham said.
Graham also added that he wants to "deter" the violence that occurred on January 6th. "And those who did it, I hope they go to jail and get the book thrown at them because they deserve it," he said.
Other Republican lawmakers, including Maine Senator Susan Collins, similarly chided Trump for his pardon suggestion.
"I do not think the president should have made—that President Trump—should have made that pledge to do pardons. We should let the judicial process proceed," Collins said Sunday on ABC's This Week. "January 6th was a dark day in our history."
Former White House lawyer John W. Dean, who served under Republican President Richard Nixon, added that Trump's idea is "the stuff of dictators."
"He is defying the rule of law. Failure to confront a tyrant only encourages bad behavior. If thinking Americans don't understand what Trump is doing and what the criminal justice system must do we are all in big trouble." Dean tweeted Saturday.
So far, federal investigators have arrested and charged over 700 people for violently storming the Capitol building in an attempt to stop the election certification of President Joe Biden. Among those, just over 70 have been sentenced to prison, home confinement, or have been reprimanded with probation and fines. Only about 178 federally charged rioters have entered guilty pleas, Insider reported.
Trump and his allies are under investigation by a House select committee responsible for determining whether or not the former president committed any crimes in relation to the Capitol attack.
Trump has repeatedly denied his involvement and downplayed the violence on January 6, despite the fact that he told his followers to "fight like hell" before the riot broke out.