Marjorie Taylor Greene Claims Tampon Shortage Fueled by Transgender People
Representative Marjorie Taylor Greene claimed on Monday that a nationwide tampon shortage is being fueled by tampons placed in men's bathrooms for transgender people.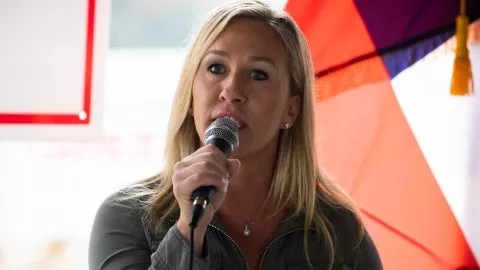 Supply chain issues and inflation remain a problem millions of Americans are facing, and tampons have been affected due to the rising cost of materials used to produce menstrual products.
However, the Georgia Republican claimed the shortage is being caused by tampons in men's bathrooms during an appearance on the conservative Right Side Broadcasting Network in her latest remarks against the transgender community.
"Now there's a shortage of tampons, and that's probably because men are buying tampons," Greene said during a discussion on the transgender community, denouncing what she called the "war on women."
While some businesses, schools and other public venues have begun putting tampons in men's bathrooms, experts have pointed to inflation and rising production costs as instead causing the current tampon shortage.
Cotton and plastic, two materials used in the production of tampons, have become more expensive due to the demand of making COVID-19 safety gear such as masks, according to a CNN report. The issue has been further exacerbated by the Russia-Ukraine war, as both countries are key fertilizer exporters.
Inflation has also hiked the price of menstrual products. As of May 28, prices rose 9.8 percent for tampons and 8.3 percent for a package of menstrual pads, Bloomberg reported, citing NielsenIQ data.
Procter & Gamble, the company that produces Tampax, told Time magazine earlier in June that an ad campaign from July 2020 featuring comedian Amy Schumer caused demand to rise 7.7 percent and that the company is running its factory 24/7 to meet heightened demand.
More than 40,000 people viewed a video of Greene's remarks Monday evening on Twitter, where she was met with pushback from many users.
"She says they are being put in mens bathrooms. What she should have said, if she wasn't such a massive liar, is the problem is a shortage of materials. But why let the truth spoil your narrative," tweeted @JanetJoTrueBlue.
"Uh...no they aren't. There's a shortage because of a raw material shortage caused by, you guessed it, shipping issues that resulted from the pandemic and haven't recovered," wrote @RendarSelin.
Greene has previously faced criticism for making statements against the LGBTQ community. In February, she appeared to suggest the threat of violence is how people need to "stand up" against transgender and nonbinary people while speaking on conspiracy theorist Alex Jones' Infowars show. She has also spoken out against legislation meant to strengthen LGBTQ rights in the U.S., warning it would "put trans rights above women's rights."
When reached by Newsweek Monday evening, a Greene spokesperson wrote that it is "well-documented that tampons are now being placed in men's bathrooms."
{{#isDisplay}} {{/isDisplay}}