Marjorie Taylor Greene's 'Confidential' Border Bomb Was Actually a Fake
Marjorie Taylor Greene leaked "confidential" information during a public hearing about a bomb discovered by U.S. Border Patrol agents in a lightly monitored area of the U.S-Mexico border this winter she claimed was proof the U.S. military should send troops to the country's southern border.
The "bomb," however, turned out to be nothing more than a ball of dirt wrapped in duct tape.
In a field hearing with U.S. Border Patrol Chief Raul Ortiz in Texas Wednesday, the Georgia Republican congresswoman grilled the Biden administration's top law enforcement official on the border about how the agency was working to address an apparent escalation by Mexican drug cartels transporting vast quantities of the deadly drug fentanyl across the country's southern border.
In her line of questioning, she claimed that U.S. Border Patrol agents in January had discovered a "bomb" in a lightly patrolled sector of the country's southern border she claimed was evidence the cartels were actively waging war against border patrol agents.
She later posted a photo of the alleged device on Twitter, saying its discovery "changes everything" about the dynamic of debate around the future of the border, and could warrant military intervention to address it.
"Not only are the Cartels murdering Americans everyday through drugs and crime, but now they are planting bombs on our land in our country," Greene wrote. "Our US military needs to take action against the Mexican Cartels. End this Cartel led war against America!"
Ortiz declined to discuss specifics of the incident, saying that information about the bomb's discovery was considered "confidential," and that he would be hesitant to share what he knew about the incident.
Greene, however, was apparently not.
"I'm not going to be confidential, because I think people deserve to know our border patrol agents should not be in those type of conditions where they are at risk of being blown to pieces by the cartels who, by the way, are criminals and should be treated as such," Greene said.
Reports after the hearing however appeared to confirm that the "bomb" in question was, in fact, a fake.
According to Fox News correspondent Bill Melugin, while the device Greene posted appeared nefarious, a "high-level CBP [U.S. Customs and Border Protection] official" confirmed the object did not actually contain any explosives.
The CBP confirmed his reporting to Newsweek.
"Today, Chief Raul L. Ortiz testified before the Committee on Homeland Security in Pharr, Texas," according to a CBP spokesperson.
"During the testimony, it was alleged that U.S. Border Patrol agents discovered an explosive device planted by the cartel along the border on January 17, 2023. The object in question, found on January 17, was determined to be sand wrapped in duct tape with a rope protruding from the top to resemble a wick. Leadership was briefed on the incident during daily internal executive team meetings who conveyed the object was fake and posed no threat towards U.S. Border Patrol agents or the public."
However, Greene's evidence is more than just a prop. During the hearing, she used the anecdote of the "bomb" to highlight legislation she'd co-sponsored with other Republican members of Congress to "declare war" on the cartels, using the so-called device as evidence that the cartels were conversely "definitely declaring war on us."
"The American people and our border patrol agents have had enough of it, and I know Americans have had enough of it," she said.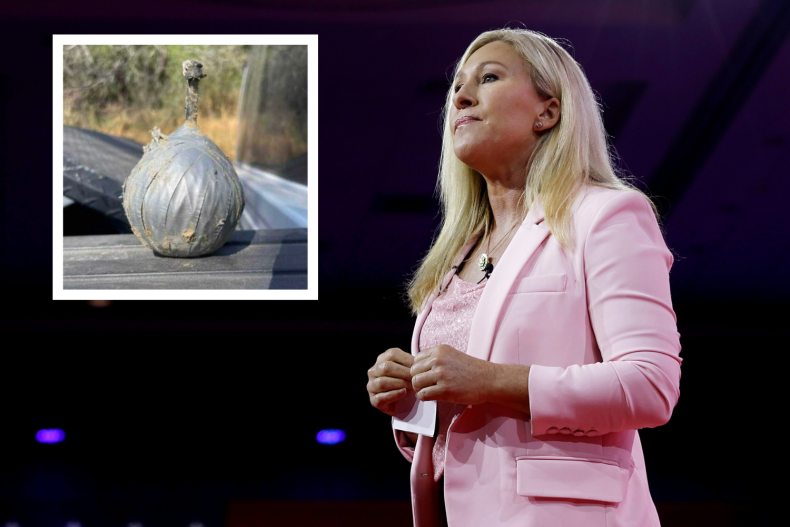 Newsweek has reached out to Greene for comment, including details of where she obtained the photograph. She acknowledged the mistake in a tweet later that evening, placing blame on Ortiz and his agency for not being forthcoming with information about the border.
Greene wrote: "If the device in question was just filled with sand then why would Chief Ortiz tell me during his testimony that he was briefed about it in a SCIF and couldn't comment on classified information, then turn around afterwards and tweet a picture of it claiming it was filled with sand?"
"With thousands of people and huge amounts of drugs flooding across the border everyday, they don't brief the Chief of Border Patrol in a SCIF about a ball of sand. They only brief us about dangerous things in classified briefings," she added.
Greene's talking points are nothing new: After the kidnapping of several Americans south of the border in the spring, Greene called for the U.S. military to station troops at the southern border, saying the military should "strategically strike and take out the Mexican Cartels."
Mexican President Andrés Manuel López Obrador later rebuffed those calls, saying in a news conference, "We are not going to permit any foreign government to intervene in our territory, much less that a government's armed forces intervene."
Mexico, he said, was its own sovereign state and "not a protectorate of the United States, nor a colony of the United States." Other top officials claimed the move was an "obvious" effort to score political points.
House Democrats claimed that was the goal of Wednesday's hearing as well.
Wednesday's meeting of the Homeland Security Committee was considered by many to be something of a Republican political stunt to highlight the failures of the Biden Administration's border policies.
Ahead of Wednesday's hearing, Tennessee Republican Representative Mark Green, the committee's chairman, claimed all 15 Democratic members of the committee were planning to boycott the hearing following the boycott of a similar hearing in Arizona last month.
"They said coming here was just a political stunt," Green said ahead of the hearing. "You tell me."
At least one Democratic member of the committee—Representative Lou Correa—did travel to the border Wednesday, however, where he called on colleagues to consider other measures to address the surge including stronger surveillance measures, more personnel and above all, reforms to the country's current immigration protocols.
"A lot of issues, a lot of challenges," he said. "Let's get busy."
Update: 3/15/23; 8:02 p.m.: This story was updated with additional information and background, including CBP confirmation and statements from Greene.