MTG Is Right—the U.S. Is Not Ready for a Surge in Electric Car Batteries
Georgia Congresswoman Marjorie Taylor Greene has said the U.S. is "not ready" to deal with an influx of used electric vehicle (EV) batteries when they start to retire en masse in the coming decades.
At the moment, she is right.
The Republican made the comment in a tweet on September 9, in response to an article in The Epoch Times that referred to electric vehicles as "ticking time bombs" and stated that millions will be set to retire by 2030.
A Pew Research poll in May showed that Republicans or people who leaned Republican were far more likely to oppose electric vehicle incentives than Democrats or people who leaned Democrat—53 percent to 15 percent, respectively.
Electric cars do not last forever, and their use has skyrocketed over the past decade. According to the International Energy Agency's (IEA) Global EV Outlook 2022 report, in 2012 just 120,000 electric cars were sold worldwide. In 2021, more than that many were being sold each week.
In July, Graeme Cooper, head of future markets at U.K. energy network company National Grid, said most EV batteries have a life expectancy of around 15 to 20 years.
This means used electric vehicle batteries will become a much bigger issue within the coming years than they are now.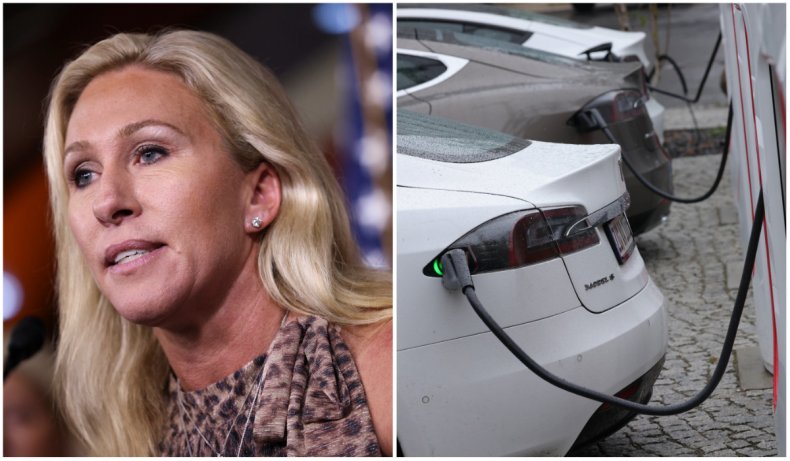 Professor Fengqi You, from Cornell University, specializes in engineering and is author of a 2021 study into EV battery reuse. He told Newsweek that the 10 to 15-year life expectancy estimate was "optimistic" and many might need retiring before then.
"Sooner or later, even now, we have to start to face a lot of issues with these retired batteries, and we don't have the infrastructure, obviously, at large scale at this moment, to handle it," Fengqi said.
Charlotte Hamilton, CEO of Conamix, an EV battery materials research company, told Newsweek the U.S. would struggle with a sizeable influx of used EV batteries today.
"There isn't really the infrastructure in place to recycle those batteries and get the chemicals back out; while at the same time we're pushing for more and more and more electric cars," she said. "It's a massive disruption of a trillion-plus dollar industry, and it's going to happen in fits and starts."
A Second Life
When referring to the reuse of electric vehicle batteries, industry insiders sometimes refer to the battery's "second life"—that is, its life outside of the car once it has been retired from road use.
A second life is possible because when an EV battery is retired, it will still have around three quarters of its original capacity. This might translate to a significant drop in mileage for a road user, but for other purposes that is still plenty of power.
"The second life use of batteries, I think, is key as the world moves to 100 percent EV sales, which will happen at some point," Hamilton said, arguing it can be a superior use for retired EV batteries than recycling them for their constituent parts.
"As soon as you fully recycle something and bring it back to its base chemicals, you're just taking all that value out—you've still got a great huge battery that will do things," she said.
One of the most obvious use cases for used EV batteries is stationary energy storage, Fengqi said. This could mean EV batteries being used as power storage in homes equipped with solar panels or even as power storage for manufacturing plants or streets.
As above, this infrastructure is not yet well-developed in the U.S., so what happens to used EV batteries right now when they are retired and sent off? Do vehicle manufacturers reuse them? According to Fengqi, it is not entirely clear.
"It would be nice if they would do that, because they have the infrastructure, they have the capacity, they have the resources to do that," he said.
"But in practice, this is challenging because many of these car manufacturers don't make batteries. They have different vendors in this space. Are these carmakers, the major ones, making the battery? Probably not. They buy the battery from some other vendors, and then they use it and put their brands on there.
"And that's why this recycling and reuse business is not that well developed at this stage, unless there's enough governmental interventions, incentives or policy—because it's expensive to create infrastructure."
Nic Thomas, marketing director at Nissan GB, a company which has manufactured its Leaf electric car since 2010, told Newsweek: "Nissan batteries are used in a variety of ways, including home and commercial use energy storage, and to help power lights and refrigerators in convenience stores. Other applications include for industrial machinery such as forklifts, and on automated guided vehicles (AGVs), which deliver parts to workers in Nissan's production facilities.
"Recycled batteries have even been used to provide backup power to a sports stadium and surrounding houses in Amsterdam, as well as Japanese railway crossings, where they provide reliable power for signalling in the event of a blackout or during scheduled maintenance."
Thomas said that at the end of the battery's 'second life' stage, they are recycled and their materials extracted for use in future batteries. They added the company "has plans" to create a battery refurbishment center in Europe and another in the U.S., but did not say when.
Newsweek reached out the the U.S. Environmental Protection Agency (EPA), which said: "The U.S. lithium-ion battery recycling industry is growing rapidly, with a variety of established and new battery recyclers recently announcing that they are expanding capacity and opening new facilities to match the growth in use of lithium-ion batteries.
"In the U.S., we currently have several facilities that conduct the first steps of the recycling process (such as collection, sorting, and shredding to produce black mass) for lithium-ion batteries of all sizes.
"All segments of the lithium-ion battery recycling industry, especially metal recovery and refining of those metals, are rapidly growing due to private investment and public funding from the 2021 Infrastructure Investment and Jobs Act (also known as the Bipartisan Infrastructure Law).
"Used EV batteries and used EVs are sometimes sent on for continued use in other countries. Exports of used EV batteries for continued use are not subject to hazardous waste export requirements.
"Exports of used EV batteries for recycling or reclamation are generally managed as universal waste batteries and are subject to hazardous waste export requirements, which include export notice and consent requirements and annual reporting each year on the export shipments made the previous calendar year.
"U.S. exporters had consent to export end-of-life lithium batteries to Belgium, Canada, Japan, the Philippines, Singapore, and South Korea in 2021. Based on export annual reports submitted to EPA in March 2022, U.S. exporters shipped end-of-life lithium batteries in 2021 to Canada and South Korea for recycling under the hazardous waste export requirements."
Correction, 9/23/22, 7:20 a.m. ET: The quotes currently attributed to Nic Thomas were previously incorrectly attributed to another Nissan spokesperson.
Update 9/26/22, 11:17 a.m. ET: Quotes from a Greenpeace East Asia project leader for zero emission transport have been removed at their request. This update also includes comment from the U.S. Environmental Protection Agency (EPA).