FBI's Trump Informants Are Traitors, Marjorie Taylor Greene Says
Georgia congresswoman Marjorie Taylor Greene has said any alleged FBI informants who provided information ahead of the search of Donald Trump's Mar-a-Lago resort are "traitors."
Speaking on her MTG:Liveonline show, Greene was reacting to the exclusive Newsweek report that federal agents searched the Florida home of the former president after receiving a tip off.
The informant was able to tell the FBI what classified documents Trump had removed from the White House when he left office in January 2021, as well as where they were being kept, two senior government officials said.
Greene, who is among several GOP figures, including Trump, pushing unsubstantiated claims that the FBI may have "planted" evidence during their search, has now condemned those who speak to the FBI and asked whether more people working close to the former president will turn on him.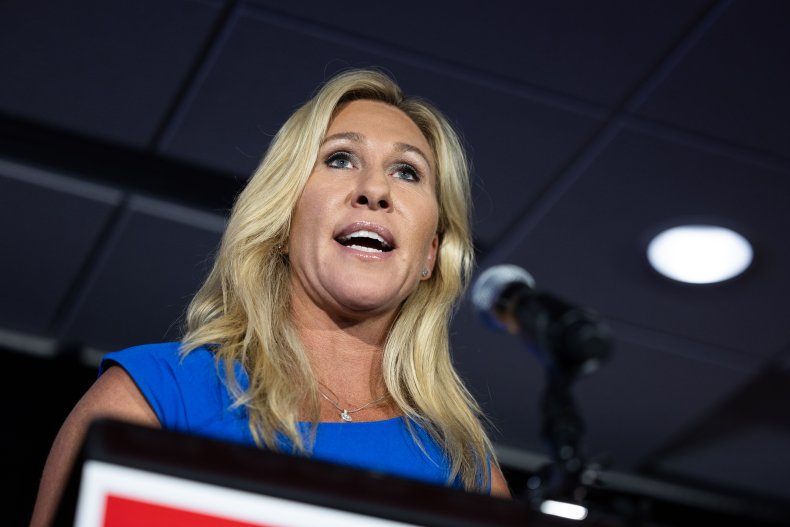 "We now know that there was an FBI informant at Mar-a-Lago, who is that and how many other FBI informants are around President Trump on a daily basis, working at his clubs, working at Mar-a-Lago, or maybe Bedminster, or on his staff?" Greene asked.
"These are the things I want to know, because they're traitors, they are traitors and they're helping the deep state. These are the enemies within, these are the real enemies, and they are there to purposely create something against President Trump that is not there."
Greene, who supported the far-right QAnon movement and previously spread antisemitic conspiracy theories, added that the the FBI agents made sure they found evidence against Trump because if they "come up empty handed, then they know they're going to jail."
"That is why it's the most dangerous time for President Trump and his family and anyone in its orbit, me included, because these people will stop at nothing. They don't want a second President Trump term," Greene said. "Here's why; because he is dead serious, and he knows who his enemies are and he is going to finish the job he started in his first four years."
A senior Justice Department official told Newsweek the decision to search Mar-a-Lago when Trump was not there was to prevent the former president from publicizing the investigation as it was underway, or even attempting to thwart it.
The official, who previously spent 30 years at the FBI, reiterated the search at Trump's home was not politically motivated.
"They wanted to punctuate the fact that this was a routine law enforcement action, stripped of any political overtones, and yet [they] got exactly the opposite."
The FBI has been contacted for comment.