Rep. Marjorie Taylor Greene (R-Ga.) introduced a resolution to expel Rep. Maxine Waters (D-Calif.) from Congress on Monday, while House Minority Leader Kevin McCarthy (R-Calif.) said he will introduce a measure to censure Waters.
Greene filed the resolution after urging Speaker of the House Nancy Pelosi (D-Calif.) to expel her on Sunday, accusing the California congresswoman of being a "criminal" and inciting violence after she crossed state lines to join Black Lives Matter protests against the fatal police shooting of Daunte Wright in Minnesota.
"I just went inside the Capitol to file my resolution to #ExpelMaxineWaters for her history of inciting violence and ordering Black Lives Matter terrorism against National Guardsmen in Minnesota," Greene tweeted alongside a video taken on the Capitol steps just before she entered the building.
McCarthy called for Waters to be censured at around the same time, also announcing his intentions in a tweet.
"This weekend in Minnesota, Maxine Waters broke the law by violating curfew and then incited violence," tweeted McCarthy. "Speaker Pelosi is ignoring Waters' behavior—that's why I am introducing a resolution to censure Rep. Waters for these dangerous comments."
Republicans have been heavily criticizing Waters since she traveled to Minneapolis suburb Brooklyn Center to join a demonstration against the killing of Wright on Saturday. With former police officer Derek Chauvin's trial for allegedly murdering George Floyd coming to a close nearby, Waters said that protesters should become "more confrontational" and "make sure that they know that we mean business" if a guilty verdict is not reached.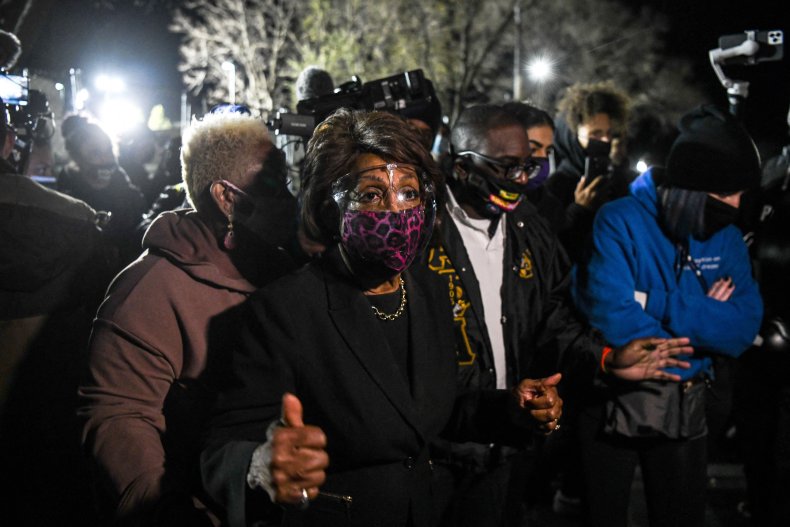 Waters told website theGrio on Monday that her remarks were not meant to incite violence, while promising that she was "not going to be bullied by" Republicans and claiming that criticism of her remarks was an attempt to "send a message" to white supremacists. Pelosi ignored GOP calls to discipline Waters, telling reporters on the same day that Waters does not need apologize for her comments and adding that she believes the remarks would "absolutely not" incite violence.
Chauvin trial Judge Peter Cahill called Waters' remarks "abhorrent" and suggested that they could be used as grounds for an appeal by the former officer's defense attorney if he is found guilty, possibly resulting in "this whole trial being overturned."
"Democrat Maxine Waters stood in the streets of Minnesota while breaking curfew and inciting riots that led to gunshots being fired at National Guardsmen," Greene said in a statement after filing the resolution. "She ordered Black Lives Matter terrorists to 'stay in the street' and 'get more confrontational.'"
"This is nothing new from Maxine Waters," Greene added. "She has been inciting violence and terrorism for the last 29 years. It's time to EXPEL Maxine Waters!"
Newsweek reached out to Waters' office for comment.