Marjorie Taylor Greene Shares Video of 'Swatting' at Her Home: 'Guns Drawn'
Rep. Marjorie Taylor Greene has shared surveillance footage that captured the police response to a "swatting" call at her home earlier this week, saying those behind it are trying to get her killed.
Greene, a Republican from Georgia, says she has been the target of swatting calls this week—hoax emergency calls that are intended to elicit a response by a SWAT team.
Officers in Rome were dispatched to Greene's home early on Wednesday morning after an emergency call that reported a male had been shot five times in a bathtub, with a female inside the home, possibly with children.
Footage from security cameras showing Greene answering the door at around 1 a.m. was aired during an interview the congresswoman gave to the Right Side Broadcasting Network (RBSN).
"Never before seen security camera footage," Greene wrote on Twitter on Saturday night.
The footage shows police cars approaching Greene's home and then officers carefully approaching her door. Another clip captures Greene walking through her home's foyer and answering the door to the officers.
"I was sound asleep when that was happening. You can see how quiet they came in and then the cars stop," Greene told RSBN's Brian Glenn.
"And you see you can see the people get out and they gather together and they come quickly up to the house. And then it's obvious who they are. It's the police."
Greene said it was important to understand the "mindset" of the police at the time because it had been reported that "someone had been shot five times in the chest" in the bathroom of her home.
The officers were looking for "a female with a gun that is threatening to kill herself," Greene said.
"When I opened the door and greeted the officers and I said what's, what's going on? It was their demeanor and just their, like, body language. They were tactical. They had guns drawn. They were prepared for something serious."
Greene added that she believes "it was truly a God thing" that she had a feeling not to carry her gun to the front door.
"Because had I have done that we would have been in a whole different scenario because I probably would have been the target and that is the whole purpose of swatting someone," she said.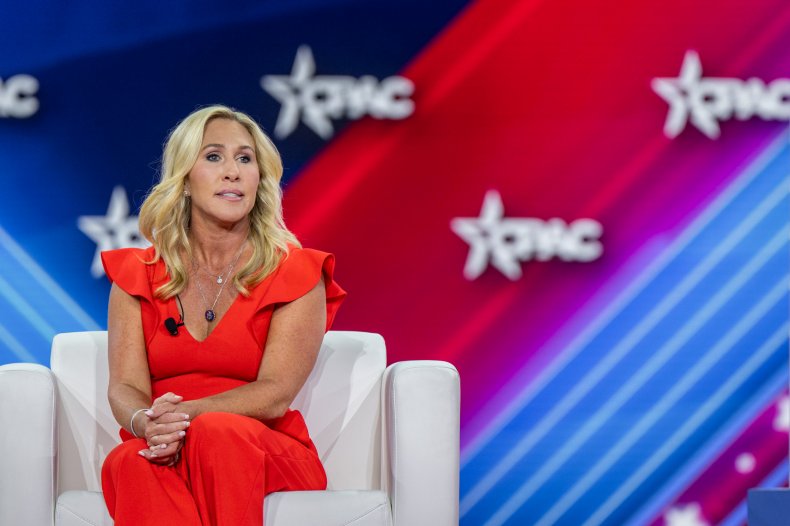 "This is what gets people killed. There have been multiple incidences just like this one where police ended up shooting someone because they believed they were responding to a call. And that's what was happening to me."
Asked if she believed the person who made the hoax call wanted Greene to get shot, Greene replied: "Absolutely, 100 percent."
She added: "They wanted me to be murdered. Death by cop. That's what swatting is and they were doing this in hopes that the police would kill me."
Police later received a call from a suspect who claimed responsibility for the incident and said they targeted Greene because they were upset about her opposition to transgender youth rights.
In a tweet promoting the interview with RSBN, Greene said she had been the target of another swatting call on Friday night—the third in a week—by "people trying to get me killed for my legislation to protect kids from the trans agenda."
Greene last week introduced a bill that would make it a felony to provide gender-affirming care for transgender minors.
Newsweek has contacted a spokesperson for Greene for further comment.