Marjorie Taylor Greene Ironically Blasts Trans Hate Forum After 'Swatting'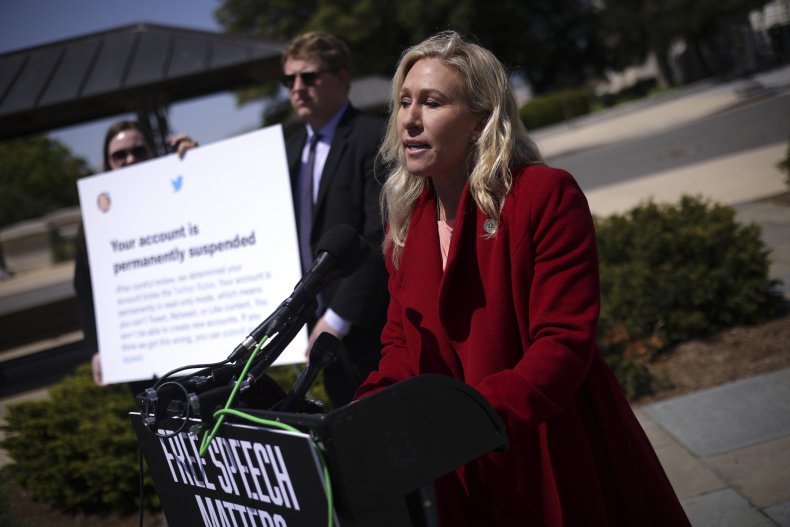 In an astounding twist of irony, Republican Representative Marjorie Taylor Greene of Georgia has called for a controversial transgender hate forum to be taken offline after it was linked to her being targeted in a "swatting" incident.
Greene said that she was "swatted"—a term usually referring to a harsh confrontation with law enforcement due to the filing of false reports to police—at her home in Georgia around 1 a.m. Wednesday. A suspect who claimed responsibility for the incident told local police that they intended to "SWAT" Greene because they were upset with her opposition to "trans-gender youth's rights," according to a police report obtained by The Daily Dot.
Greene, who has repeatedly spoken out against transgender people and gender-affirming medical treatment, suggested that the incident was "political terrorism" by supporters of transgender rights. However, the suspect also told police that they were a member of the website kiwifarms.net, a forum best known for targeting the transgender community and other minorities with harassment and cyberstalking.
While Greene acknowledged that police were still investigating "whether [the alleged Kiwi Farms user was] really the person who did this," she said during a Newsmax interview on Wednesday that it was "absurd" that the website was allowed to exist and called for the government to force the forum offline.
"Isn't it concerning that such a website exists?" said Greene. "Like, why does that even exist? That website needs to be taken down. There should be no business or any kind of service where you can target your enemy. That's absolutely absurd and this is the type of lawlessness that Democrats want all over the country."
"It's also failure of our government and failure of our law enforcement to not take down a website like that," she added. "All of these types of groups need to be completely eradicated. They should not be allowed to exist. They should not be able to abuse police resources like that."
Kiwi Farms has been linked to multiple suicides of transgender people who were previously harassed on the forum. It has also been linked to the 2019 mass shooting that killed 51 people at a mosque in Christchurch, New Zealand.
After being contacted by New Zealand police for assistance during the investigation of the shooting, Kiwi Farms owner Joshua "Null" Moon refused to help and dubbed New Zealand a "s---hole country," according to The Sydney Morning Herald.
The site has most recently been in the news due to the repeated "doxxing"—or sharing of personal or identifying information with the intention of doing harm—of transgender streamer and activist Clara "Keffals" Sorrenti, who was swatted in London, Ontario, earlier this month after her home address was shared on Kiwi Farms.
Sorrenti later moved to a hotel to escape further harassment but was doxxed again after obsessive users of the forum discovered where she was staying by cross-referencing a photo that she had shared of her bedsheets to sheets used by hotels in the area.
Sorrenti, who has continued to face transphobic harassment and stalking and may soon leave Canada as a result, recently launched an online campaign to stop the web security service Cloudflare from protecting Kiwi Farms.
While the campaign was successful in causing the hashtags #DropKiwifarms and #CloudflareProtectsTerrorists to trend this week on Twitter, the company has neither publicly weighed in on the issue, nor responded to multiple requests for comment by Newsweek.
Greene's call to take Kiwi Farms offline finds her in an especially unlikely alliance with Sorrenti, who has been targeted for harassment and stalking in part because she is an outspoken supporter of transgender minors receiving gender-affirming care.
Last week, Greene announced a bill that would make providing gender-affirming medical care for transgender children a felony, block federal funding for all gender-affirming care, ban colleges from teaching gender-affirming treatments and prevent any foreign nationals who provide the care from entering the country.
The congresswoman has argued that gender-affirming treatment for transgender people—which is overwhelmingly backed by the medical establishment, including by major mainstream organizations like the American Medical Association and the American Academy of Pediatrics—is "disgusting and appalling."
Newsweek has reached out to Greene's office and Sorrenti for comment.