Marjorie Taylor Greene Wants You to Shoot Hogs From a Helicopter With Her
An advertisement by Georgia Representative Marjorie Taylor Greene has gone viral as she asks people to enter a competition to win the chance to shoot hogs with her from a helicopter.
The ad has been more than 370,000 times on Twitter since being posted on Tuesday.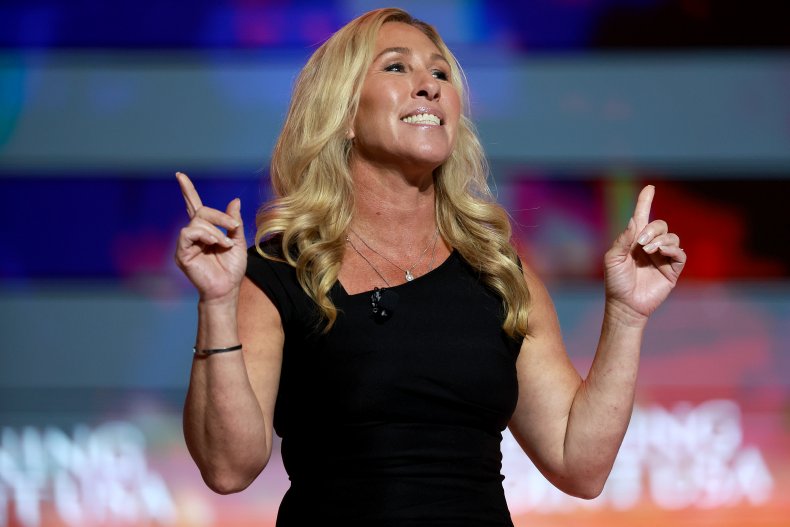 Wild-hog populations are increasing rapidly around the United States, causing over $1 billion in damage every year.
While hunting may seem like the answer, the USDA (United States Department of Agriculture) says that it makes things worse, with the pigs becoming nocturnal and traveling more than 100 miles to avoid hunters. The only hope is for a hunter to kill an entire sounder—the name for a herd of feral pigs—at once, often by shooting from a helicopter.
"Marge Greene now running a contest to win a hog hunting trip with her," Ron Filipkowski wrote as a caption as he shared the video.
The brief advertisement begins with an armed Greene walking toward the camera while epic music plays. For a brief moment, her eyes turn to clear-white before a lightning bolt strikes.
The video then cuts to the Republican representative standing in front of a helicopter as she explains the contest.
"We've got skyrocketing inflation, high diesel fuel and Democrats' 'America last' policies," Greene says. "Democrats aren't the only ones destroying farmers' ability to put food on the table.
"We've got wild hogs destroying farmers' fields so we decided to go hog-hunting."
The video splices together shots of Greene riding on the helicopter while pointing her gun at the ground before it appears she shoots a running hog.
It also shows Greene celebrating as she is stood over the hog, with the helicopter in the background.
She closes by calling on people to enter the competition and go to her website to sign up. The last image of the advert shows Greene again standing in a field with her eyes white, dark clouds behind her, and lightning strikes on the screen.
Her website gives more details about the competition for a hog-hunting trip for two with Greene in Texas. The winner also gets round-trip airfare, ground transportation and lodging.
A 2018 article from Heidi Roth of Serious Eats offers another solution, however: eating them. Wild boar meat is leaner than standard pork and "far richer-tasting," she says.
"A free-range animal grazing on a wide variety of forgeable food gets more muscle-enhancing movement, which generates a deeper, more flavorful meat than an animal confined and raised solely on grain; and there are no antibiotics or hormone supplements to worry about with wild animals," Roth writes.
Newsweek has contacted Marjorie Taylor Greene for comment.