Marjorie Taylor Greene Introduces Legislation to End Federal Funding for Gun Control
Georgia Republican Representative Marjorie Taylor Greene introduced legislation on Thursday to abolish federal funding for enforcing gun control laws.
Greene's legislation, dubbed the Second Amendment Preservation Act (SAPA), proposes to cut federal funding from "implementing, enforcing, or advancing any measure, law, regulation, or guidance to the lawful use, purchase, sale, possession, or transportation of firearms by any citizen of the United States for Fiscal Year 2021." The SAPA also would halt federal funding for the enforcement or implementation of any gun control law or guidance placed into effect by the Bureau of Alcohol, Tobacco and Firearms (ATF) after November 1, 2020.
"Throughout my campaign for Congress, I promised the people of Northwest Georgia that I would be the strongest defender of gun rights on Capitol Hill," Greene said in a statement obtained by Newsweek on Thursday. "The Second Amendment Preservation Act (SAPA) prevents the federal government from using our taxpayer dollars to enforce gun control on law-abiding Americans."
"Our God-given right to protect our country, ourselves and our families shouldn't be up for debate," Greene continued. "I'm proud to introduce this legislation, endorsed by the American Firearms Association, that will defund the enforcement of tyrannical gun control laws."
Citing a policy of not issuing comments on pending or proposed legislation, the ATF declined to comment to Newsweek for this story.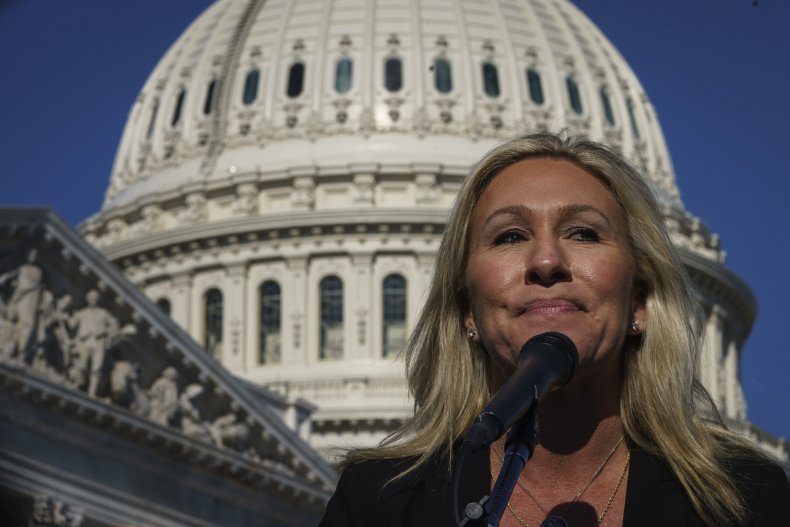 Greene's proposed legislation was cosponsored by 10 other members of Congress including Texas Republican Representative Chip Roy, North Carolina Republican Representative Madison Cawthorn and Arizona Republican Representative Andy Biggs.
Greene's September Facebook photo, which featured an image of an armed Greene next to Democratic Representatives Alexandria Ocasio-Cortez, Ilhan Omar, and Rashida Tlaib was removed by the social media platform for violating its anti-incitement of violence policies.
Some of Greene's pre-election comments and social media posts caused House Democrats to strip Greene of her House committee appointments, including her seat on the House Education and Labor Committee. Before the vote to remove Greene, she told the House that she no longer lent credence to conspiracy theories.
"Any source of information that is a mix of truth and a mix of lies is dangerous no matter what it is saying," Greene said, "what party it is helping, anything or any country it's about, it's dangerous."
House Majority Leader Steny Hoyer made his pre-vote remarks about Greene standing next to a large copy of Greene's controversial Facebook photo.
"How awful," Hoyer said. "And they're not The Squad. They're Ilhan, they're Alexandria and they're Rashida. They are people. They are our colleagues."
The final vote to remove Greene from her appointments was 230-199 with 11 Republicans crossing party lines to vote with Democrats.