Steny Hoyer's Viral Speech Denouncing Marjorie Taylor Greene Viewed 2 Million Times
House Majority Leader Steny Hoyer's speech criticising an incendiary Facebook post by Marjorie Taylor Greene, which showed the Republican congresswoman clutching an AR-15 assault rifle alongside the caption "Democrats' Worst Nightmare," has been viewed more than two million times.
Prior to Hoyer's speech on the House floor, he was shown carrying a large print-out of the post, which featured a gun-toting Greene next to three members of the "Squad"—Ilhan Omar, Alexandria Ocasio-Cortez and Rashida Tlaib.
Hoyer, a Maryland Democrat, held the cardboard cut-out above his head as he took his place at the podium.
"They are not 'The Squad'," he said, pointing to the depiction of the three Democrats in Greene's Facebook post. "They are Ilhan. They are Alexandria. And they are Rashida. They are people. They are our colleagues.
"And yes you may have disagreement, but I don't know anybody, including Steve King who you precluded from going on committees for much less.
"And this is an AR-15, in the hands of Ms Greene. This was on Facebook just a few months ago. I have never, ever seen that before."
The speech, which was given as representatives debated removing Greene from her posts on several committees, was viewed more than two million times on Twitter.
GOP leaders have so far equivocated on whether to remove her from the Budget Committee and the Education and Labor Committee.
King, who Hoyer referenced during his address, was removed from the Judiciary and Agriculture Committees in 2019 after comments he made to the New York Times questioning why white supremacy was considered offensive.
In a string of tweets, Greene attacked Democratic lawmakers who were vying to remove her.
"It's not just me they want to cancel. They want to cancel every Republican. Don't let the mob win," she wrote.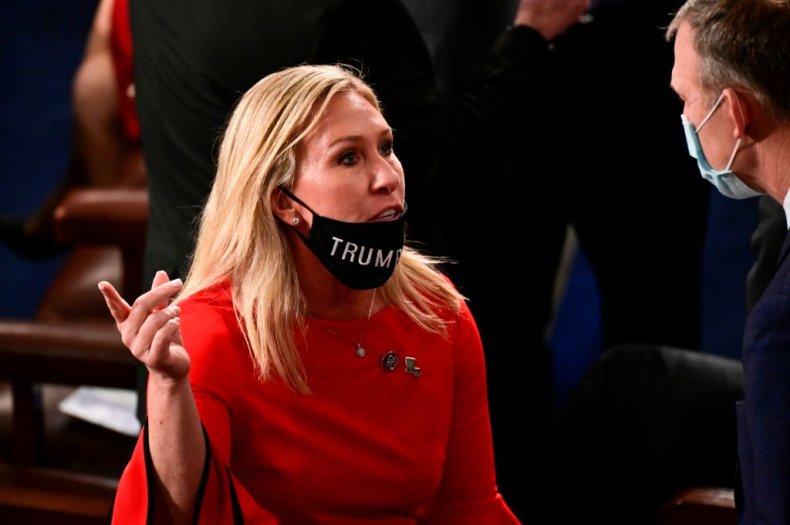 Speaking earlier to Newsweek and other reporters, Hoyer—who has served in the U.S. House for coming up to four decades, said: "There's no analogy that I think can be credibly made between the actions of Greene and almost anyone else in Congress with whom I've served."
Greene, a freshman from Georgia, rapidly emerged as a firebrand Republican who backed Donald Trump and his disproven claims of a stolen election to the bitter end.
She grew to prominence promoting a string of conspiracy theories and wild allegations including that Omar and Tlaib weren't "really official" members of Congress and that there was "never any evidence" that a plane crashed into the Pentagon on 9/11.
Newsweek contacted Greene's office for comment.