Marjorie Taylor Greene Says Liz Cheney Should 'Join the Democrat Party'
Representative Marjorie Taylor Greene (R-GA) has criticized fellow Republican lawmaker Liz Cheney (R-WY) for speaking out against the House Minority leader's withdrawal of GOP appointees to the January 6 committee.
The Georgia lawmaker was responding to the press conference in which Cheney denounced Rep. Kevin McCarthy (R-CA) for pulling his picks from the group tasked with investigating the attack on the U.S. Capitol by supporters of former President Donald Trump.
McCarthy, who had chosen five appointees, had given an ultimatum to House Speaker Nancy Pelosi not to reject staunch Trump supporters Reps. Jim Banks (R-IN) and Jim Jordan (R-OH).
Pelosi had approved McCarthy's other picks, Reps. Rodney Davis (R-IL) of Illinois, Kelley Armstrong (R-ND) and Troy Nehls (R-TX).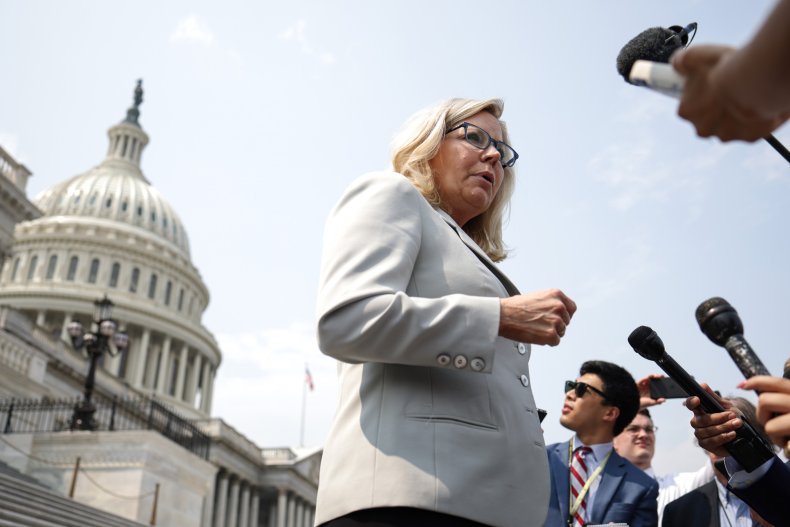 When Pelosi did not change her position on Jordan and Banks, McCarthy pulled his other three GOP appointees saying that the House Speaker "has broken this institution."
It prompted Cheney to tell reporters on the steps of the U.S. Capitol that McCarthy, "has attempted to prevent the American people from understanding what happened, to block this investigation."
But in a tweet on Wednesday, Greene described Cheney's press conference as "disgraceful."
"She should just go ahead and join the Democrat Party. I'm sure Nancy Pelosi would welcome her in with open arms. She practically already has," she added. Newsweek has contacted Cheney's office for comment.
Cheney is the only Republican among the eight named by Pelosi to sit on the committee, which is scheduled to hold its first hearing on July 27.
The Wyoming representative has faced a backlash from her party for her criticism of Trump and vote to impeach the former president following the January 6 attack.
"There must be an investigation that is nonpartisan...serious, that gets to the facts, wherever they may lead," Cheney said on Wednesday as she defended Pelosi's rejection of two of McCarthy's picks.
In referring to Jordan, Cheney said he "may well be a material witness" to the events that led to the insurrection, while Banks had "disqualified himself" by viewing the committee "as a political platform," The Hill reported.
Meanwhile, Jeff Sites, who is campaigning against Jordan in Ohio's fourth congressional district, and had called for Pelosi to veto his place on the committee, welcomed the move by the House Speaker.
"From the beginning, McCarthy, Jim Jordan and company have tried to block an independent investigation into January 6th," he told Newsweek in a statement.
"This committee will be better off without them."
Newsweek has contacted the offices of Jordan and McCarthy for comment.