Marjorie Taylor Greene, Matt Gaetz Host Protest After 3rd Venue Cancels 'America First' Rally
Republican Representatives Marjorie Taylor Greene of Georgia and Matt Gaetz of Florida hosted a protest against censorship on Saturday after three venues in California canceled their "America First" rally.
After the event was moved three times, the two lawmakers announced that they will be hosting a "freedom of speech peaceful protest" outside the Riverside City Hall on Saturday instead.
"Over the past week, I've seen the Communist left in California use threats of violence, intimidation, and harassment to bully business owners into submission, forcing them to cancel peaceful gatherings of Americans," Greene said in a statement emailed to Newsweek.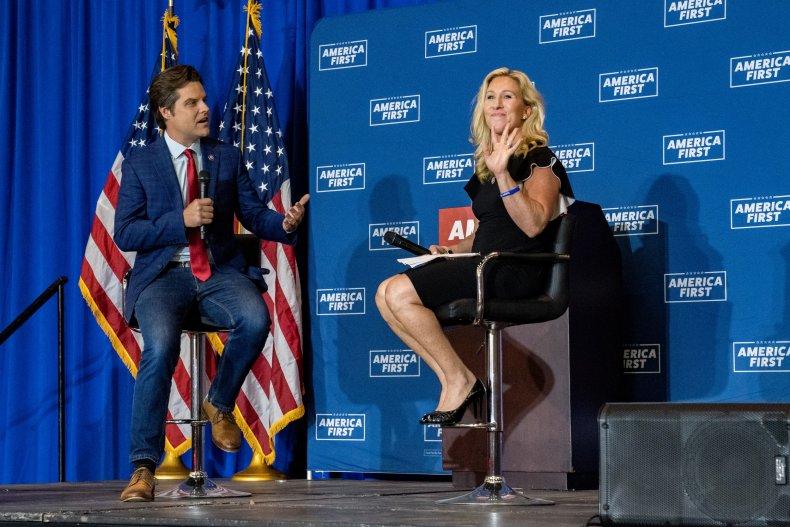 Phil Pitchford, a spokesperson for the City of Riverside, told local news that officials were "aware of the announced event and taking steps to ensure the safety of everyone involved."
The City of Riverside announced Friday that the planned event, scheduled for 6 p.m. local time, will not proceed at the Riverside Convention Center after it was "widely condemned" by residents. Mayor Patricia Lock Dawson supported the decision by the Raincross Hospitality Corp., calling the rally "divisive."
Gaetz quickly took to social media to urge attendees to sign-up for the rally's new location in Anaheim. But Anaheim officials announced later in the day that the private venue had also canceled the event, hours before start time.
It was the third cancelation of the event in just over a week.
Greene and Gaetz first announced the rally at Pacific Hills Banquet & Event Center in Laguna Hills last week. After learning that the Republicans were slated to speak, Javad Mirtavoosi, the center's general manager, pulled out of the event.
"We just want to stay clear of that," he said. "As soon as we found out who the speakers were we immediately canceled it."
Greene blamed cancel culture for their failure to secure a location.
"Millions of Americans have experienced it in the workplace and on social media, and I've experienced it first hand not only in Congress but here in California, where the left uses tactics similar to those employed by tyrannical governments throughout history who want to totally silence their political opponents," she said.
Gaetz suggested that they plan to file a lawsuit in response to the cancelations in a statement shared to Twitter.
"The Woketopians are this scared of a dose of #AmericaFirst in California. Rally still happening today!" he wrote. "These quotes are going to make great exhibits in the lawsuit @RepMTG and I will be filing."