Matt Gaetz Hints at Lawsuit After 'America First' Rally Canceled in Riverside, California
Representative Matt Gaetz, a Florida Republican, suggested that he and fellow GOP Representative Marjorie Taylor Greene of Georgia plan to file a lawsuit after their "America First" rally in Riverside, California, was canceled.
The City of Riverside announced on Friday that the event, which was planned for 6 p.m. on Saturday, would not proceed at the Riverside Convention Center after it was "widely condemned" by residents, according to a press release from the city. Mayor Patricia Lock Dawson called the rally "divisive" and welcomed the decision from the Raincross Hospitality Corp., which manages the convention center through a city contract.
"These quotes are going to make great exhibits in the lawsuit @RepMTG and I will be filing," Gaetz wrote in response on Saturday, retweeting images shared by a journalist of the city's press release.
The Florida congressman then urged supporters to sign-up for the rally's new location in Anaheim, California." However, the Anaheim was canceled hours later as well.
"Meanwhile, join us today at our alternate location," Gaetz wrote, sharing a link where supporters could sign up.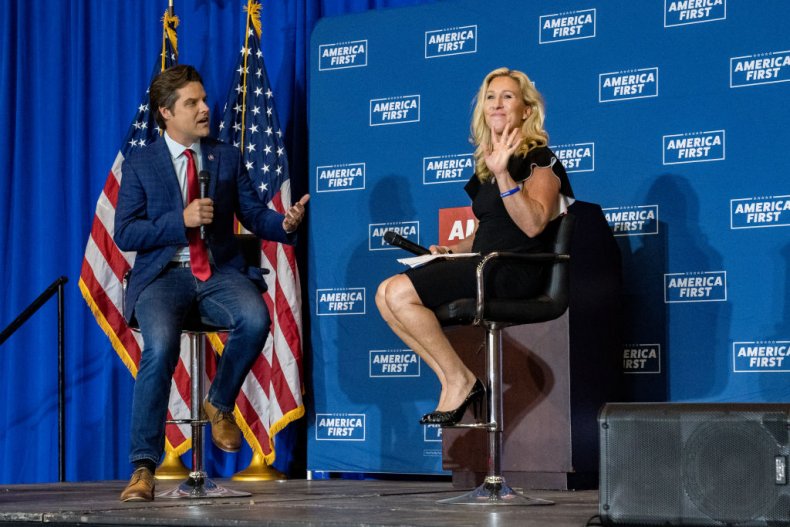 In a previous tweet, Gaetz wrote: "The Woketopians are this scared of a dose of #AmericaFirst in California. Rally still happening today!"
In the city's press release, Riverside's mayor and mayor pro tem spoke favorably of the decision to cancel the right-wing event.
"I recognize this was a divisive issue in our community, and I am glad it has been resolved," Mayor Dawson said. "I commend Raincross Hospitality Corp. for this decision."
"Riverside is a diverse and inclusive community, so it is heartening to hear that this event will not move forward," Mayor Pro Tem Gaby Plascencia said. "I am disappointed we even got to this point, because these speakers are the antithesis of everything Riverside stands for."
In a Saturday email to Newsweek, Phil Pitchford, a public information officer for Riverside, reiterated that the decision was not made by the city.
"The City did not cancel the event. The decision was made by the private company that operates the Convention Center for the City," Pitchford said.
Meanwhile, Greene claimed that "Radical communists" had worked to block the Riverside event from moving forward.
"Radical communists have spent the last week trying to cancel our America First Rally w/ @mattgaetz. Violent threats from BLM/Antifa were used again today to bully another venue," she tweeted Saturday.
"We won't back down. Our rally is happening tomorrow night in California," the congresswoman wrote.
As Gaetz and Greene noted, the "America First" rally was rescheduled and relocated to take place at 7:00 p.m. at the Anaheim Event Center in Anaheim, California. The new venue is located about 45 minutes by car from the Riverside Convention Center. But the event was canceled there as well.
"The City of Anaheim shared public safety concerns with the operator, and those concerns are shared by the operator. As a city, we respect free speech but also have a duty to call out speech that does not reflect our city and its values," Anaheim city spokesperson Mike Lyster said in a Saturday statement.
Greene responded angrily to the additional cancellation. The congresswoman described the decision as "America Last communists cancel culture" in a tweet.
"Despite the Democrats' dirty tricks and threats of violence, Congressman Gaetz continues to draw unprecedented large crowds. He thanks the hundreds of California patriots who came out in the face of ANTIFA's threats of violence today," a spokesperson for Gaetz said in a statement emailed to Newsweek.
"Congressman Gaetz and Congresswoman Greene look forward to announcing new stops on the America First tour in the coming weeks."
Gaetz and Greene are prominent supporters of former President Donald Trump. Both Republican lawmakers have promoted and spread Trump's baseless claims that the 2020 election was "rigged" or "stolen" by President Joe Biden. This extraordinary allegation has already been thoroughly litigated and wholly debunked.
Updated 4:08 PM ET, with an additional comment from the City of Riverside, as well as additional information about the Anaheim rally being canceled.
Updated July 18, 2021, at 8:08 AM ET with a statement from a spokesperson for Gaetz.