The U.S. House of Representatives on Thursday voted nearly unanimously to suspend normal trade relations with Russia and Belarus, as well as to ban the import of Russian oil and gas.
Representatives Marjorie Taylor Greene of Georgia and Matt Gaetz of Florida joined Tom Massie of Kentucky as the "no" votes (420-3) suspending normal trade relations. The decision to ban Russian energy imports was approved 413-9, as a few other lawmakers joined Greene and Gaetz, according to Manu Raju of CNN.
The Senate previously passed the two measures unanimously after lawmakers worked to finalize the details of putting President Joe Biden's past executive order into law, the Associated Press reported.
Earlier Thursday, Greene and a few other lawmakers voted against a bill that would allow international courts to conduct an investigation into whether Russia is committing war crimes in Ukraine. She said it would hand authority to international groups that could harm America in the future.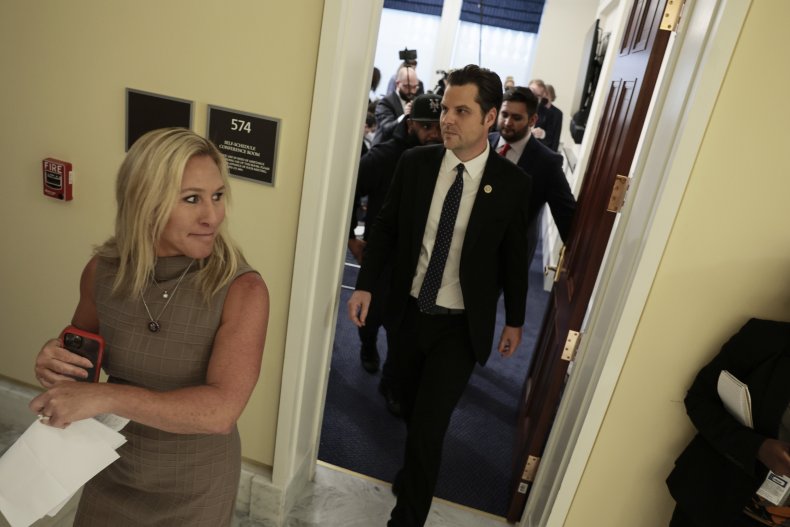 Greene and Gaetz took to Twitter to explain their votes, with each saying they don't believe sanctions levied so far have deterred Putin and have only hurt Americans with higher prices, so they did not support the new measures.
Representatives for Massie, Greene and Gaetz directed Newsweek to tweets about the lawmakers' opposition to the oil import ban, in which they criticized Biden for not having a plan to lower gas prices in the U.S. orreplace Russian oil other than buying from other countries such as Venezuela and Iran.
Greene also posted a video to Twitter explaining her no votes, saying her issues were with the broad scope of the bill and would allow Biden to restrict trade with countries the government deems to violate human rights.
She also said the oil imports ban would force Russian President Vladimir Putin to build stronger relationships with "enemies" of the U.S. like China, and would only hurt Americans by continuing to increase gas prices.
"These bills are not going to stop Putin and his invasion into Ukraine, they aren't going to change his mind," Greene said in the video. "They look tough and they sound tough, but it's actually going to hurt many, many people."
In a statement to Newsweek, Massie echoed comments Gaetz made on Twitter about the other measure, which would allow the Biden administration to restrict trade with Russia by reauthorizing the 2012 Magnitsky Act. The act allowed the Obama administration to enact similar economic sanctions against countries deemed to be human rights violators.
"Extending the already overly broad executive powers in the Magnitsky Act forever is legislative malpractice," Massie said, while Gaetz also tweeted that Biden should not have a "blank check" to sanction any nation the administration determines to have violated human rights.
Rand Paul of Kentucky was among the GOP senators who objected to the potential scope of the power the bill would give the administration, but it was reworked in private and passed unanimously earlier Thursday.
Some lawmakers emphasized how important they believed it was to pass the measures as quickly as possible, AP reported.
"Messaging is important here and showing action is important," said Senator Ben Cardin, a Maryland Democrat. "You've got the Ukrainians on the battlefield every day. The least we can do is get these bills passed."
Senate Majority Leader Chuck Schumer of New York said he felt it was important for the bills to be passed this week before lawmakers depart to their home states for a two-week break in the legislative session, the AP reported.
Update 4/8/22, 10:31 a.m. ET: This story was updated with additional information from Greene's explanation of her votes and a response from her spokesperson.