A House Democrat invoked Representative Marjorie Taylor Greene's divorce to mock her recent comments in support of states seceding from the union.
On Monday, the 22nd anniversary of the 9/11 terrorist attacks, Greene, a Republican who has represented Georgia's 14 District since 2021, took to social media to suggest that states secede from the U.S. in response to the Biden administration's border security policies. This was not the first time that Greene suggested such an idea, but it was, as noted by the Daily Beast, the first time she explicitly used the term "secede."
"If the Biden admin refuses to stop the invasion of cartel led human and drug trafficking into our country, states should consider seceding from the union," Greene wrote in a post to X, formerly Twitter. "From Texas to New York City to every town in America, we are drowning from Biden's traitorous America last border policies."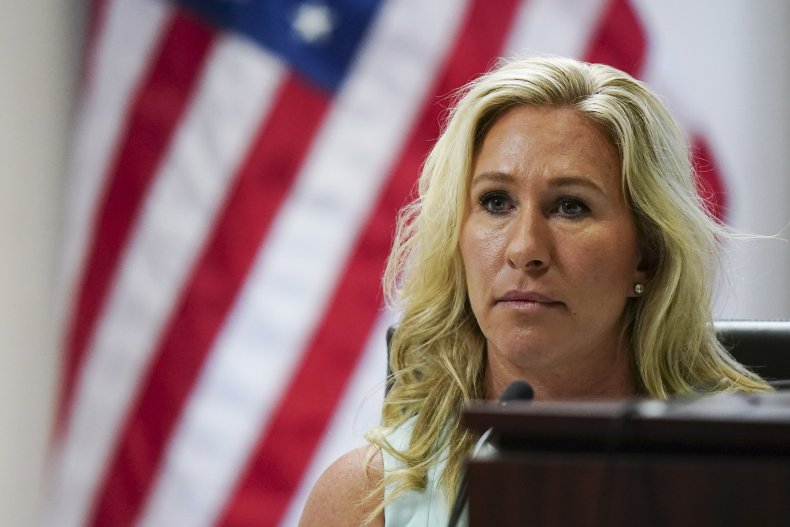 Greene's comments have drawn widespread criticism and condemnation, both from her colleagues in Washington and from historians who called her ignorant of the effects that attempted secession has had on the country over the centuries.
"The nation has already endured one attempted secession," professor Thomas Holt, an expert in American and African-American history at the University of Chicago, told Newsweek in a prior statement. "It didn't turn out well, especially for the rebel states. They remained an economic and social backwater for half a century afterward."
During a Tuesday interview with Meidas Touch, Representative Jared Moskowitz, a Democrat who has represented Florida's 23rd District since January, derided Greene's most recent comments with a reference to her divorce.
"Look, her husband called for secession which is why she has that in her personal life," Moskowitz said. "I mean, what do you want me to say? That's just being said for ridiculousness. Remember, she called for a 'national divorce'—again, divorce—but this is the same thing from her."
He continued: "She's definitely ratcheting up the commentary of late. Remember, she was being looked at as someone who was trying to work with [Speaker of the House] Kevin McCarthy, maybe going a little bit more mainstream. But now, this seems to be ... vintage Marjorie, it's good to see her back, isn't it? When she says things and we have to kind of figure out what the heck she's talking about. Breaking up the union, that sounds super congressional, and a real leader."
Newsweek reached out to Greene's office via email for comment on Tuesday.
Greene's husband, Perry Greene, filed for divorce in September 2022, with the couple having been married since 1995. In his filing, he described the marriage as "irretrievably broken."
A few months later, in February, Greene suggested during an interview with Sean Hannity that a "national divorce" between red and blue states might be necessary to avoid a second civil war.
"Everyone I talk to is sick and tired and fed up of being bullied by the left, abused by the left and disrespected by the left," Greene said. "Our ways of life have become so far apart that it's just coming to that point. The last thing that I ever want to see in America is a civil war. No one wants that ... but it's going that direction and we have to do something about it."