Marjorie Taylor Greene Is the 'Most Powerful' Republican, Ex-GOP Rep. Warns
It's Marjorie Taylor Greene's party now, according to a recent column by Joe Walsh, the former Tea Party activist and Illinois Republican congressman who left the party in 2020 over its continued embrace of former President Donald Trump.
Writing for the Bulwark, a moderate conservative website, Walsh characterized Greene as the "most powerful" member of the Republican Party in a dispatch from the Conservative Political Action Conference in Florida this past weekend where Greene and the far-right dominated the annual gathering of party luminaries.
Once seen by Democrats as the personification of the far-right of the GOP, Greene has recently become something of a thought leader in the party, Walsh said, ascending from promoting conspiracy theories about things like QAnon and criticizing school shooting victims, to leading party messaging on multiple issues.
Walsh's version of the party—one that believes in truth and democracy, as he writes it—isn't just under threat: it's gone. And Greene, according to Walsh, is leading what replaced it.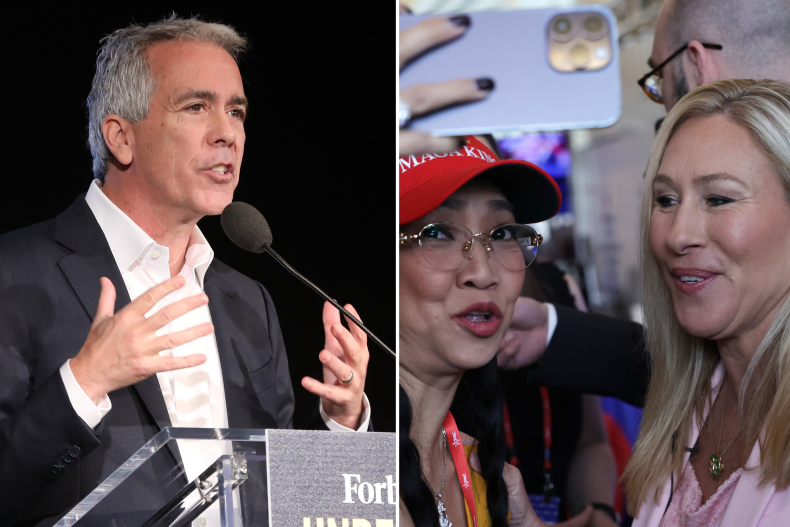 "She represents GOP base voters," Walsh wrote. "She represents all the activists gathered at CPAC this past weekend. And she is arguably the most powerful Republican in Washington. Kevin McCarthy is speaker because of her, and Tucker Carlson received all that January 6th surveillance footage because of her. A 'fringe' character would not have anything like that kind of power within the party."
Newsweek reached out to Greene via email for comment.
The Georgia congresswoman's ascent in the Republican Party represents an astonishing rise from a fringe figure to the mainstream of conservative politics that Walsh admitted in a 2019 column he once helped create.
At CPAC, Greene was given a prime speaking spot, while the schedule was dominated by figures like former Arizona gubernatorial candidate Kari Lake, MyPillow CEO Mike Lindell, and a number of other figures who had embraced Greene's vision of the country as well as falsehoods about stolen elections in 2020 and 2022.
"There was nothing 'fringe' about CPAC this past weekend," Walsh, who once tweeted he would be "grabbing his musket" if Trump lost the 2016 election, wrote this week: What was on display at CPAC was now the mainstream GOP.
"The stolen election lies, the vaccine paranoia, the fearmongering about a 'deep state,' the obsession with Hunter Biden, the cruelty toward transgender people, the bowing down to Putin, the demand that Anthony Fauci be behind bars, the authoritarian impulse to punish private individuals and companies deemed too 'woke'—this is all quite literally the agenda of the current Republican-controlled House of Representatives," Walsh said.