Marjorie Taylor Greene Presiding Over House Leaves Viewers 'Physically Ill'
Critics of Marjorie Taylor Greene have reacted with despair after the Republican briefly presided over the House as a replacement for House Speaker Kevin McCarthy.
On Monday, the Georgia congresswoman acted in the role of speaker pro tempore. This is a temporary and frequently rotated position that sees representatives perform certain duties of the House speaker when they are not available to attend a session of the floor.
While the position of speaker pro tempore is largely insignificant, and can be carried out by any majority party member of the House, it is the latest sign that Greene is moving into a more mainstream and influential position within the Republican Party.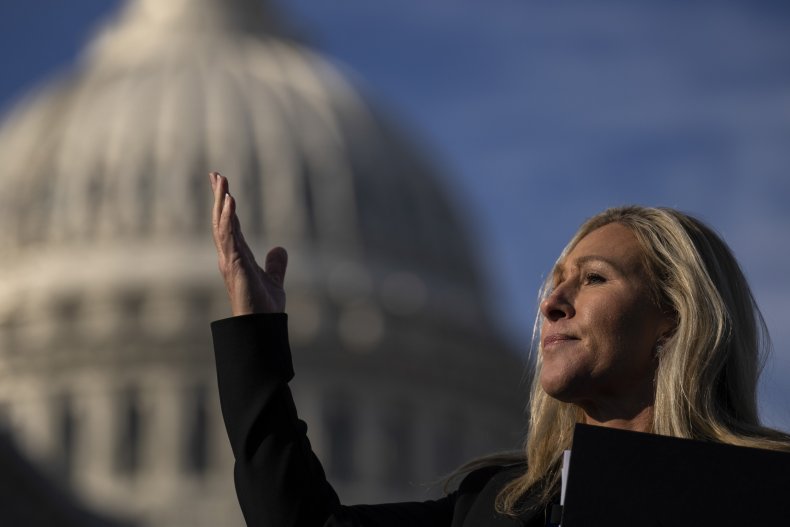 Greene seemed to have relished the chance to act as speaker pro tempore and suggested she has greater political ambitions.
On Monday, Greene tweeted a video of herself repeatedly banging a gavel while presiding over the House with the caption: "I could get used to this..."
Greene, who has formed a key alliance with McCarthy in the GOP-controlled lower chamber, was awarded seats in January on two of the most powerful departments in the House: The Committee on Oversight and Accountability, and the Committee on Homeland Security.
Her return to committee assignments arrived two years after being removed from her previous committees over her extremist social-media activity.
A clip of Greene presiding over the House on Monday was shared to Twitter by the @Acyn account, where it has since been viewed more than 1 million times.
In response to the clip, comedian and writer Kimi Melendez tweeted: "This makes me physically ill."
Others have also criticized the current state of the GOP for allowing Greene to be considered a mainstream member of congress, given her long list of controversies.
"From 9-11 truther, Sandy Hook false flag conspiracy theorist, Jewish Space Laser anti-semitism, Q-anon kookery, pro-insurrectionist, election denier, MAGA extremist quack to now presiding over House proceedings," tweeted Tara Setmayer, senior adviser for the anti-Donald Trump political group The Lincoln Project.
"Marjorie Taylor Greene IS the mainstream GOP. We WARNED you."
The Twitter account for the political comedy duo The Good Liars noted that Greene was presiding over the House on Monday. It shared a 2019 clip of the Republican stating she supported a conspiracy theory that Supreme Court justice Ruth Bader Ginsberg had been replaced with a body double while she was still alive.
Political commentator Brian Cohen added: "Marjorie Taylor Greene is now presiding over the United States House of Representatives. This is who Republicans put in charge."
Newsweek has contacted Greene for comment.