Marjorie Taylor Greene Says Pelosi Mask Mandate Violates Her Rights: 'My Body My Choice'
Marjorie Taylor Greene, congresswoman-elect for Georgia's 14th congressional district, has branded a mask mandate issued by House Speaker Nancy Pelosi (D-CA) a "violation of my rights."
Pelosi announced Tuesday that lawmakers in the House of Representatives would be required at all times to wear masks amid the coronavirus pandemic, insisting recognition in the chamber would hinge on members following this rule.
Responding to this Greene, who has openly supported the QAnon conspiracy theory in the past, wrote on Twitter: "Is this the Marjorie Mask Mandate, @SpeakerPelosi? An oppressive violation of my rights."
Greene, an ardent supporter of President Donald Trump who has backed him in his push against the election outcome, ended the tweet using the hashtag #MyBodyMyChoice.
This phrase is often used by pro-choice advocates, but has been appropriated by some on social media against the wearing of face coverings in the COVID-19 crisis.
Greene told Newsweek she wanted to ask Pelosi why she was imposing the rules, which she suggested were "more oppressive" than the regulations in place when Pelosi made a controversial trip to a hair salon in September. Pelosi was spotted not wearing a face mask when she visited the salon.
Greene added: "Also, when is she getting the vaccine? If she did that, she wouldn't have a reason to force me to wear a mask."
Pelosi, speaking at a pro forma session, said: "Masks will now be required at all times in the hall of the House without exception. Including while members are under recognition.
"To be clear, members will not be recognized unless they are wearing a mask and recognition will be withdrawn if they remove the mask while speaking."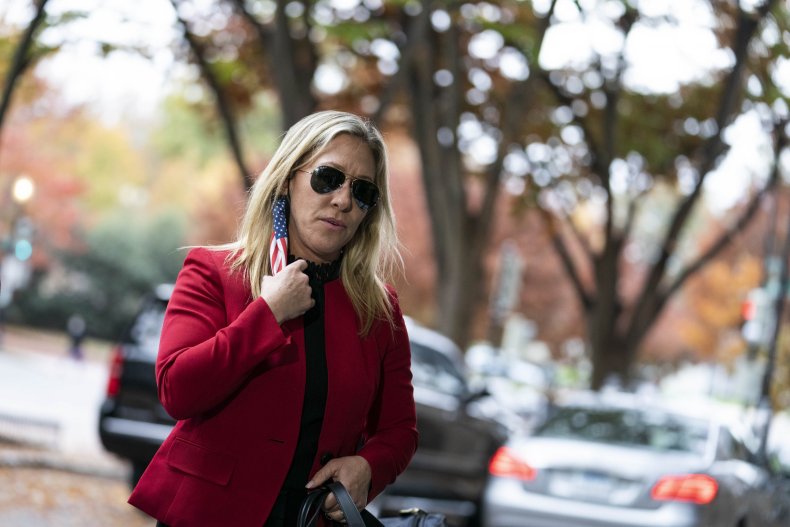 Rep. Don Beyer (D-VA) responded to Greene's post, criticizing her comments.
"Masks protect people around you and you don't have a special 'right' to endanger Congressional staff or Capitol Police officers," Beyer wrote.
According to a tally from CNN, 36 members of the House have tested positive or presumed positive for coronavirus or its antibodies. At least 17 of these have been since November 1, CNN reports.
The Centers for Disease Control and Prevention recommends people aged 2 or older should wear masks in public settings and when they are around people who do not live with them.
A page detailing considerations for wearing masks on its website reads: "COVID-19 spreads mainly from person to person through respiratory droplets. Respiratory droplets travel into the air when you cough, sneeze, talk, shout, or sing. These droplets can then land in the mouths or noses of people who are near you or they may breathe these droplets in.
"Masks are a simple barrier to help prevent your respiratory droplets from reaching others. Studies show that masks reduce the spray of droplets when worn over the nose and mouth."
Newsweek has contacted Greene and Pelosi for comment.
The number of confirmed COVID-19 cases is going up across the country, with more than 16 million across the United States throughout the pandemic according to Johns Hopkins University. The COVID-19 death toll in the nation has surpassed 300,000.
The below graphic, from Statista, shows the nations with the highest COVID-19 death tolls.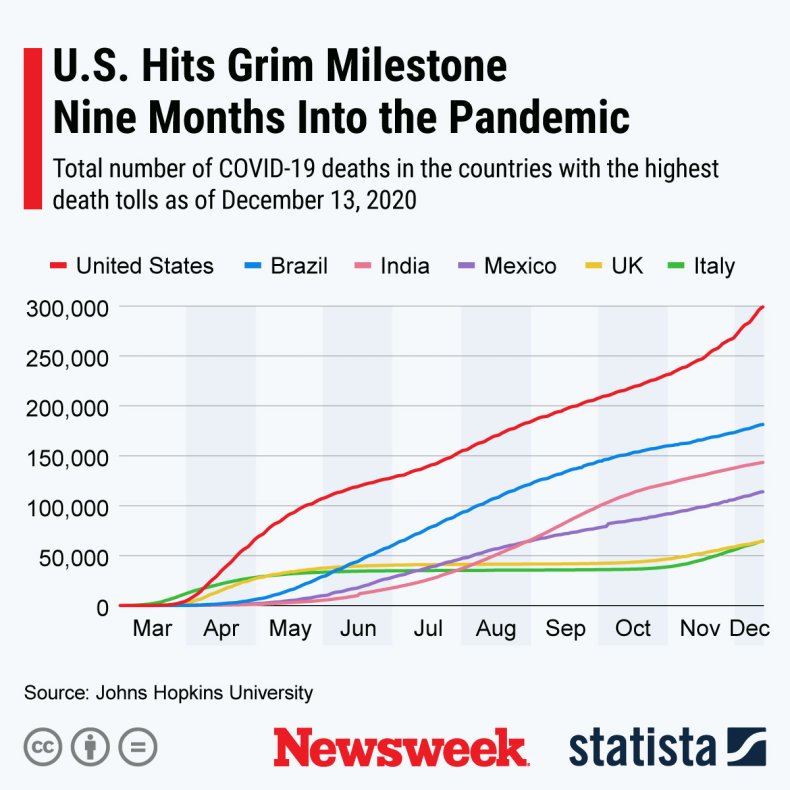 Update 12/16/2020: This page has been updated with further comments from Greene.