Marjorie Taylor Greene Omits Assault Weapons Ban While Saying Colorado Has Gun Laws Dems Want
Representative Marjorie Taylor Greene said in the wake of Monday's mass shooting in Boulder, Colorado, that the state "has everything the left has asked for" in terms of gun legislation but left out Democrats' push for a ban on assault weapons.
The shooting at the King Soopers supermarket left 10 people dead, including one police officer. Just days before the shooting, a judge in Boulder blocked the city from implementing a ban on the sale and possession of assault weapons.
"Colorado has everything the left has asked for," the Georgia Republican congresswoman said in a Tuesday tweet. She listed some examples of Colorado's gun legislation, including its high-capacity magazine ban, red flag gun law and universal background checks requirement.
Greene also pointed to the state's "passing" grade awarded by the Giffords Law Center, the organization former Arizona Representative Gabrielle Giffords leads. According to the Giffords Law Center, which gave Colorado a C+ grade for its gun safety laws, there are still six areas of gun safety legislation it encourages Colorado to consider implementing, including restricting access to assault-style weapons.
After listing elements of Colorado's gun legislation that she said the left "asked" for, Greene added, "And it still didn't stop a thug like Ahmad Al-Issa from murdering Americans."
According to an Everytown for Gun Safety data analysis of mass shootings between 2009 and 2018, the use of assault weapons and high-capacity magazines led to "far more deaths and injuries" during mass shooting events.
Several of the biggest mass shootings in recent U.S. history involved the use of an assault-style weapon, including the shooting at the Route 91 Harvest music festival in Las Vegas in 2017 and the 2018 school shooting at Marjory Stoneman Douglas High School in Parkland, Florida.
Many Democrats who support gun safety legislation support the idea of banning assault-style weapons, like the one used in the Boulder shooting. The 21-year-old man accused of carrying out Monday's shooting used an AR-15 rifle, a law enforcement official told the Associated Press.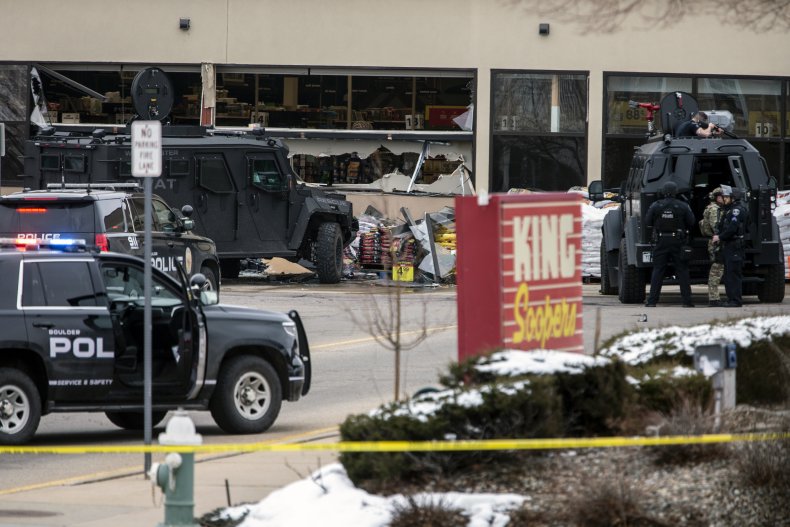 On Tuesday, President Joe Biden also called for a ban on assault-style weapons following Monday's mass shooting. Biden expressed support for the ban early in his run for the presidency, writing in a 2019 New York Times opinion piece that he would push to revive a previous 1994 federal assault weapons ban that lapsed in 2004.
Speaking at a news conference on Tuesday, Biden said that authorities were still working to confirm details regarding the shooting in Boulder but said he did not "need to wait another minute" to begin pushing for gun safety legislation at the federal level.
"I don't need to wait another minute, let alone an hour, to take common sense steps that will save the lives in the future, and to urge my colleagues in the House and Senate to act," Biden said. "We can ban assault weapons and high-capacity magazines in this country once again."
Newsweek reached out to Greene's office for comment and will update this article with any response.