Marjorie Taylor Greene Reignites Feud, Says AOC Should Care For Grandmother
Rep. Marjorie Taylor Greene has reignited her feud with Alexandria Ocasio-Cortez, accusing the Democratic congresswoman of not doing enough to support her grandmother in Puerto Rico.
Earlier this week, Ocasio-Cortez tweeted about the plight of Puerto Ricans and hit out at former president Donald Trump and local leaders over the distribution of aid following Hurricane Maria in 2017.
"Just over a week ago, my abuela fell ill. I went to Puerto Rico to see her- my 1st time in a year+ bc of COVID," Ocasio-Cortez tweeted alongside photos of her grandmother's home, a sparse area with a damaged roof. "This is her home. Hurricane María relief hasn't arrived. Trump blocked relief $ for PR. People are being forced to flee ancestral homes, & developers are taking them."
Ocasio-Cortez added: "And for the record - my abuela is doing okay. It's not about us, but about what's happening to Puerto Rican's across the island. She had a place to go to and be cared for - what about the thousands of people who don't?"
Nevertheless, conservatives immediately attacked Ocasio-Cortez, accusing her of living in luxury while her grandmother suffered.
In an appearance on Newsmax, Greene accused Ocasio-Cortez of "constantly playing the victim" while not doing enough to care for her grandmother.
"This is a woman who gets paid $174,000 a year. She is not married, she does not support a family," Greene said.
"If her grandmother is living in squalor or having a hard time, she should be down there taking care of her. She should be paying for a place for her to live. She should be paying her bills and doing whatever she can to take care of her grandmother because that's what people should do, is take care of your own family."
Greene also told host Greg Kelly that the issues faced by Puerto Ricans were due to socialism and not the former president's fault.
"Another thing she needs to realize is the government policies of Puerto Rico are the exact policies that she's trying to bring to the United States, which is socialism and socialism fails and that's why Puerto Rico went bankrupt already just like Greece did because of socialism," Greene said.
"So this isn't President Trump's fault. This isn't anyone else's fault, this is socialist's fault, and this is the policies that she wants with the Green New Deal."
Greene shared the Newsmax clip on her Twitter page on Saturday, adding: ".@AOC socialism is to blame for the problems people are facing in Puerto Rico. Not President Trump. Stop being a perpetual victim, stop preaching victimhood, and stop pushing socialist policies that create government corruption and systemic poverty."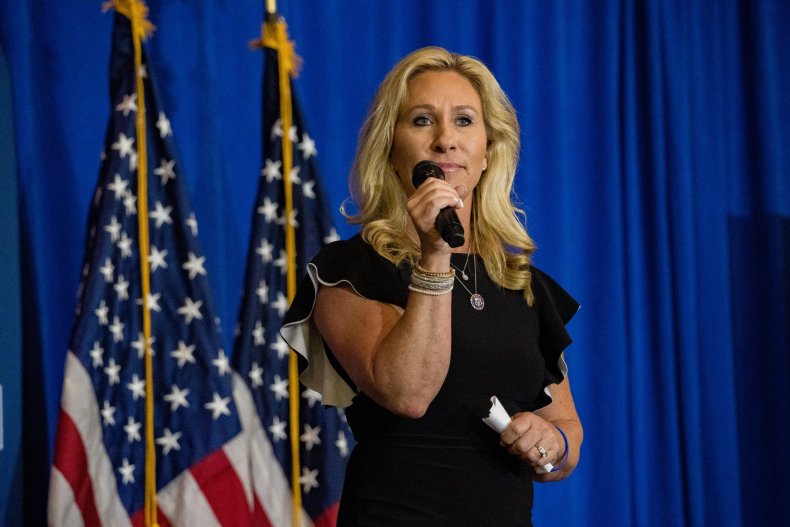 The Georgia Republican has for months blasted Ocasio-Cortez and other progressives over the Green New Deal.
The controversial congresswoman's latest attack comes after she claimed the New York lawmaker was "responsible for attacks on Jewish people" last month. Democratic California Rep. Eric Swalwell earlier accused Greene of "stalking" Ocasio-Cortez.
Ocasio-Cortez's office has been contacted for comment.