Marjorie Taylor Greene Resumes Tweeting Days After Urging Conservatives to Leave Twitter
Republican Representative Marjorie Taylor Greene has resumed tweeting only two days after she urged "every Republican" to leave Twitter immediately.
The Georgia lawmaker's personal @mtgreenee account was banned by the social media platform on Sunday for repeated violations of rules against spreading COVID-19 misinformation. In a Tuesday post on Gettr, a conservative-focused social media platform founded by former Trump aide Jason Miller, Greene told Republicans to teach Twitter "a lesson" by leaving the platform.
"I'm calling on every Republican to LEAVE Twitter!" Greene wrote in the Gettr post. "The truth is under attack and so are our Republican Conservative values. Twitter has censored millions of Conservative Americans for too long now without any restraint."
"Twitter needs to learn a lesson," she continued. "It's time to end their abuse of power they were never given. Leave Twitter NOW!!!"
But just two days later Greene was back on Twitter posting from her official @RepMTG account, which was unaffected by the ban on her personal account.
"When Democrats and their spokesmen in the media claim January 6th was one of the worst attacks in American history, they are lying. Here's the truth," Greene tweeted from the previously rarely-used account on Thursday.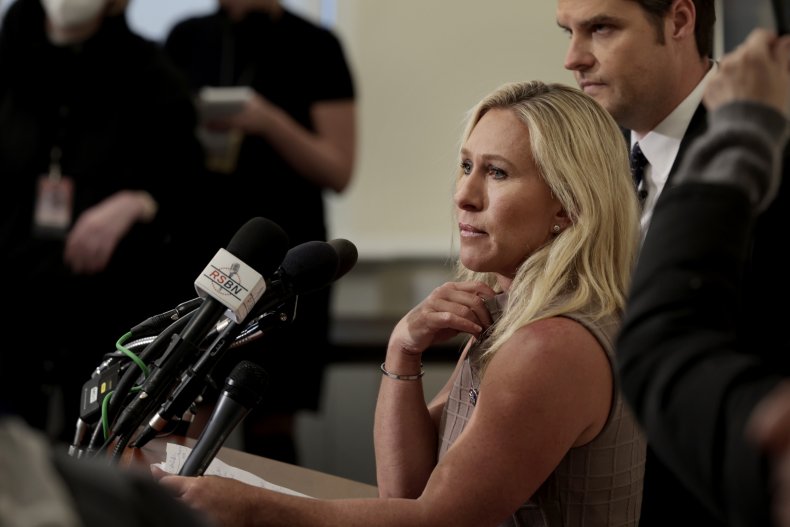 The tweet, posted on the one-year anniversary of the January 6 riot at the U.S. Capitol, was accompanied by a video of Greene complaining that reporting on the deadly attack focused on "a few bad apples" rather than what she called the "overwhelming peaceful crowd."
Within hours, Greene tweeted from the account two other times to promote a joint press conference with Florida Representative Matt Gaetz that purported to "expose the truth" about January 6th. She also retweeted a Gaetz tweet promoting the same press conference.
It was unclear if Thursday's tweets meant that Greene was retracting her call for Republicans to leave the platform. She offered no explanation for her return on any of her accounts. On Tuesday and Wednesday, she had slammed Twitter in Gettr posts and conservative media appearances that followed her initial call for a Republican exodus.
"Only two elected Republicans have been kicked off Twitter, me and Donald Trump," Greene posted to Gettr on Wednesday. "I think my permanent Twitter suspension has more to do with what type of Republican I am. And who at Twitter doesn't donate to me or like my brand Republican."
Former President Donald Trump's personal Twitter account was permanently banned two days after the Capitol riot over concerns that Trump was posting content that could incite violence. A short time after being banned, Trump began tweeting from his then-official @POTUS handle.
Although there was no suspension of the @POTUS account itself, which is currently reserved for President Joe Biden, Trump's new tweets were quickly removed. A Twitter spokesperson told Newsweek at the time that the tweets were deleted because Trump was "using another account to try to evade a suspension."
Newsweek reached out to Greene's office and Twitter for comment.