Marjorie Taylor Greene Says Critics 'Terrified' of Her Control in Congress
Representative Marjorie Taylor Greene of Georgia said critics trying to strip her of re-election eligibility are just scared of the power she could have if the Republican Party takes back the House of Representatives in the 2022 midterms.
"Democrats have seen how hard I fight for America First values with the GOP in the minority, so they are absolutely terrified to see me with the power of the majority," Greene said in a Friday statement. "Democrats know they can't beat me at the ballot box, so left-wing Communist activists tried to RIP my name off the ballot."
On Friday, a judge ruled that Greene should be allowed to run in the Republican primaries this year, despite a lawsuit that argued the congresswoman should be "constitutionally disqualified from congressional office" due to her role in the January 6 Capitol riot.
The recommendation will now go to Georgia Secretary of State Brad Raffensperger, who will make the final decision—a judgment that will likely be contentious since Raffensperger notably helped file the lawsuit and argued that Greene "is not qualified to seek and hold the public office."
Once Raffensperger makes his decision, both sides will have 10 days to appeal.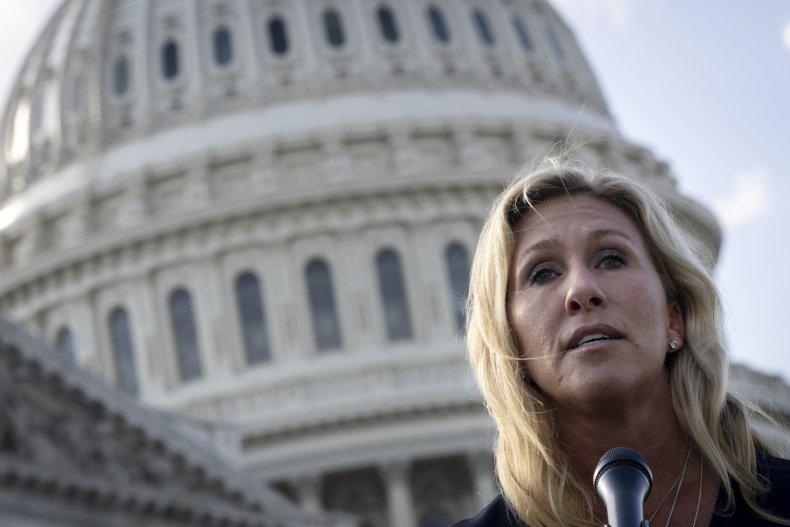 In response to the ruling, Greene thanked the judge and said the recommendation renewed her hopes of winning the May 24 primary, even though the lawsuit was filed by voters in her district.
"Thankfully this attempt to rig another election was stopped in its tracks," Greene said in her statement.
"I applaud Judge Charles Beaudrot on his correct ruling and look forward to winning big on May 24th," she added. "This ruling give me hope that we can win and save our country."
Greene, a staunch supporter of former President Donald Trump, gained his endorsement.
The legal challenge that had contested Greene's candidacy argued that she violated the 14th Amendment—which says no person who has taken an oath as a member of Congress shall engage in insurrection or rebellion—when the Georgia Republican "advocated for political violence, up to and including, her encouragement of insurrectionists on January 6."
Free Speech for People, who represented the Georgia voters in their lawsuit against Greene, said the judge's decision "betray[ed] the fundamental purpose" of the Constitution.
"This decision betrays the fundamental purpose of the Fourteenth Amendment's Insurrectionist Disqualification Clause and gives a pass to political violence as a tool for disrupting and overturning free and fair elections," the group said in a statement.