Representative Marjorie Taylor Greene (R-GA) declared the "old" GOP has been successfully taken over by Donald Trump's nationalistic America First narrative.
The congresswoman made the comment about the GOP's new direction during an interview during CPAC in Dallas, Texas, on the Trump-supporting Right Side Broadcasting Network on Friday, August 5.
When asked how Republican leaders should support the America First movement, Greene responded: "Republicans in Congress and Republicans in Washington [D.C.] have routinely let down their voters, have let down their base."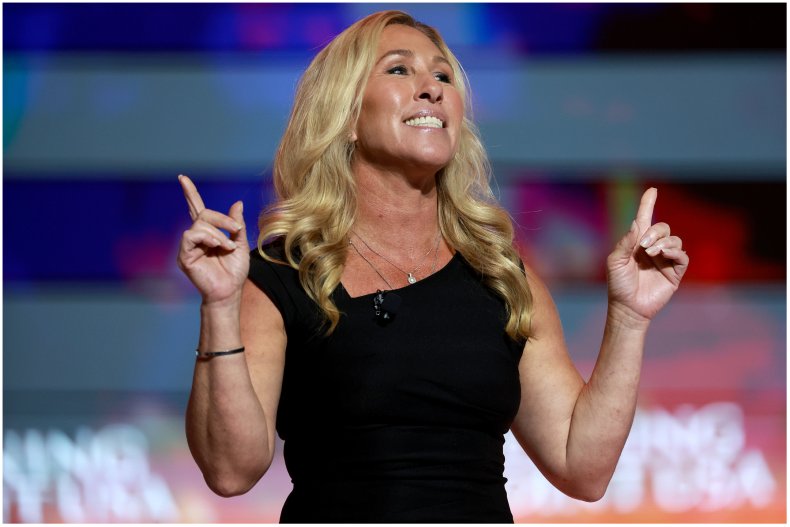 She later added: "They [establishment Republicans] can't stop us and here's why. We represent the people, we represent America first and we're actually doing the job that people want.
"And here is what the establishment needs to understand. The old party is done. The old Republican Party is over. America First is now the only way and the Trump Republican Party is going to be the party that wins."
A clip of the interview was shared by Twitter account PatriotTakes and has received more than 131,000 views since it was shared on Saturday, August 6.
The America First movement has increasingly asserted itself within the GOP following Trump's election victory in 2016.
Supporters of the movement, like Greene, have said they want to crack down hard on illegal immigration and many have supported Trump's claims that the 2020 Presidential Election was somehow stolen from him.
In a Wednesday, July 27 Telegram post, Greene caused a stir in a promotion for clothing.
She said: "I'm a God-fearing Christian. I love our country and its people. This is why I'm a proud Christian nationalist."
Trump himself declared himself as a "nationalist" in October 2018 and acknowledged at a rally in Houston that the phrase was controversial, adding: "We're not supposed to use that word."
The term nationalism has certain negative connotations, and has been described by Merriam-Webster as "a sense of national consciousness exalting one nation above all others and placing primary emphasis on promotion of its culture and interests as opposed to those of other nations or supranational groups."
In comparison, before Trump's election win in 2016, the mainstream GOP had been viewed as supporting conservatism, free market capitalism and military intervention overseas.
Some GOP members have attempted to fight against the America First narrative, only to find themselves sidelined in the party.
Republican Illinois Representative Adam Kinzinger last year called for the GOP to expel members of the "America First Caucus," a group co-created by Greene.
He referred to the group as the "White Supremacy Caucus" and said anyone who joined it should have their "committees stripped."
Liz Cheney (R-WY) has also been outspoken against the movement as well as the former president.
Both Cheney and Kinzinger have been censured by the Republican National Committee as a result.
Newsweek has contacted Greene for comment.