Republican Party Splinters Over Censures of Liz Cheney, Adam Kinzinger
The fallout within the GOP after the Republican National Party voted to censure reps. Liz Cheney and Adam Kinzinger has continued over the weekend, as the split between supporters and critics of Donald Trump widens.
A number of Republicans have spoken out after the RNC voted on Friday to censure the only two GOP lawmakers on the House Committee investigating the Capitol attack, as well as the resolution describing January 6 as ordinary citizens engaging in "legitimate political discourse."
Alaska Senator Lisa Murkowski (R-AK), one of seven Republicans who voted to convict Trump at his second impeachment trial for allegedly inciting the Capitol attack, tweeted the day after Cheney and Kinzinger were censured that description of the RNC was "just wrong."
Speaking to CNN on Sunday, Murkowski said she spoke out against the RNC as she is a representative of the people of Alaska and is "not here to be a representative of the Republican Party."
She added: "When there is a conflict, when the party is taking an approach or saying things that I think are just absolutely wrong, I think it's my responsibility as an Alaskan Senator, speaking out for Alaskans, to just speak the truth.
"The easier thing to do is just go along to get along, or just keep your mouth shut. But you know what, that's not why we're here."
A number of other GOP lawmakers echoed Murkowski's concerns about the RNC voting to censure Cheney and Kinzinger for their role in investigating the insurrection.
Utah Senator Mitt Romney, who also voted to convict Trump for allegedly inciting the riot, tweeted on Friday: "Shame falls on a party that would censure persons of conscience, who seek truth in the face of vitriol. Honor attaches to Liz Cheney and Adam Kinzinger for seeking truth even when doing so comes at great personal cost."
Maryland Governor Larry Hogan added: "It's a sad day for my party—and the country—when you're punished just for expressing your beliefs, standing on principle, and refusing to tell blatant lies."
After Friday's vote, Cheney tweeted a video showing the violence which occurred on January 6 to prove how it was not a "legitimate political discourse." The clip went viral, gaining more than 62,000 retweets and the video has been viewed more than four million times.
In a statement to Newsweek defending the resolution, RNC Chairwoman Ronna McDaniel said: "Liz Cheney and Adam Kinzinger crossed a line. They chose to join Nancy Pelosi in a Democrat-led persecution of ordinary citizens who engaged in legitimate political discourse that had nothing to do with violence at the Capitol.
"That's why Republican National Committee members and myself overwhelmingly support this resolution."
Elsewhere, a number of other Republicans have either praised the censoring of Cheney and Kinznger or refused to denounce the RNC's belief that the January 6 attack was a "legitimate political discourse."
Kelli Ward, the head of the Arizona Republican Party who was recently subpoenaed by the January 6 committee, tweeted on Sunday night: "Hey, REAL Republicans—how do you feel about the RNC censure of Cheney & Kinzinger? I'll start: they deserve that & more!"
Ward is a staunch Trump supporter and was among 11 Republicans who gathered in December 2020 to sign illegitimate election certification documents while falsely claiming they had the power to award Arizona's 11 electoral votes for the former president.
During an appearance on CBS' Face the Nation on Sunday, Florida Senator Marco Rubio (R-FL) did not answer when asked if he believed the January 6 protest was "legitimate political discourse" before attacking the investigation into it.
"If you entered the Capitol and you committed acts of violence and you were there to hurt people, you should be prosecuted and they are being prosecuted," Rubio said. "But the January 6 commission is not the place to do this.
"This commission is a partisan scam...the purpose of that commission is to try to embarrass and smear and harass as many Republicans as they can get their hands on."
Michael McCaul, the Texas congressman endorsed by Trump for November's midterms, also refused to condemn the wording of the resolution after Cheney and Kinzinger were censored.
During an appearance on ABC's This Week, McCaul was asked if he stands by the RNC's actions and statements, to which he replied: "My understanding is [the statement] pertains to the legitimate protesters that I saw that day."
Host Martha Raddatz intervened to say the "legitimate political discourse" line is still in the resolution despite knowing that Trump supporters attacked police officers that day and wanted to stop the certification of the Election results.
In response, McCaul added: "I condemn the violence at the Capitol. And those who committed criminal offenses who were violent at the Capitol need to be prosecuted. And I've said that all along, that that needs to be addressed."
Unsurprisingly, another major GOP figure who has agreed with the censoring of Cheney and Kinzinger is Trump himself.
In a statement, the former president described the pair as "two horrible RINOs [Republican In Name Only] who put themselves ahead of our Country," adding that the pair have "almost no approval ratings, and the Republican Party would be far better off without them!"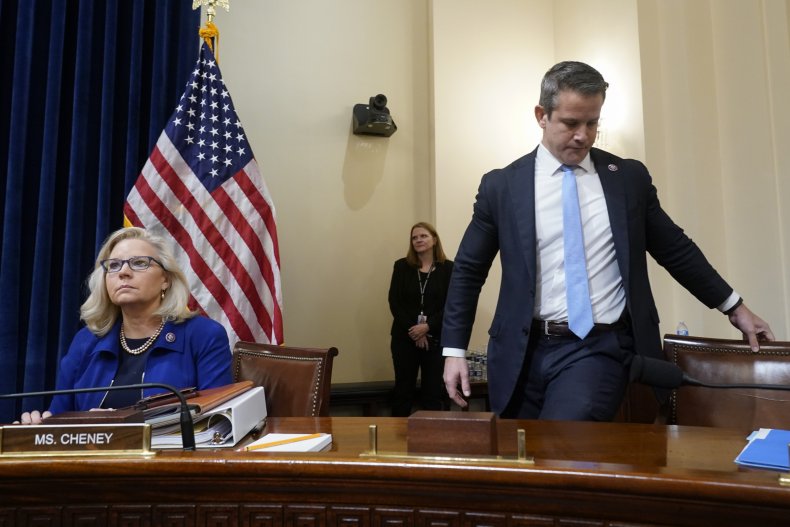 Update 02/07/2022: This article has been updated with comment from the RNC.