Republican Representative Marjorie Taylor Greene says that she and other House Republicans who visited January 6 defendants in jail were "assaulted" by the sound of a man blowing a whistle at them afterward.
Greene and other House lawmakers visited the Washington, D.C., jail on Friday. Republicans have argued that the January 6 prisoners are being singled out for especially harsh treatment at the jail due to their "politics and beliefs." Greene previously visited the facility in November 2021, when she said that the January 6 prisoners had shown her "evidence of abuse and neglect."
The Georgia congresswoman said that she and her Republican colleagues were singled out for harsh treatment by protesters at a press conference after their jail visit on Friday. She said that a whistle-wielding man had committed "assault" by interrupting the press conference and loudly blowing the whistle at people as Republicans spoke.
"We toured the DC Jail today and held a press conference outside the jail after our tour," Greene tweeted. "This man assaulted everyone there by blowing a whistle as loud as he could in other's ears and tried multiple times to assault me and other members."
Greene said her staff had tried and failed to convince police to arrest the man. Efforts apparently included an attempt to get a D.C. jail guard to confront him.
The congresswoman's tweet also included a video of the man, who was wearing sunglasses and a face mask, loudly blowing the whistle near the ear of a woman who was apparently attempting to "block" him during the press conference.
"My staff and others like this very nice lady did their best to block him," Greene wrote. "He needs to be arrested and we tried to have him arrested. My staffer called 911 and reached an automated recording for several minutes before reaching a human. Reported the guy. She then asked the jail to send out an officer and they refused."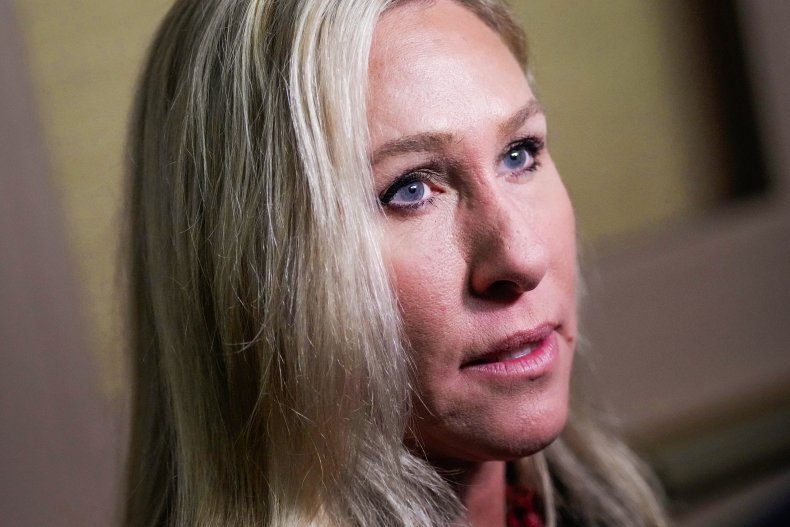 Greene suggested that the incident was one of "a million" examples of "the left" targeting her and other conservatives "without accountability." She claimed that the same man had been present at a 2021 press conference she held near the Department of Justice (DOJ) building.
During the video shared in Greene's tweet, a person off screen apparently touches the man at one point, prompting him to angrily respond, "Don't touch! Touch, you die!" Greene said that the moment was evidence that a "direct threat" had been made.
"This is just another example out of a million others that the left does repeatedly without accountability," Greene wrote. "Funny thing is the same guy was outside our press conference at the DOJ in 2021. Sounds like a direct threat, 'Don't touch! Touch you die!'"
Additional videos of the GOP press conference show that Greene and Republicans including Representative Byron Donalds of Florida were often drowned out by the whistler and other protesters as they attempted to speak about conditions in the jail.
The press conference was also visited by a truck covered with large video screens that were playing footage of violent Capitol rioters as the Republicans spoke. The Congressional Integrity Project, a group founded by Democratic strategists, said that it was responsible for the presence of the "mobile billboard."
Greene said during the press conference that January 6 was "not an insurrection" and argued that the D.C. prisoners had been denied their "pre-trial rights." She claimed that the whistler and others interrupting the press conference were "paid protesters."
Two House Democrats also attended the jail tour on Friday, Representatives Jasmine Crockett of Texas and Robert Garcia of California. Their accounts of how January 6 prisoners were being treated inside the jail were very different than those of Republicans.
Crockett said in a statement that the January 6 prisoners had been treated "an order of magnitude" better than prisoners she had worked with as a public defender in Texas.
"This visit was nothing more than a political stunt," Crockett added. "And
that's a shame, because the issue of prison reform deserves real, bipartisan action."
Garcia accused Greene of "telling lies about the conditions of the facility," while adding in a statement that the Republican lawmakers on the tour had "rushed" to the January 6 prisoners and "treated them like celebrities rather than people who attacked our capitol police and our very democracy."
"As we left the facility, the January 6 inmates started chanting 'Let's Go Brandon,'" Garcia said. "MAGA extremists' claim that the January 6th defendants are political prisoners and have been subjected to inferior treatment is a complete fraud."
Newsweek has reached out via email to the office of Greene for additional comment.