Marjorie Taylor Greene Seeks to Impeach Garland for 'Persecuting' Trump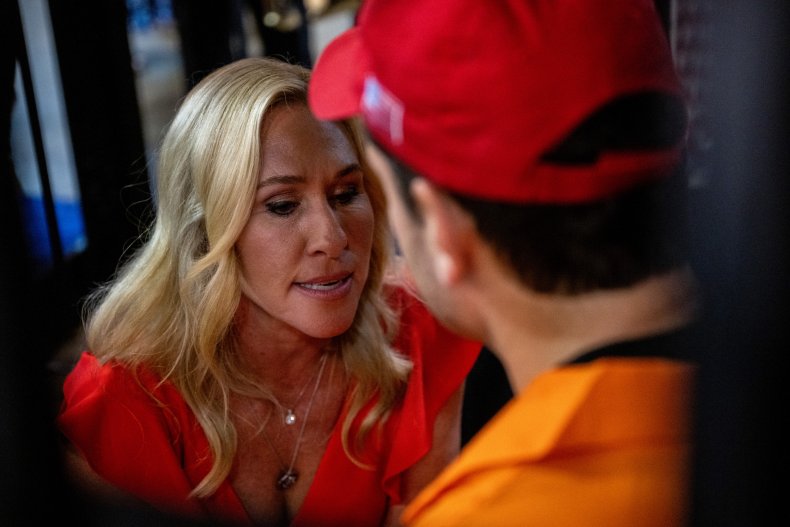 Republican Representative Marjorie Taylor Greene of Georgia wants to impeach Attorney General Merrick Garland over what she says is the "political persecution" of former President Donald Trump.
Greene accused Garland of "endangering, undermining and compromising the justice system" in a resolution calling for his impeachment on Friday. She claims Garland "persecuted" Trump by approving of the FBI raid of the former president's Mar-a-Lago home. Greene and other Trump loyalists have been raging since federal agents executed a search warrant at Trump's residence earlier this week. The FBI seized multiple boxes of documents, including many that were marked classified and some that reportedly may have included nuclear secrets.
"What they've been doing to [former] President Trump is political persecution," Greene told reporters before entering the Capitol to file the impeachment resolution on Friday. "Merrick Garland has abused his position of power as the attorney general to politically persecute [President] Joe Biden's enemies. And the whole purpose of this is to prevent [former] President Trump from ever being able to hold office."
"I'm introducing articles of impeachment on Merrick Garland," she added. "Because we cannot tolerate this in America, where our great institutions are welded[sic] and abused in such a way to impeach people's political enemies."
Greene is not the only prominent conservative to call for Garland's impeachment over the raid. Republican Senators Rand Paul of Kentucky and Josh Hawley of Missouri both suggested impeaching Garland during Fox News appearances this week.
There is little realistic chance of Garland actually being impeached and removed from office due to a two-thirds majority vote needed for conviction, an unlikely prospect even if Republicans were unanimous and in control of both chambers of Congress following the November midterms.
The legal claims made in Greene's impeachment resolution are also questionable at best. While Greene argues that the FBI's raid was "political," the agency executed a search warrant that was obtained through a legal, not political, process.
The search warrant cited alleged violations of multiple laws against the concealment or taking of official government documents, as well as alleged violations of the Espionage Act.
The first of two articles of impeachment that Greene's resolution proposes claims that Garland's personal approval of the search warrant was "a blatant attempt to persecute a political opponent."
The second proposed article claims that Garland demonstrated "a pattern of conduct that is incompatible with his duties as a civil officer of the United States" by persecuting Trump "over documents he legally declassified."
Trump has said that the classified documents removed from his home this week were declassified just before he left office, although the former president has not provided any evidence or proof to back up his statement.
Regardless, the documents seized do not have to be classified for Trump to potentially be in violation of multiple statutes cited in the search warrant. Classified documents are also not required to be in violation of the Espionage Act.
Trump has also suggested, without evidence, that the FBI may have "planted" documents at his home.
In addition, Trump has claimed that former President Barack Obama violated the Presidential Records Act by taking "33 million pages" of classified documents from the White House after leaving office in 2017.
However, the National Archives and Records Administration (NARA) told The New York Times on Friday that Obama was never in personal possession of official documents after leaving the White House, whether the documents were classified or not.
NARA said in a statement to the Times that it had "assumed exclusive legal and physical custody of Obama presidential records when President Barack Obama left office in 2017, in accordance with the Presidential Records Act."
"NARA moved approximately 30 million pages of unclassified records to a NARA facility in the Chicago area, where they are maintained exclusively by NARA," the statement continued. "Former President Obama has no control over where and how NARA stores the presidential records of his administration."
Newsweek has reached out to the Department of Justice for comment.