Marjorie Taylor Greene Slams Kids at Drag Shows: 'Needs to Be Illegal'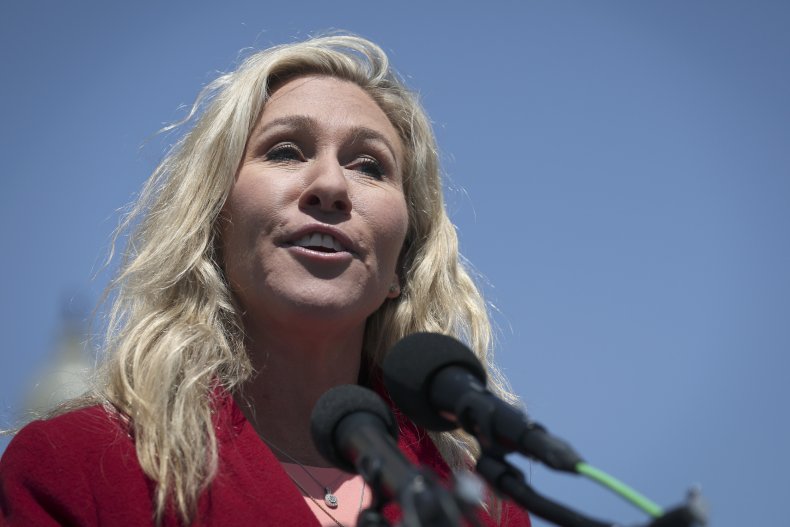 Republican Representative Marjorie Taylor Greene of Georgia is lashing out against the "indoctrination" of children attending drag shows, arguing that it "needs to be illegal."
Greene maintained that a legal remedy was required to stop children from "stuffing" money into "a drag queen bra" while sharing a video purporting to show the practice at an all-ages drag show by the conservative Libs of TikTok social media account to Twitter on Tuesday. Greene is one of many conservatives to have recently railed against events like "Drag Queen Story Hour," while also saying that the LGBTQ community is attempting to "indoctrinate" or "groom" children.
"This needs to be illegal," Greene tweeted while sharing the video on Tuesday. "What's the difference in children stuffing cash in a drag queen bra and a strippers bra? Nothing. It's wrong and it's indoctrination."
Greene's Communications Director Nick Dyer declined to comment further when asked by Newsweek whether the congresswoman would be in favor of a new law to address the issue, saying only "that's what the tweet says."
Although the Libs of TikTok account claimed that the video shows cash being stuffed into the drag queen's bra by "someone who appears to be a minor," the clip does not include footage of any audience member who is clearly underage doing so. Some young children can be seen handing the drag queen money instead.
During an episode of her MTG:Live streaming show late last month, Greene predicted that heterosexuals were destined to go extinct due to an increase in LGBTQ people.
"They just want you to think that all of a sudden the entire population is steadily turning gay or turning trans," Greene said. "Probably in about four or five generations, no one will be straight anymore. Everyone will be either gay or trans or non-conforming or whatever the list of 50 or 60 different options there are."
Greene has made multiple comments speaking out against the LGBTQ community, with a particular focus on transgender or gender non-conforming people and those who support them. During an interview with conspiracy theorist Alex Jones in February, Greene appeared to suggest that physical violence was "exactly how we need to stand up" to transgender and non-binary people.
In March, Greene bizarrely suggested that Transportation Secretary Pete Buttigieg, who is a cisgender gay man, needed to "stay out of our girls' bathrooms." On Monday, she theorized that a national tampon shortage was because "they put tampons in men's bathrooms" for transgender people.
Shortly after taking office in early 2021, Greene posted an anti-transgender sign outside of her Washington, D.C., office. The sign was in response to her Democratic colleague Representative Marie Newman of Illinois, who has a transgender daughter, installing a transgender pride flag outside of her office across the hall.