Marjorie Taylor Greene Slams RNC Chair Ronna McDaniel for Embracing LGBT Voters
Republican Georgia Representative Marjorie Taylor Greene has slammed Ronna McDaniel, chair of the Republican National Committee (RNC), for recently spearheading an LGBT "Pride Coalition."
McDaniel announced the coalition's formation during the November 6 Spirit of Lincoln dinner held by the Log Cabin Republicans (LCR), an LGBT conservative group. McDaniel said the RNC would partner with the LCR and other groups to mobilize voters in upcoming elections.
"But you see the Republican Party should be the party that fights for the American people, for the American worker, for families and traditional family values instead of seeing what we saw with the RNC and Ronna McDaniel," Greene said in the November 19 broadcast of the right-wing video show Slightly Offens*ve.
"She's declaring an LGBT coalition," Greene continued. "Well, you know, the Republican Party doesn't play identity politics. So why are we playing identity politics. Why is Ronna McDaniel doing things like that?"
While announcing the new coalition, McDaniel said, "Conservatives in Log Cabin don't just share our vision for a free, secure and prosperous America. They enrich it by adding unique perspectives to our party and recruiting even more diverse candidates and supporters to join our cause," according to Fox News.
However, after backlash from Christian conservatives, including Tony Perkins, head of the anti-LGBTQ group, the Family Research Council, McDaniel sent an email this week stating that the coalition wouldn't do anything to "undermine our values." The email also said the RNC wouldn't change any of its LGBT-related policy stances.
"We are actively committed to fighting the radical left on culture issues and standing up for religious liberty, family values, and Republicans of faith," her email stated, according to the conservative website Just the News. "[The coalition's creation] certainly doesn't mean we are trying to make any changes to the core values of our party."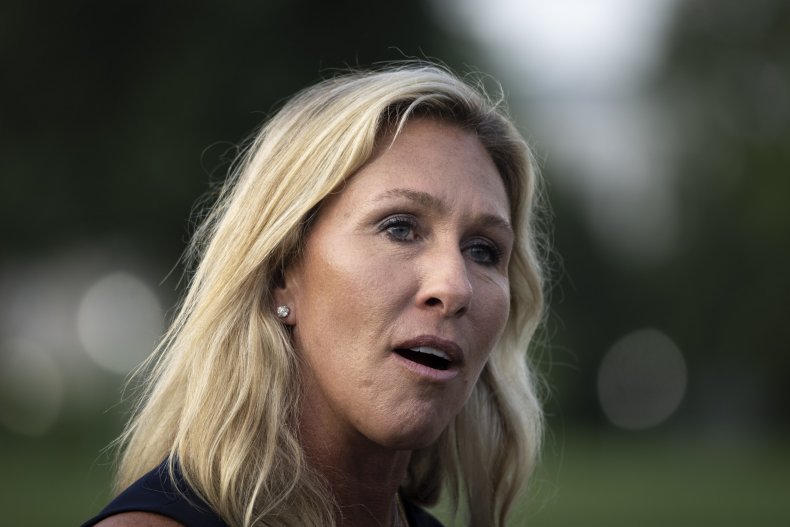 The 2020 Republican Party platform included opposition to marriage equality and transgender rights, as well as support for conversion therapy, The Advocate reported.
More recently, Republican officials in a number of states have sought to ban books with LGBT themes from school libraries as "pornographic or obscene." Republican legislators have also introduced numerous bill banning transgender student athletes from participating in school sports.
In February, Greene opposed The Equality Act, a bill that would've added LGBT people to the classes of people protected under the 1964 Civil Rights Act. The bill also would've forbidden people from invoking religious freedom as a legal defense for anti-LGBT discrimination.
Greene said the bill would put "trans rights above women's rights" and would allow "biological males" to enter social spaces traditionally reserved for cisgender women.
Newsweek contacted RNC Chair Ronna McDaniel's office for comment.